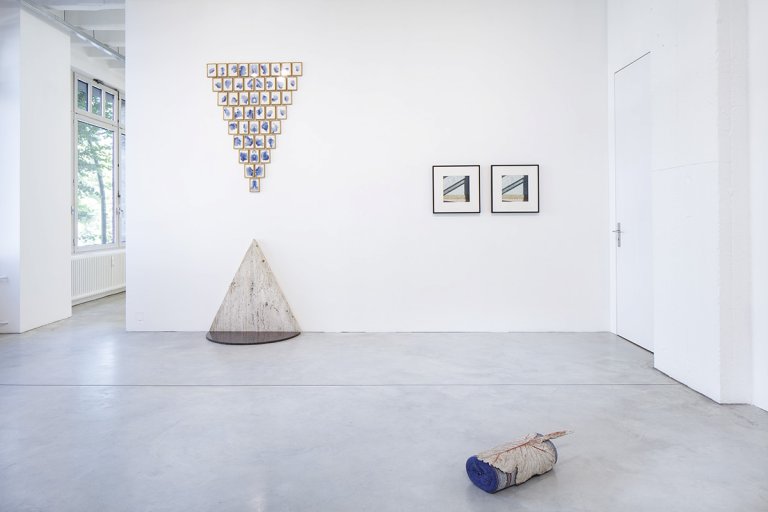 Installation view
Berlin, June 04, 2022 - August 27, 2022
Opening: Friday, June 3, 6–8pm
In the titular work Hreinn Fridfinnsson uses thirteen gilded glass plates to provide a stage for the poetic beauty of the immaterial: the gold projection of the inexorably changing daylight on the wall, the wandering shadows, the course of time that can be read from the layers of dust that inevitably gather on the wall objects. The non-hierarchical arrangement of the gold objects follows a principle of seriality and repetition, but does not create a self-referential structure. Fridfinnsson's work thus represents an antithesis to Sol Lewitt's demands of the serial artist as formulated in the text accompanying his work "Serial Project, I (ABCD)" (1966). He is not a "clerk cataloguing the results of his premise" but creates beautiful or mysterious objects. The multilayered engagement with seriality and repetition as a complex aesthetic principle forms the key point of departure that brings together the diverse artistic works in this exhibition. Many of the works activate the potential of significance of minimal alterations and subtle changes of state by repetition and share a proximity to Fridfinnsson's sensibility for the ephemeral, transformability, and discontinuity that seems to subvert the rational logic of clear and simple serial order.
read more
Repetition as reconstruction, where artistic-creative production tends towards nothing, can be found in Ignasi Aballí's "Attempt of Reconstruction". In an arduous process, Aballí tries to reassemble countless shards of broken measuring cups. An impossible task, for the vessels could never again contain fluid and thus linger in an uncertain limbo. Eva Löfdahl provides identical, unspectacular industrial everyday objects, like two milk bottles and two metal clips on two opposite walls, with an enigmatic function and a new status.
Spencer Finch's shots of one and the same spot on the studio wall exactly a day apart reveal a difference that is scarcely noticeable visually, but fundamental. Alongside one another, the two photographs reveal the movement of the light on the wall and mark the Earth's movement in its orbit around the sun. The title refers to the incomprehensible distance of 2,562,451.2 kilometers that the Earth passes in a twenty-four-hour period. Elena Damiani's five equally shaped floor structures illustrate the unimaginable power of the wind that to shape stone and the earth's surface. Their egg-shaped form refers to ventifacts, stones whose surface has been worn down or polished by the grains of sand blown in the wind and the bent forms that the wind leaves behind in the dunes. Michael Schmidt's photo-essay "Lebensmittel" and Sirous Namazi's Module Piece refer to an important historical line of development of the principle of seriality in industrialization's aspirations towards rationalization and reflect possible problems regarding the application of industrial standards to areas of life like foodstuff production and forms of dwelling.
From the perspective of perception psychology, serial repetitions play a central role in the formation and identification of similar elements and patterns. The playful polka-dot patterns of Ryan Mrozowski's object paintings thematize not just the impulse of human perception to recognize schemata, but also refer to the long history of pattern recognition in modern painting. Repetitive patterns generate a sense of order and correspond to our longing for categorization. This pleasure in classification is critically challenged by Frida Orupabo in her six-part collage of disparate black and white photographs. She provokes the deeply rooted reflex to identify things due to external appearances, surfaces, and patterns.
Sofia Hultén's wall object "Pattern Recognition VII" playfully targets questions of the fundamental human schemata of perception. Using a pegboard and tools, she retraces the diagrams that computer scientist Mikhail Bongard developed in the 1960s as a touchstone for intelligent machines. The goal is to recognize the rules that unite the diagrams on the left half and distinguish them from those on the right. Hultén's works are in a certain sense the test for future AI, which is currently only able to solve abstract diagrams. If AI is ever able to decode Bongard problems in the real world as we know it, we are finished, as Hultén notes.
IGNASI ABALLÍ was born in 1958 in Barcelona, where he lives and works. He is currently presenting the project "Correction" at the Spanish Pavilion at the 59th Venice Biennial. A comprehensive survey was shown at Museo Reina Sofia, Madrid in 2015/16. Recent solo exhibitions include Museum of Contemporary Art, Zagreb (2018), Museo de Arte de la Universidad Nacional de Colombia, Bogotá (both 2017), Palais de Beaux-Arts, París (2015), Pinacoteca do Estado, São Paulo (2010), Fundació Joan Miró, Barcelona (2015 and 2008), Museu Serralves, Porto, Ikon Gallery, Birmingham and ZKM, Karlsruhe (all 2006). He participated in the Bienal de Cuenca (2016), Guangzhou Triennial (2012), Venice Biennal, Sharjah Biennial, UAE (both 2007), and the Biennial of Sydney (1998). He was awarded the Joan Miró Prize in 2015.
ELENA DAMIANI was born in 1979 in Lima, Peru, where she lives and works. Solo exhibitions include MAC, Lima (2022), Chrysler Museum of Art, Norfolk, VA (2017), Museo Amparo, Puebla (2016), Mexico City and Garage Museum of Contemporary Art, Moscow (both 2015). She participated in the Gwangju Biennale (2016), Bienal de Cuenca (2016), Venice Biennal (2015) and Vienna Biennial (2015).She was awarded the Grants & Commissions Program, Cisneros Fontanals Art Foundation CIFO, Miami, USA (2016) and the commission for the David Rockefeller Atrium, Americas Society, New York (2014).
SPENCER FINCH was born in New Haven, Connecticut, in 1962, and currently lives and works in Brooklyn, NY. A survey exhibition was on view at MASS MoCA, North Adams in 2007-2008. Solo projects and exhibitions include Fundació Mies van der Rohe, Barcelona (2018), The Morgan Library and Museum, New York, Turner Contemporary, Margate (both 2014), Museum of Art, Rhode Island School of Design (2012), The Art Institute of Chicago, Emily Dickinson Museum, Amherst (both 2011), Corcoran Gallery of Art, Washington DC and FRAC des Pays de la Loire, Carquefou (both 2010). He created the only work of art commissioned for the National September 11 Memorial and Museum, New York. Finch participated in the Folkestone Triennial, UK (2011), Venice Biennial (2009), Turin Triennial (2008) and the Whitney Biennial (2004).
HREINN FRIÐFINNSSON was born in 1943 in Baer Dölum, Iceland and since 1971 lives and works in Amsterdam. Recent solo exhibitons include the Museum of Art & Design at MDC, Miami (2021), Centre d'Art Contemporain, Geneva and KW Institute for Contemporary Art, Berlin (2019), The Living Art Museum, Reykjavík (2014), Centre d'Art Contemporain, Bignan and Kyoto Art Center, Kyoto (both 2002). In 2007 the Serpentine Gallery, London presented a first survey exhibition of his work which travelled to Reykjavík Art Museum and to Bergen Museum and Malmö Konsthall. He participated in Skulptur Projekte Münster (2017), the São Paulo Biennial (2012) and in 1993 he represented Iceland at the 45th Venice Biennale.
SOFIA HULTÉN was born in 1972 in Sweden and lives and works in Berlin. Solo exhibitions include KINDL Zentrum für Zeitgenössische Kunst Berlin and Museum Tinguely, Basel (both 2018), Ikon Gallery Birmingham, UK (2017), Espai13, Fundació Miró, Barcelona (2015), DAAD Galerie, Berlin (2015), Kunstverein Braunschweig (2013) and Galerie für Gegenwartskunst, Bremen (2010). She participated in Monumentum - 8th Nordic Biennal of Contemporary Art, Moss, Norway (2015) and the Guangzhou Triennale (2012)
EVA LÖFDAHL was born in 1953 in Gothenburg, Sweden, and currently lives and works in Stockholm. In 1995 she represented Sweden in the Nordic Pavillion at the 46th Venice Biennale. Her work was featured in a retrospective exhibition at Moderna Museet, Stockholm in 2011. Solo exhibitions include presentations at Veda, Florence (2022 and 2018), Lunds Konsthall (2009), Krognoshuset Lund (2004), Moderna Museet, Stockholm (2002), and Kunstraum Düsseldorf (1998).
RYAN MROZOWSKI was born in Indiana, PA, in 1981 and currently lives and works in Hudson, NY. Mrozowski has had numerous solo exhibitions in galleries internationally, recently at Ratio 3, San Francisco (2021), Chapter New York (2019), Simon Lee Gallery, London (2018), Hannah Hoffman Gallery, Los Angeles, CA (2018), Arcade, London, UK (2016) and Pierogi, Brooklyn, NY (2012, 2010). His work was on view in exhibitions at the Pratt Institute, New York (2017), Art in General, Vilnius (2014), Practice Gallery, Philadelphia, PA (2013), Kansas University Art & Design Gallery, Lawrence, KS (2012) and The Kitchen, New York (2011).
SIROUS NAMAZI was born in 1970 in Kerman, Iran. He lives and works in Stockholm. He has had solo exhibitions at Lidköpings Konsthall and Örebro Konsthall (2018), Fundació Joan Miró, Barcelona (2010), Lunds konsthall (2009) and Moderna Museet, Stockholm (2003). He participated in the Athens Biennale (2018) and the Kochi-Muziris Biennale (2016). In 2007 he represented Sweden (with Jakob Dahlgren) at the Venice Biennial in the Nordic Pavilion.
FRIDA ORUPABO was born 1986 in Sarpsborg, Norway, and lives and works in Oslo. Solo exhibitions include Fotomuseum Winterthur (2022), Museu Afro Brasil, São Paulo (2021), Kunsthall Trondheim (2021), Huis Marseille, Amsterdam (2020), Portikus, Frankfurt am Main and Kunstnernes Hus, Oslo (both 2019). Together with Ming Smith and Missylanyus, Orupabo presented her work in Arthur Jafa's exhibition "A Series of Utterly Improbable, Yet Extraordinary Renditions" at Moderna Museet in Stockholm, Galerie Rudolfinum in Prague (both 2019), Julia Stoschek Collection, Berlin (2018), and Serpentine Sackler Gallery, London (2017). Orupabo participated in the 58th Venice Biennale exhibition (2018) as well as the 34th São Paulo Biennial (2021).
MICHAEL SCHMIDT was born in 1945 in Berlin, where he died in 2014. A retrospective exhibition of his work is currently on view at Albertina Vienna, after having been exhibited at Museo Reina Sofia, Madrid and Jeu de Paume, Paris (both 2021) and Hamburger Bahnhof, Museum für Gegenwart, Berlin (2020). His epic series "Waffenruhe" (Ceasefire) was exhibited at MoMA, New York in 1988. He was the first German photographer to have a solo-exhibition at MoMA during his lifetime with "Ein-heit (Un-i-ty)" in 1996. Survey exhibitions have been on view at Museum Folkwang Essen (1995) and Haus der Kunst Munich (2010). He participated in the Venice Biennial (2013), and the Berlin Biennial (2006 and 2010). In 2014 he was awarded the Prix Pictet for "Lebensmittel". Schmidt founded the Werkstatt für Fotografie at VHS Berlin-Kreuzberg in 1976, which became a major forum for international discussions on photography in (West) Berlin.
STANLEY WHITNEY was born in Philadelphia, PA, in 1946 and lives and works in New York and Solignano, Italy. His works have been featured in exhibitions since the early seventies. A solo exhibition is currently on view as a collateral event at the Venice Biennial at Palazzo Tiepolo Passi, Venice (2022). Selected solo exhibitions include Modern Art Museum of Fort Worth, TX (2016) and Studio Museum in Harlem, New York (2015). He participated in documenta 14 in Athens and Kassel (2017) and "Utopia Station" at the Venice Biennial (2003). A major survey exhibition of his work will be on view at the Albright-Knox's Buffalo AKG Art Museum in Buffalo, NY in 2024.
JUNE CRESPO was born 1982 in Pamplona and currently lives and works in Bilbao. She is currently participating in the 59th Venice Biennial (The Milk of Dreams, curatetd by Cecilia Alemani). Recent group exhibitions include Festival Jeu de Paume, Paris (2022), Fundació Joan Miró, Barcelona (2021), Museo Patio Herreriano, Villadolid (2020) and La Casa Encendida, Madrid (2017). She has had solo exhbitions at P/////AKT (2021), Museo Patio Herreriano, Villadolid (2020), etHALL gallery Barcelona (2016) and Kanala, MARCO (Vigo 2016) a.o. In 2023 she will have a solo exhibition at Guggenheim Bilbao Museum.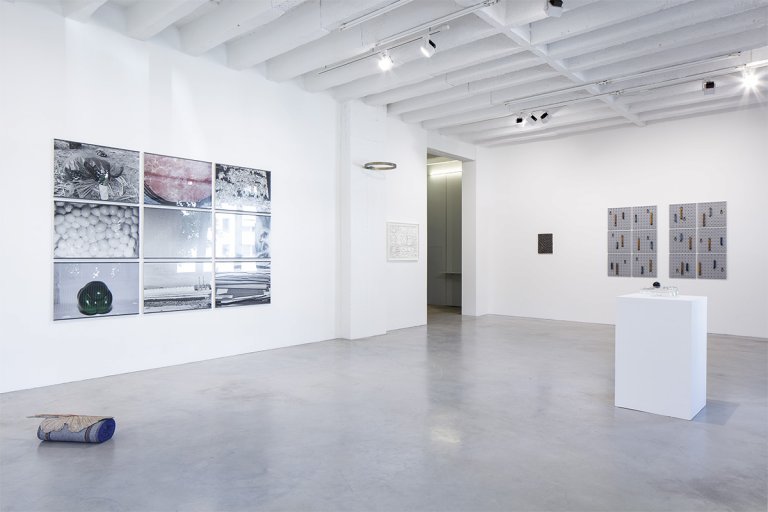 Installation view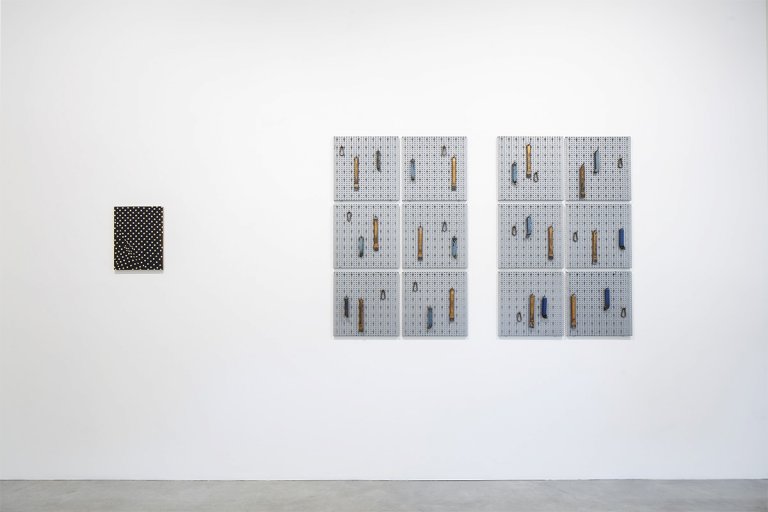 Installation view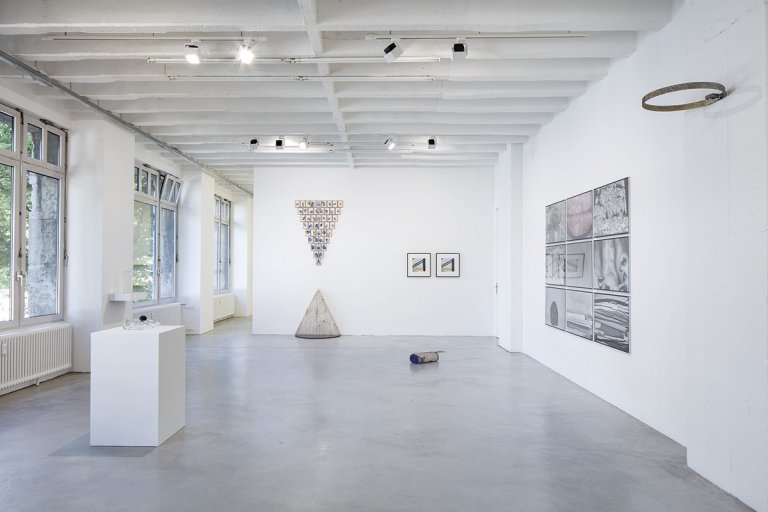 Installation view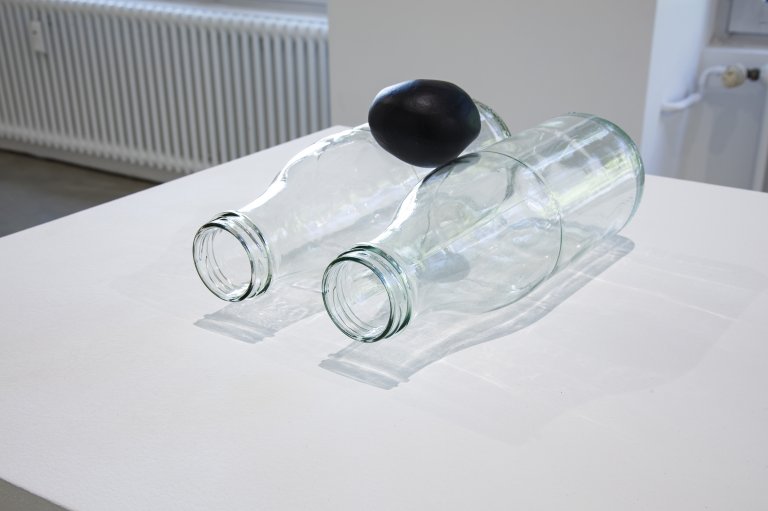 Eva Löfdahl, Model M, 1994, glass, plasticine, 26 x 18 x 14 cm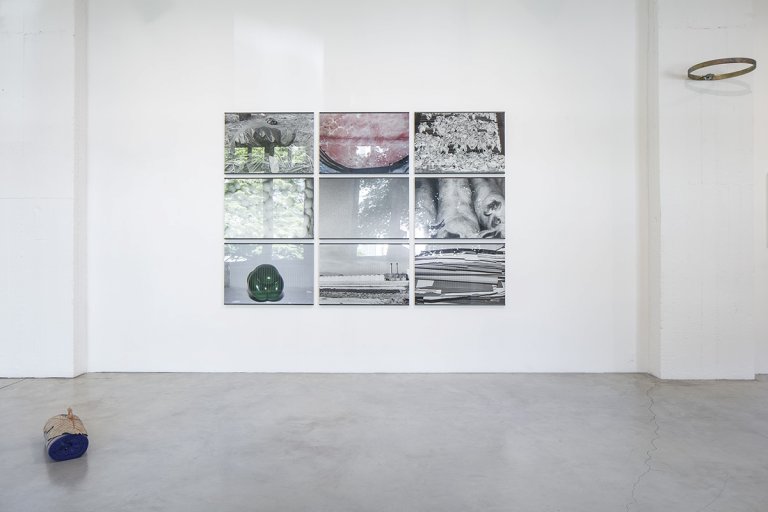 Installation view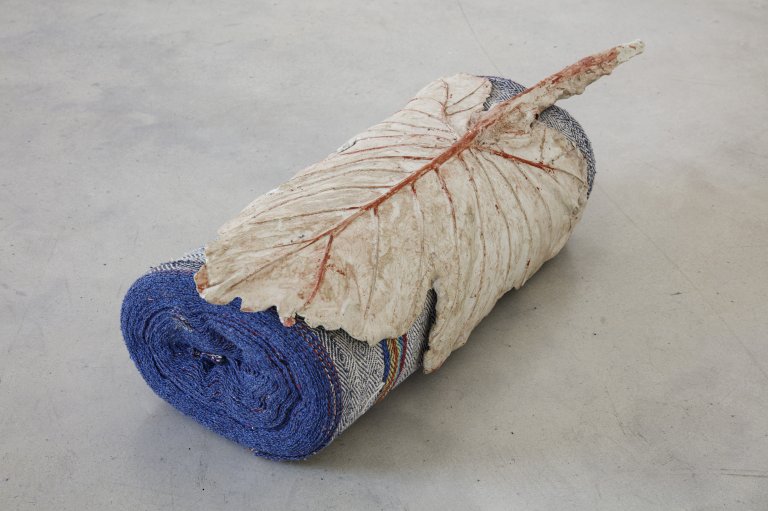 June Crespo, Untitled, 2019, clay and textile, 68 x 20 x 16 cm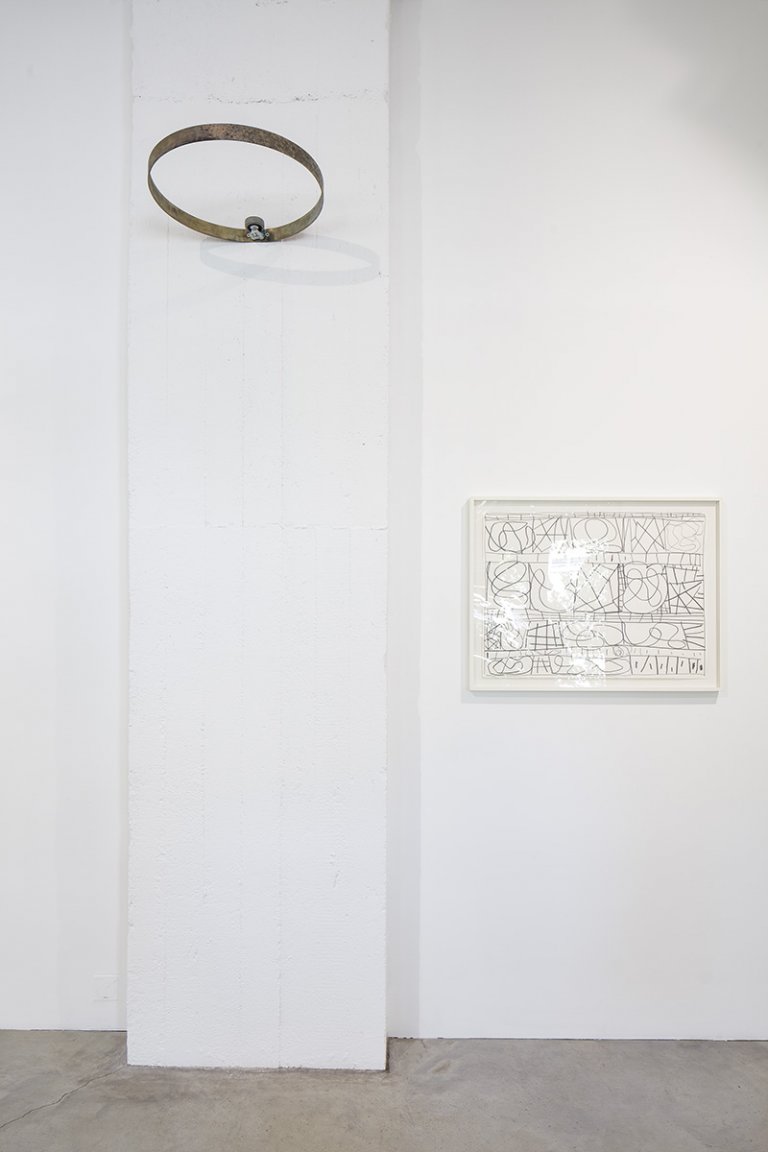 Installation view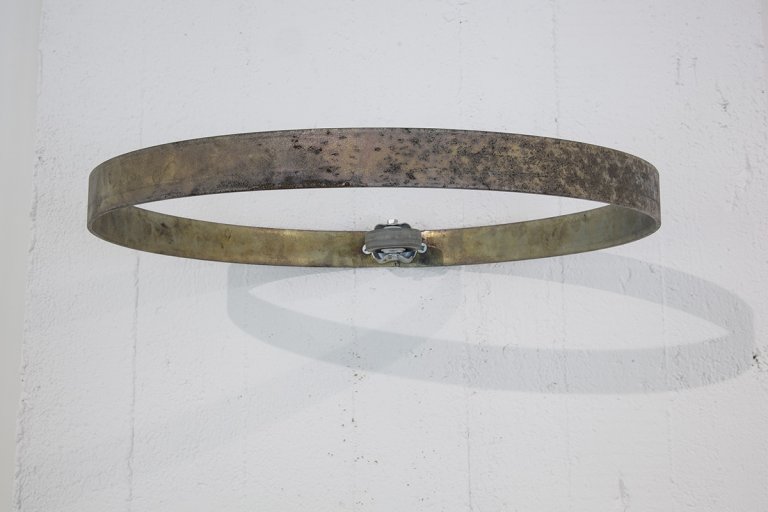 Eva Löfdahl, Modell G, 1993, steel, rubber, 2 parts, 4 x Ø 48 cm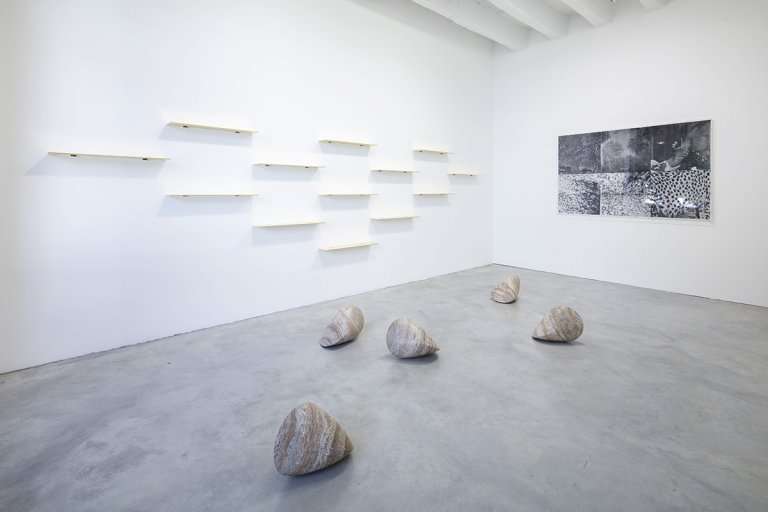 Installlation view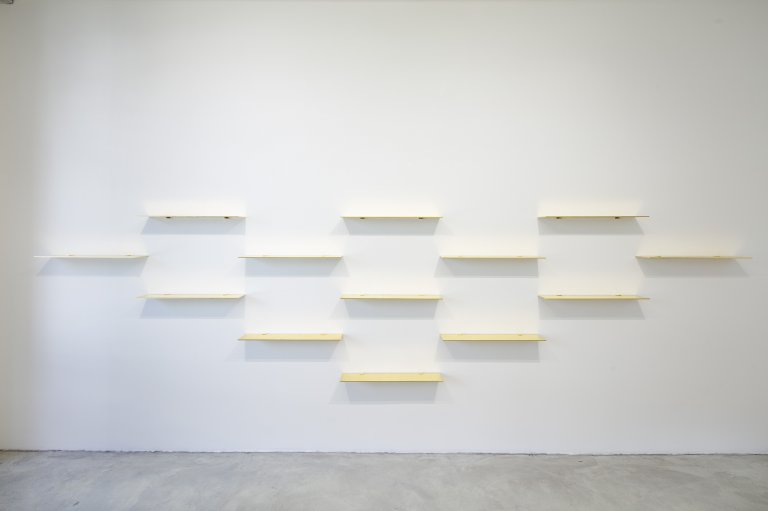 Hreinn Friðfinnsson, To Light, Shadow and Dust, 1994-2014, gold leaf glass, 0,6 x 75 x 15 cm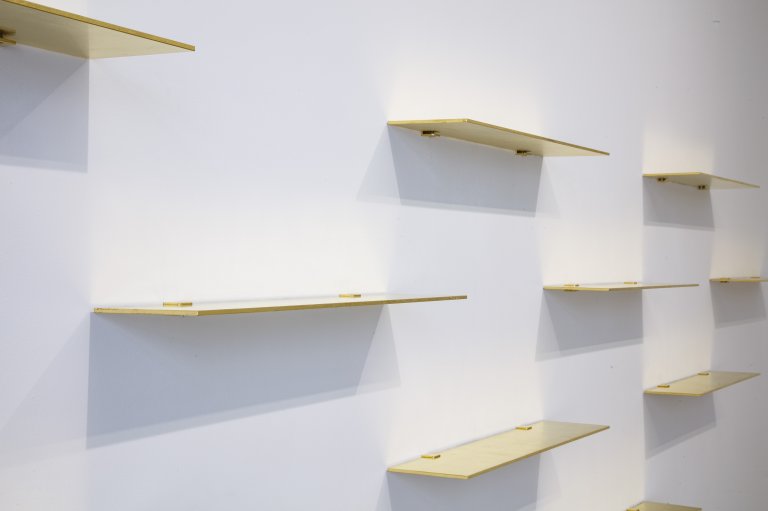 Hreinn Friðfinnsson, To Light, Shadow and Dust, 1994-2014, detail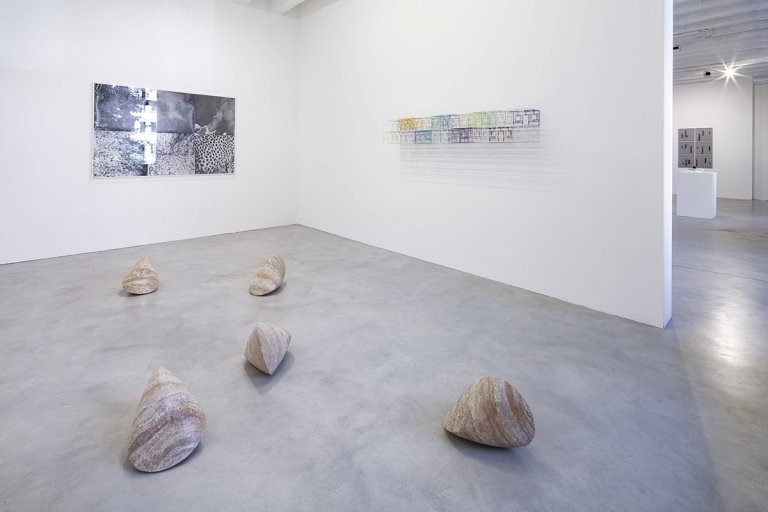 Installation view