Bauhaus Light (Kandinsky's Studio/ Klee's Studio, afternoon effect), 2017, 22 fluorescent lights, fixtures, filters, dimensions variable
Spencer Finch
Spencer Finch was born in New Haven, Connecticut, in 1962, and currently lives and works in Brooklyn, NY.
He has participated in the Folkestone Triennial, UK (2011), the 53rd Venice Biennial (2009), the Turin Triennial (2008) and the Whitney Biennial (2004). A survey exhibition titled What Time Is It on the Sun? was on view at MASS MoCA, North Adams in 2007-2008. His long-term installation Cosmic Latte is on view at the museum at least through 2020. Spencer Finch has exhibited internationally since the early 1990s. His solo exhibitions include locations such as Arcadia University Spruance Gallery, Glenside, PA (2018); Norton Museum of Art, West Palm Beach, FL (2017); The Morgan Library and Museum New York; Montclair Art Museum, NJ; Turner Contemporary, Margate (all 2014); Indianapolis Museum of Art; FRAC Basse-Normandie, Caen (both 2013); Museum of Art, Rhode Island School of Design (2012); The Art Institute of Chicago; Museum of Contemporary Art San Diego; Emily Dickinson Museum, Amherst (all 2011); Corcoran Gallery of Art, Washington DC and FRAC des Pays de la Loire, Carquefou (both 2010). A long term installation of his work Moon Dust (Apollo 17) is on view at the Baltimore Museum of Art, MD (since 2018).
Spencer Finch was chosen to create the only work of art commissioned for the National September 11 Memorial and Museum, New York which opened in 2014. In 2018 he created Fifteen Stones (Ryōan-ji), a site-specific installation for the reflecting pond of the Mies van der Rohe Pavilion, Barcelona. His installation Lost Man Creek, recreating at a 1:100 scale, a 790-acre section of the Redwood National Park in California, was on view at MetroTech Commons, Downtown Brooklyn until May 2018. His commission for the Crossrail Paddington Station in London titled A Cloud Index will open in 2020. Other recent public commissions include: The Western Mystery, Olympic Sculpture Park, Seattle Art Museum; Newton's Theory of Color and Music (Goldberg Variations), Steinway, New York (2016); Kentucky Sunlight (Lincoln's Birthday), Speed Art Museum, Louisville (2016); the glass façade design for The Johns Hopkins Medical Center, Baltimore (2012); and The River that Flows Both Ways, High Line Park, New York (2009).
Spencer Finch and Daniel Birnbaum (Director of Moderna Museet Stockholm) in conversation during Gallery Weekend Berlin, April 28 – June 24, 2017, .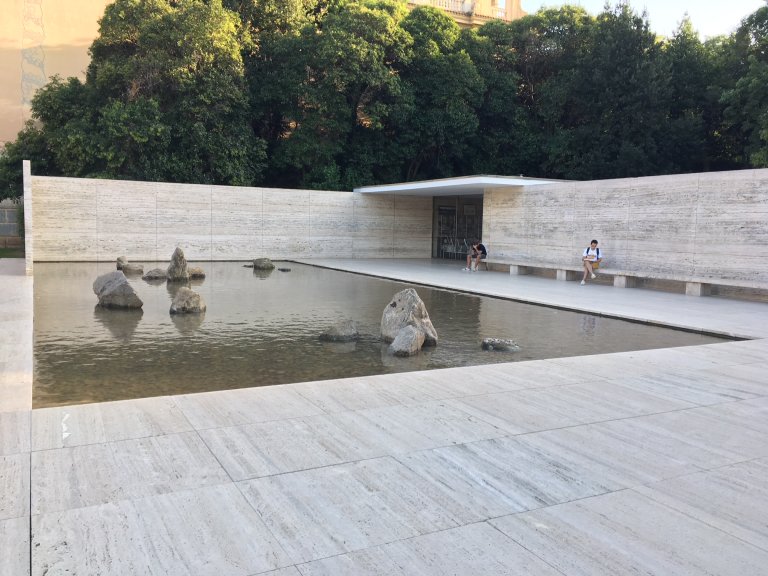 Fifteen Stones (Ryōan-ji), 2018, 15 granite stones, site-specific installation for the reflecting pool, Mies van der Rohe Pavilion, Barcelona
Cloud (Cumulus Humilis, Kyoto), 2019, scotch tape on blue matboard, 76.5 x 101.8 cm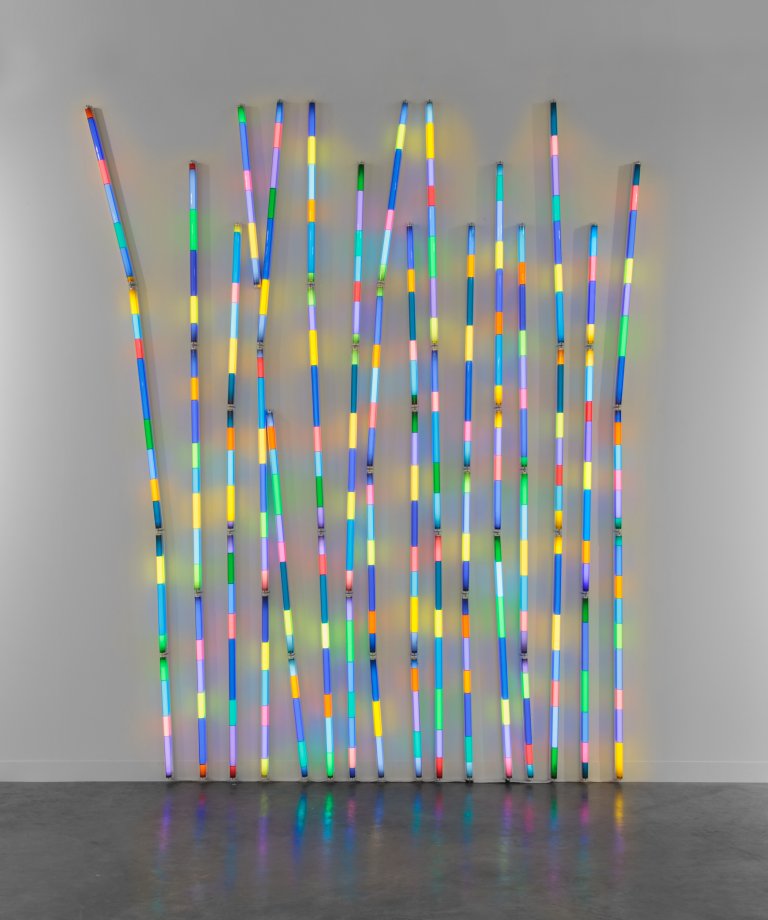 Bamboo Grove (Arashiyama, afternoon effect, May 23, 2017), 2017, 50 Fluorescent lights, fixtures, filters, 21x 120cm, 18x 90 cm, 11x 60cm
Overall dim. installed approx. 340 x 280 cm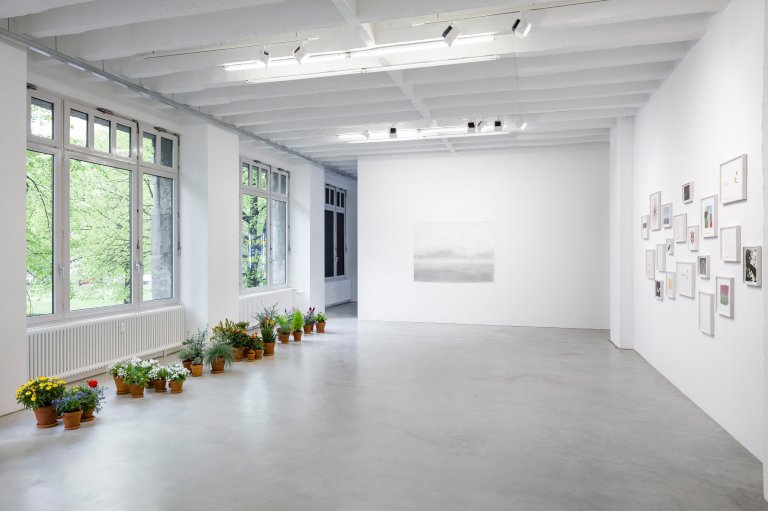 Installation view "Spencer Finch – The eye you see is not an eye because you see it, it is an eye because it sees you", Galerie Nordenhake Berlin 2017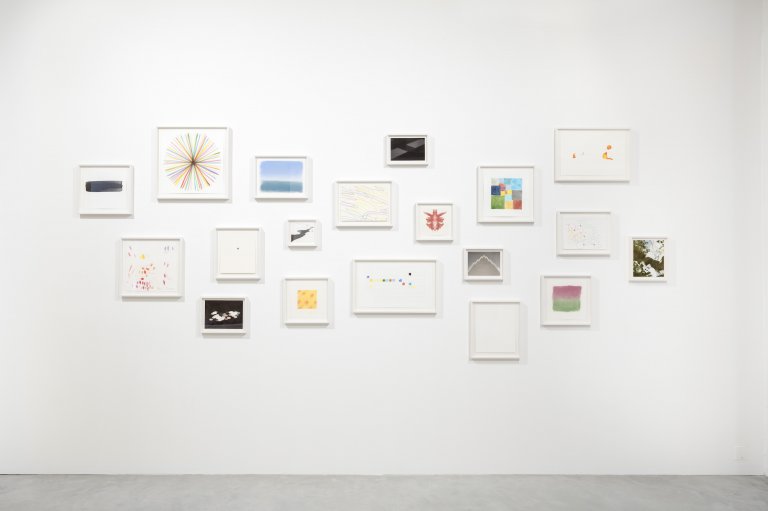 Pollen, 2017, watercolour, Ink, pencil, colour pencil, marker, soft pastel, gouache on paper, and archival inkjet prints, overall dimensions installed 151 x 361 cm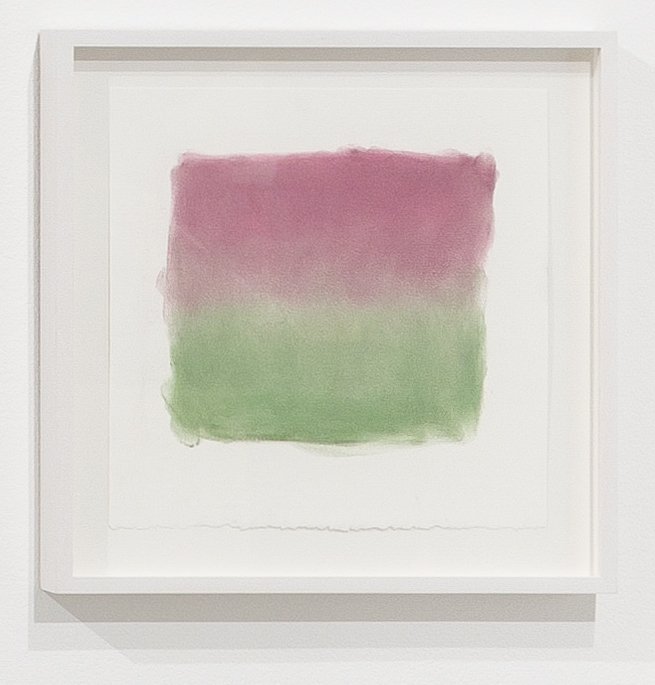 Smell of Spring, detail of the work Pollen, 2017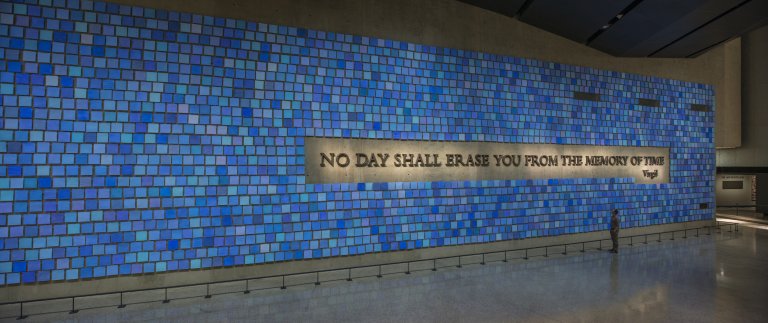 Trying To Remember the Color of the Sky on That September Morning, 2014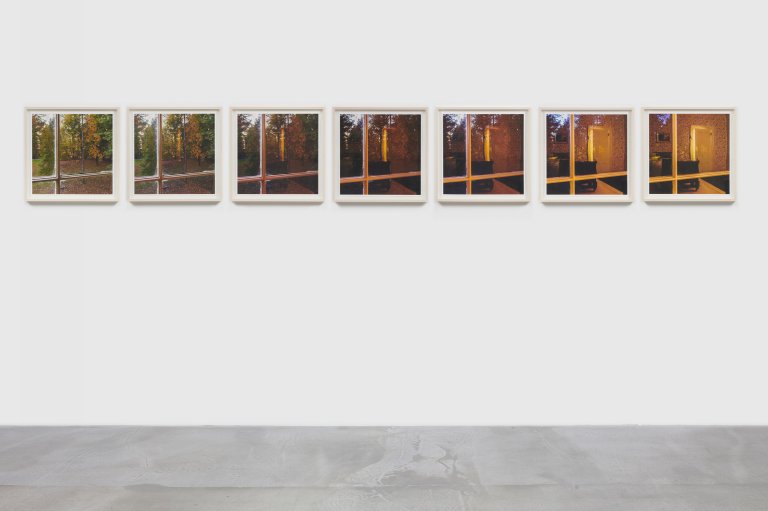 The Outer — from the Inner (Emily Dickinson's bedroom, dusk), 2018, 7 archival inkjet prints, each 39.5 x 39.5 cm
The Outer — from the Inner (Emily Dickinson's bedroom, dusk), 2018, detail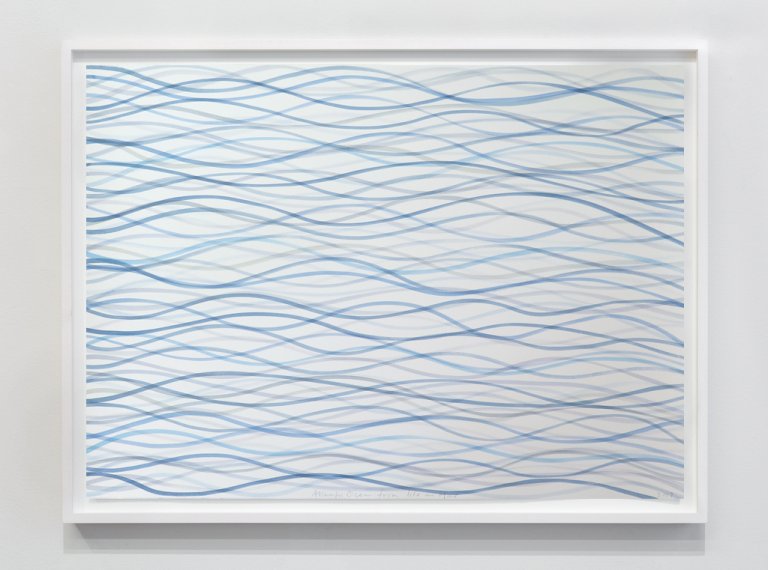 Atlantic Ocean from Isle au Haut, 2017, watercolour and pencil on paper, 75 x 102 cm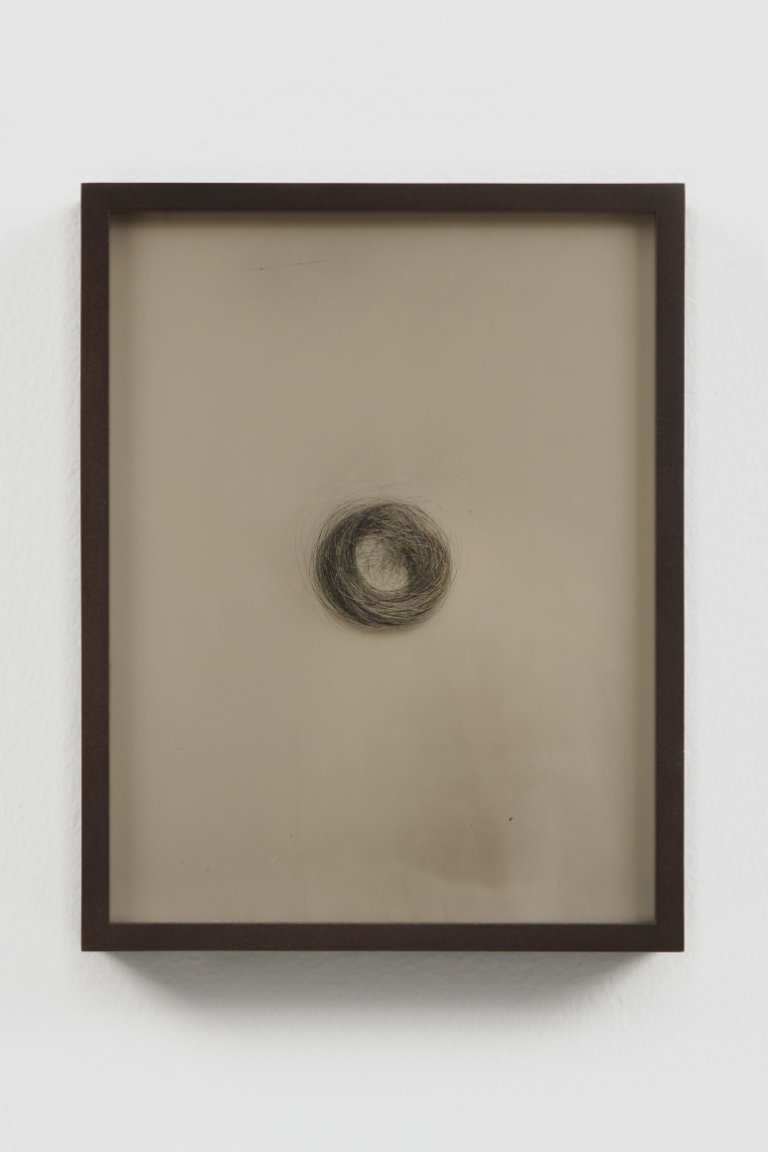 Red (Lock of Emily Dickinson's hair), 2018, Ambrotype on glass with velvet backing, 22.9 x 17.8 cm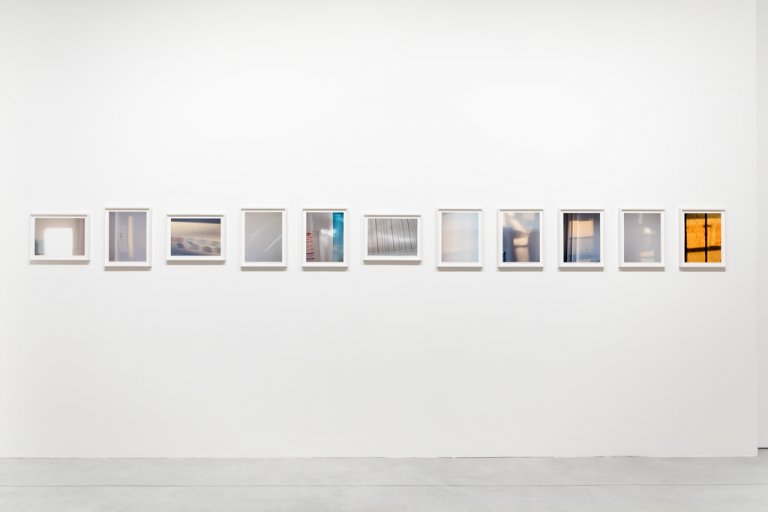 Sunlight in a Room, 2017, 11 archival inkjet prints, 8 photographs 35 x 26.6 cm, 3 photographs 26.6 x 35 cm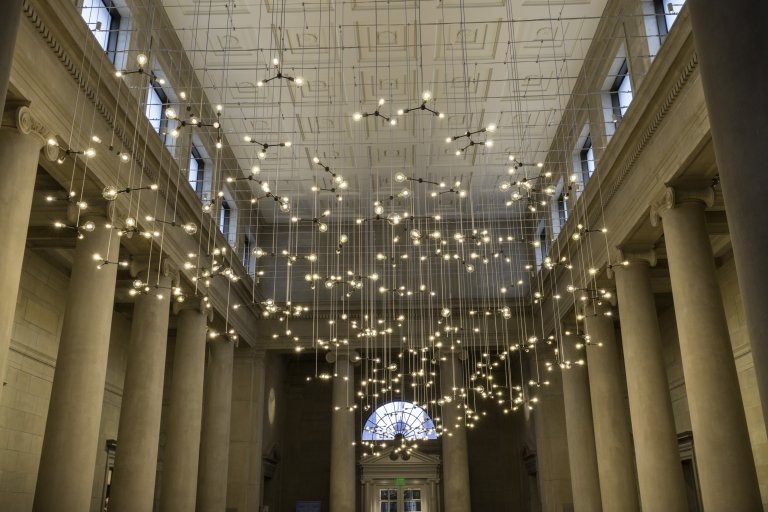 Installation view "Moon Dust (Apollo 17)", 2009, 150 light fixtures and 417 incandescent light bulbs, Variable dimensions, Baltimore Museum of Art 2017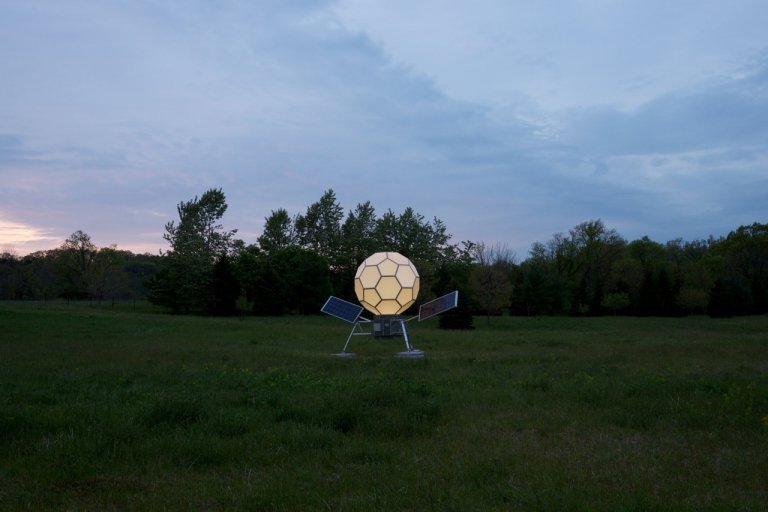 Lunar, 2011, installation view "Light & Landscape", Storm King Art Center, Cornwall, NY, 2012
Shadow of Orange Tree (After Lorca), 2016, 6 Fluorescent lights, fixtures, filters, 210 x 240 x 5 cm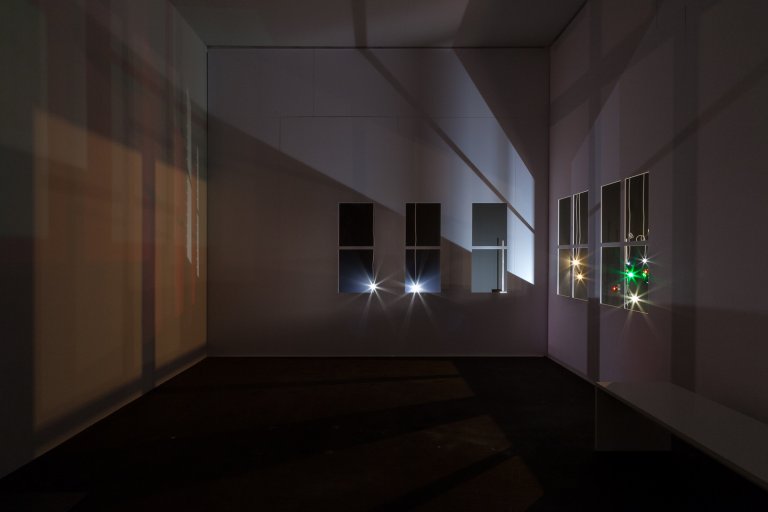 Light in an Empty Room (Studio at Night), 2015, Mixed Media, Dimensions at Art Unlimted Basel: (H)400 x (W)1000 x (L)750 cm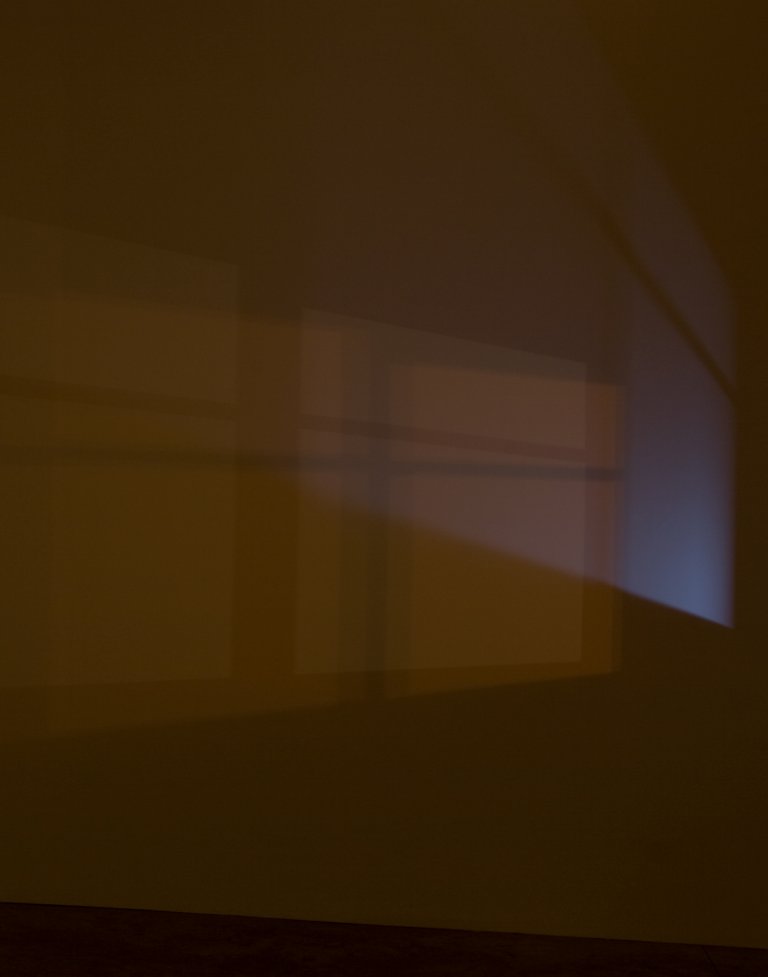 Light in an Empty Room (Studio at Night), 2015, detail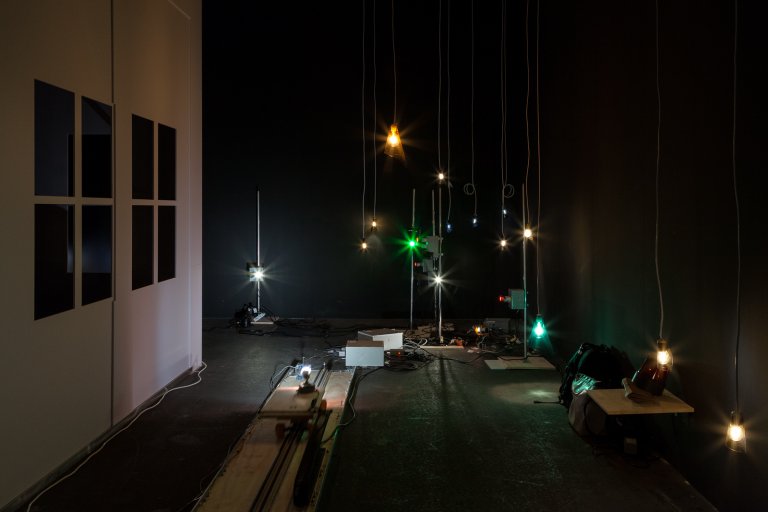 Light in an Empty Room (Studio at Night), 2015, detail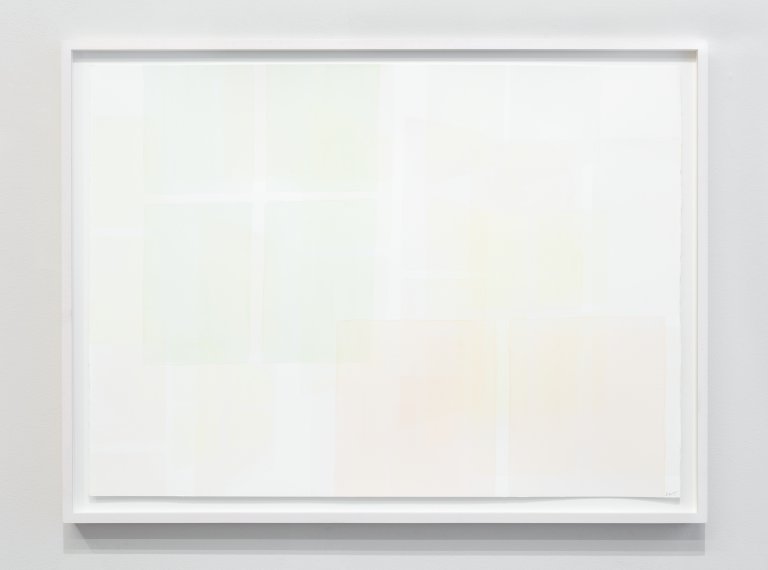 Study for Light in an Empty Room (Studio at Night), 2015, Watercolor on paper, 56 x 77 cm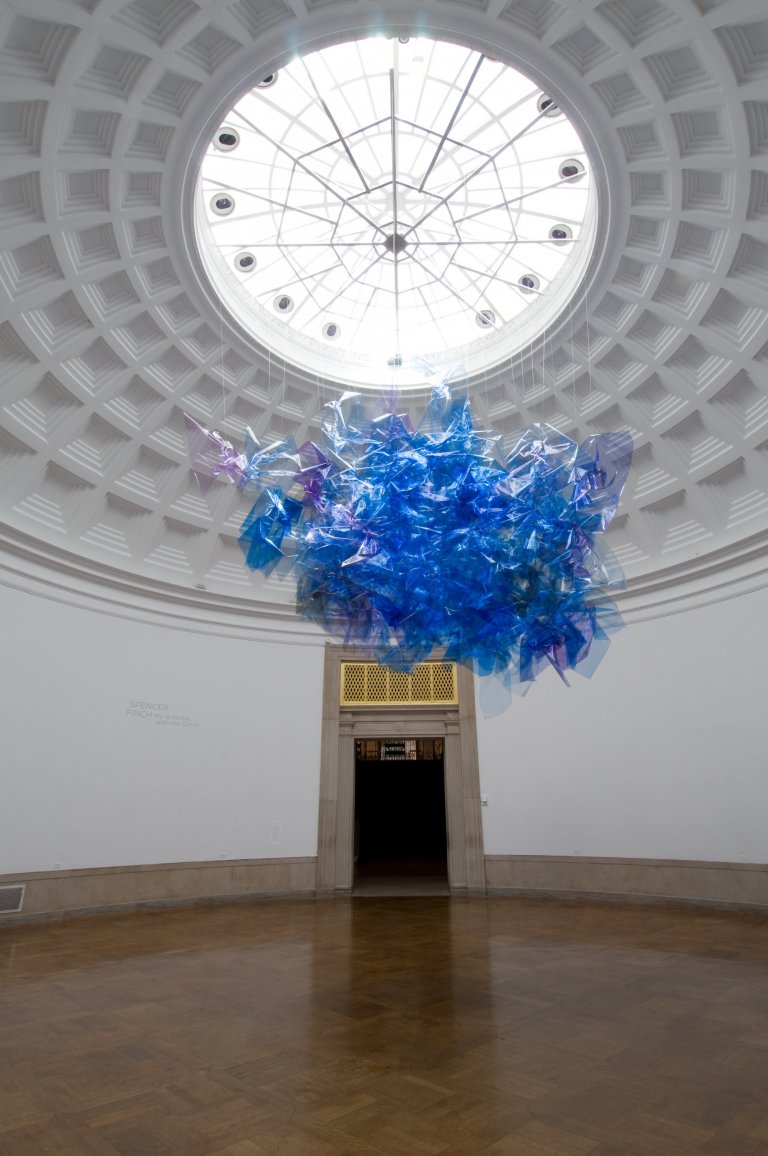 Installation view "Spencer Finch – Passing Cloud", Corcoran Gallery of Art, Washington D.C. 2010, Fluorescent light fixtures and lamps, filters, mono-filament, and clothespins, dimension variable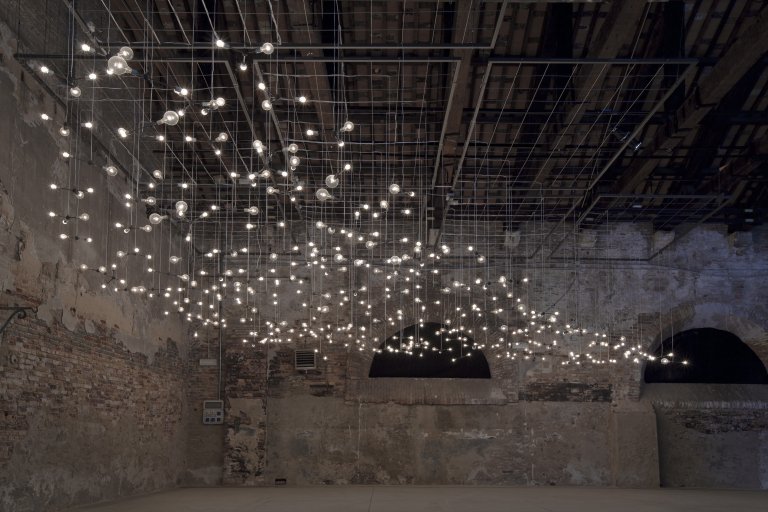 Installation view "Spencer Finch – Moondust (Apollo 17)", Venice Biennale 2009, 150 light fixtures and 417 incandescent light bulbs, dimensions variable, Fare Mondi/Making Worlds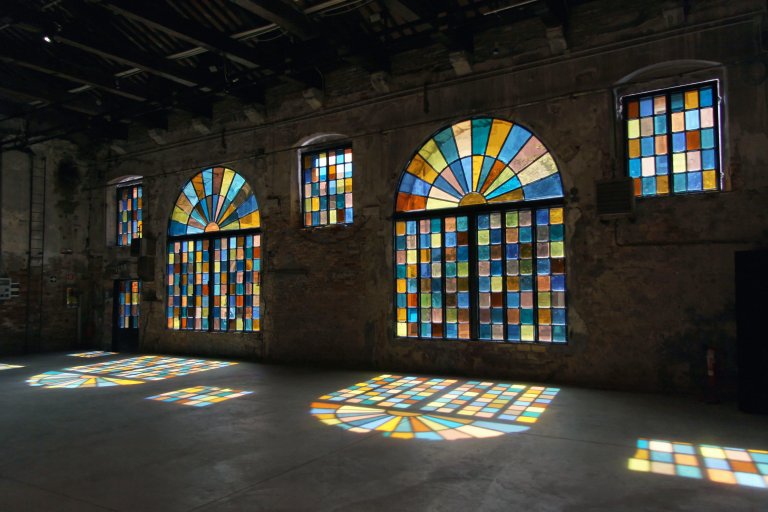 Installation view "Spencer Finch – Moonlight (Venice, March 10, 2009)", Venice Biennale 2009, filters, tape, dimensions variable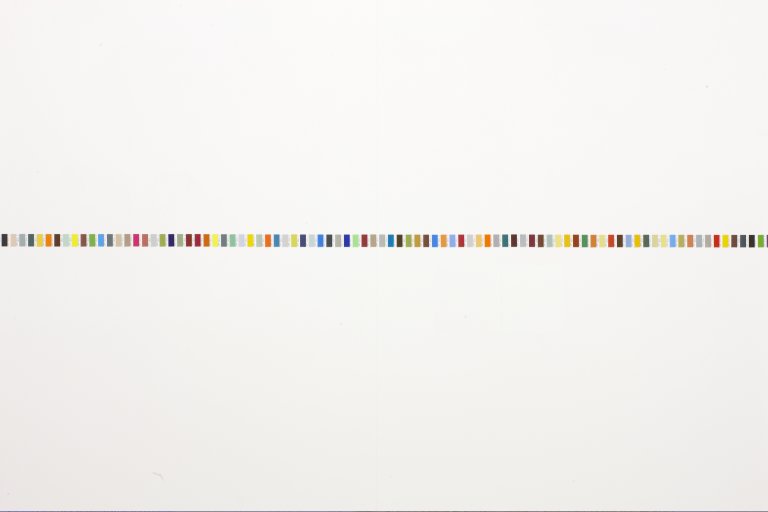 A Walk Through Berlin (with Claudia), 12. November 2013, 252 Pantone Color Swatches, Dimensions variable (individual elements 4,3 x 3 cm each)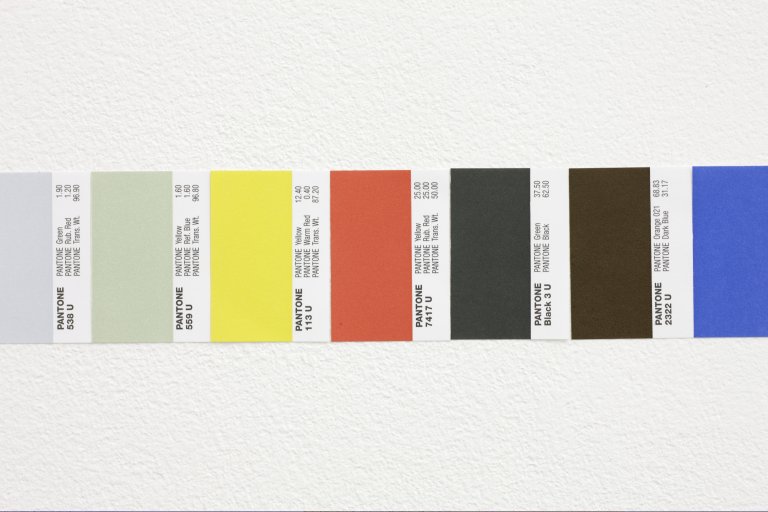 A Walk Through Berlin (with Claudia), 12. November 2013, detail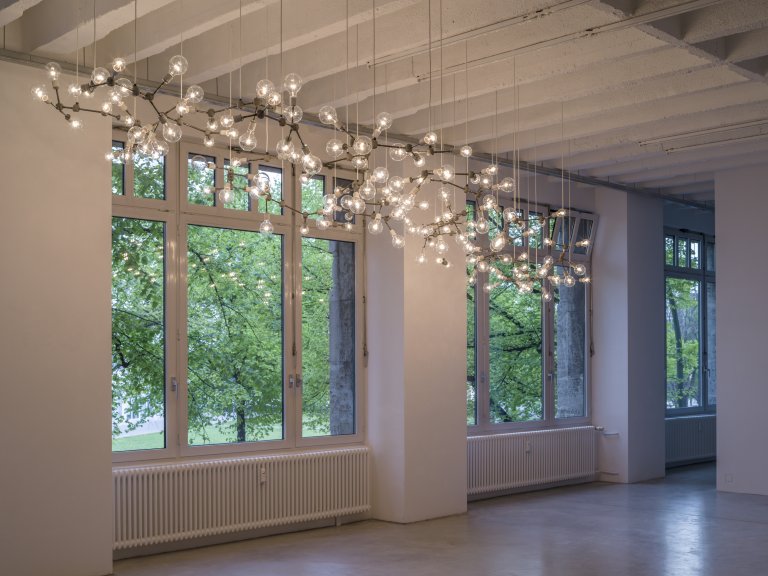 Mars Black (3Fe2O3•FeO), 2003, 60 fixtures and 255 light bulbs (15 units, á 4 fixtures), dimensions variable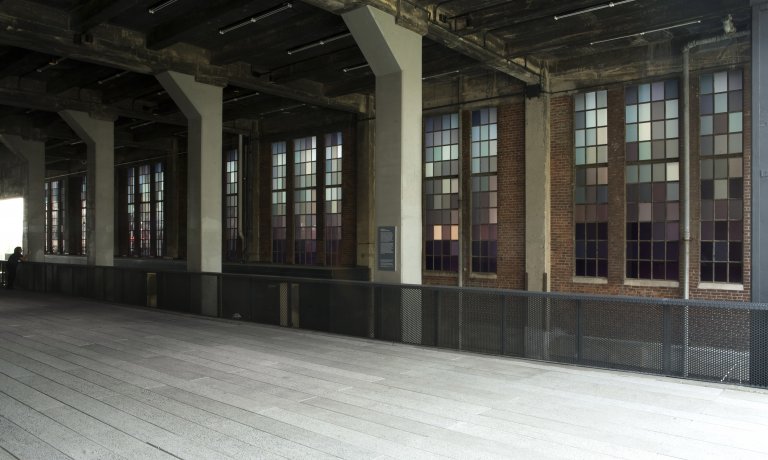 The River that Flows Both Ways, 2009, Transforms an existing series of windows with 700 individual panes of glass representing the water conditions on the Hudson River over a period of 700 minutes in a single day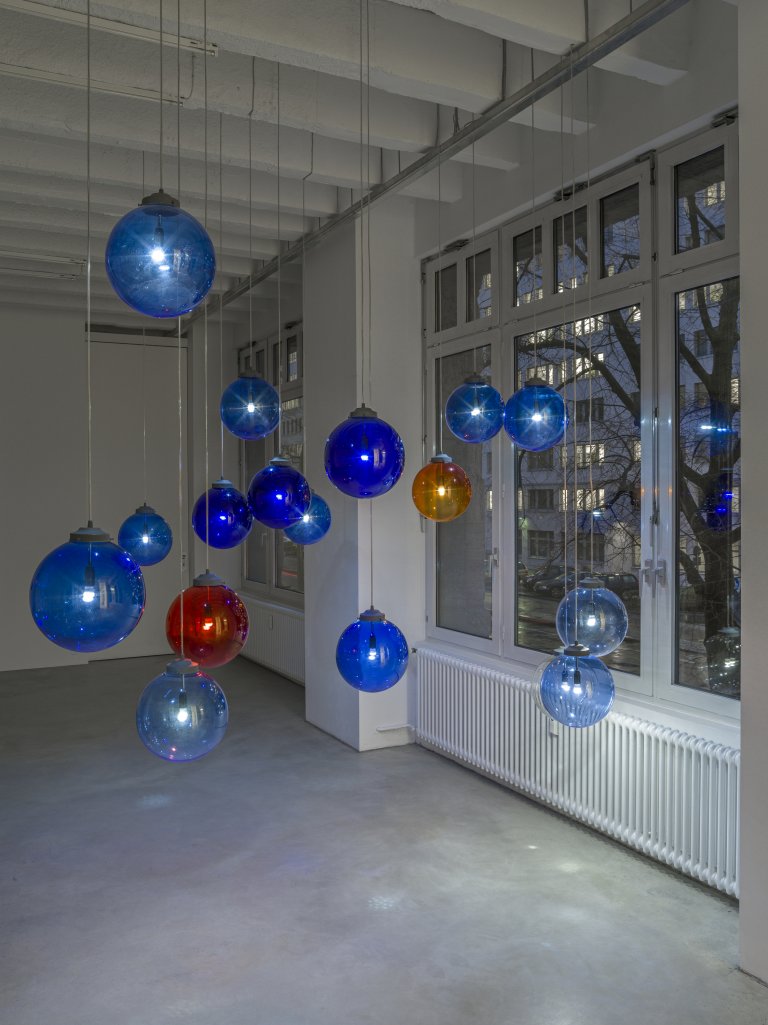 Orion, 2008, 17 hand painted glass globes, fixtures, LED-lights, overall dimensions: approx 151 x 300 x 300 cm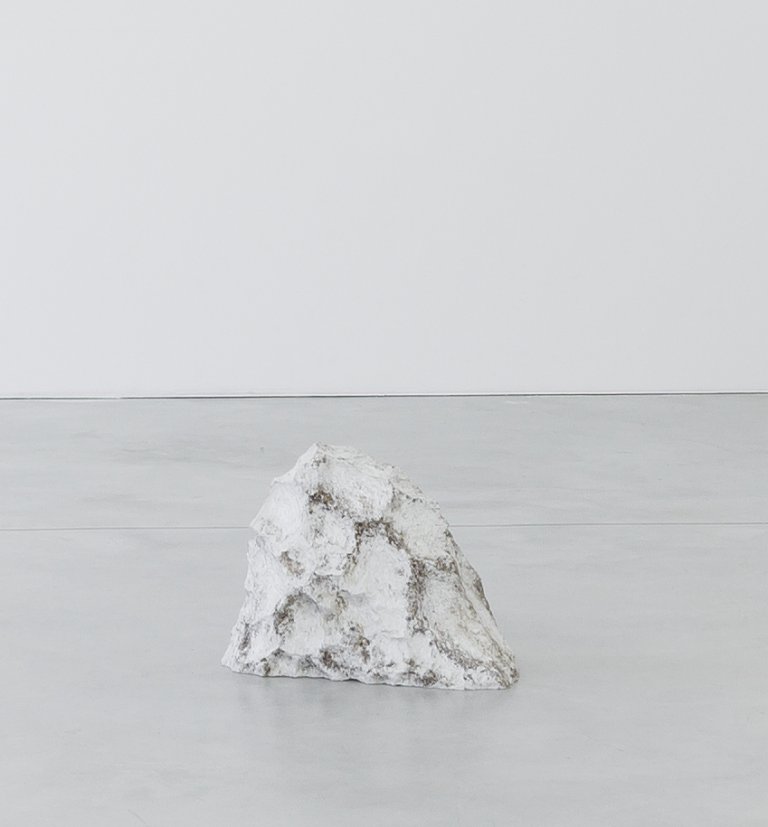 Lump (of concrete) Mistaken for a Pile (of dirty snow), 2010, Secar 71, white Portland cement, white sand, black marble dust, Translucent Frit, Brooklyn street dirt, 34 x 41 x 29 cm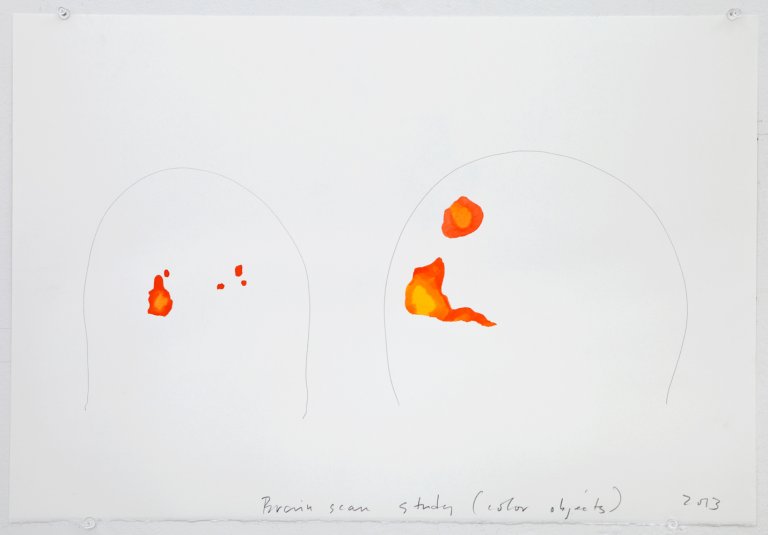 Brain scan study (color objects), 2013, Water color and pencil on paper, 38.8 x 55.9 cm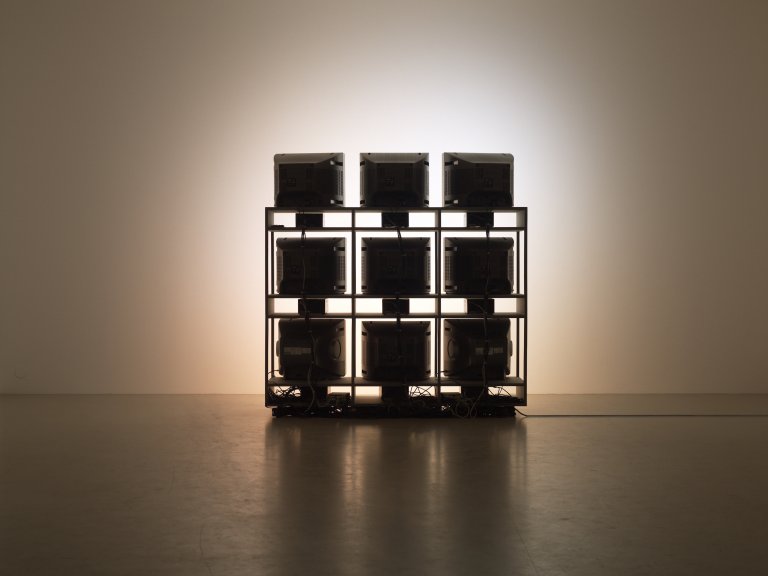 West (Sunset in my motel room, Monument Valley, January 26, 2007, 5:36-6:06 pm), 2007, 9-channel synchronized video installation with 9 TV monitors, 9 DVD players and sync unit, Running time: 31 min, 5 sec, Dimensions variable, shelving and monitors: 182 x 206 x 73,7 cm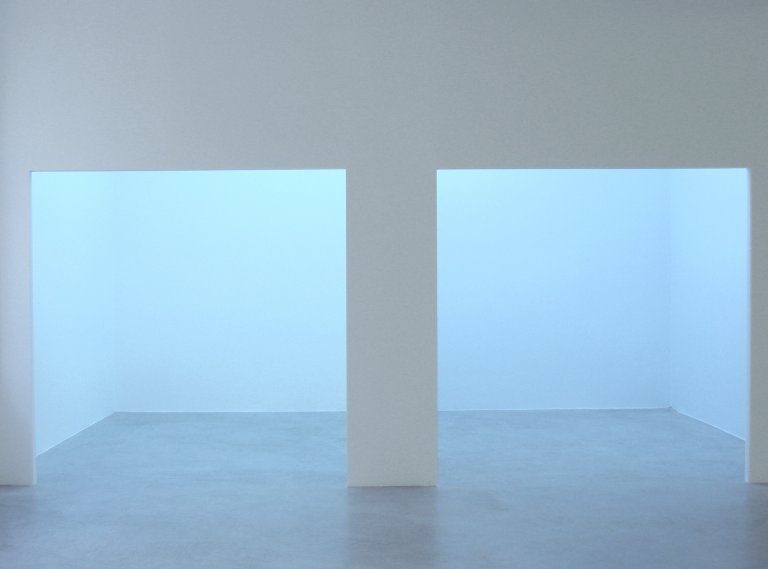 Two Examples of Molecular Orbital Theory (Prussian Blue), 2005, Room installation, each room 355 x 400 x 280 cm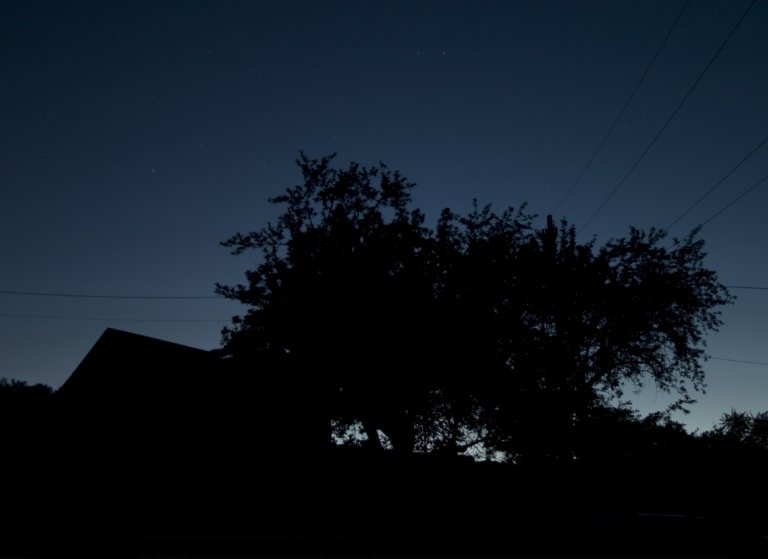 The Moment When Three Dimensions Become Two Dimensions (Apple Tree, 7/3/10, 9:38 p.m.), 2010, Archival inkjet print, 55.9 x 76.2 cm | 22 x 30 in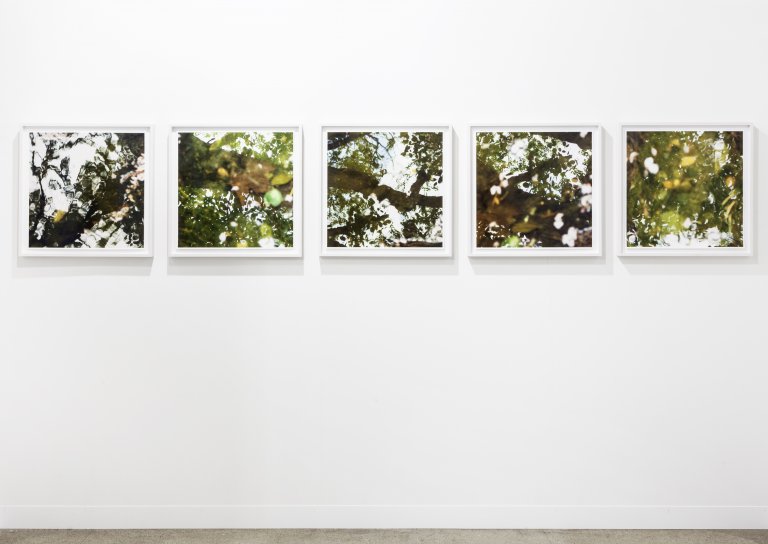 Floating Cherry Blossoms (Stream), 2016, Series of five archival inkjet prints, 52 x 52 cm, framed: 58.7 x 58.7 cm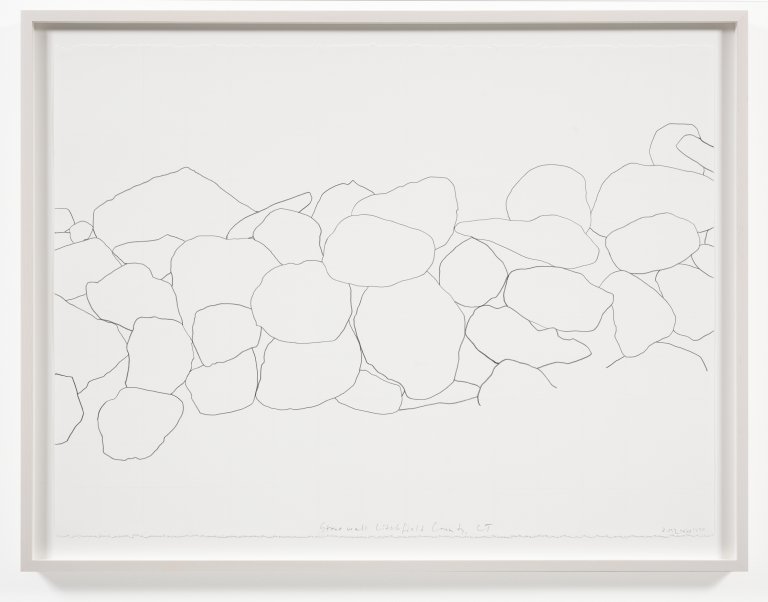 Stone Wall, Litchfield County, CT 1, 2012, Graphite on paper, 55,9 x 76,2 cm (framed 64 x 83,1 cm)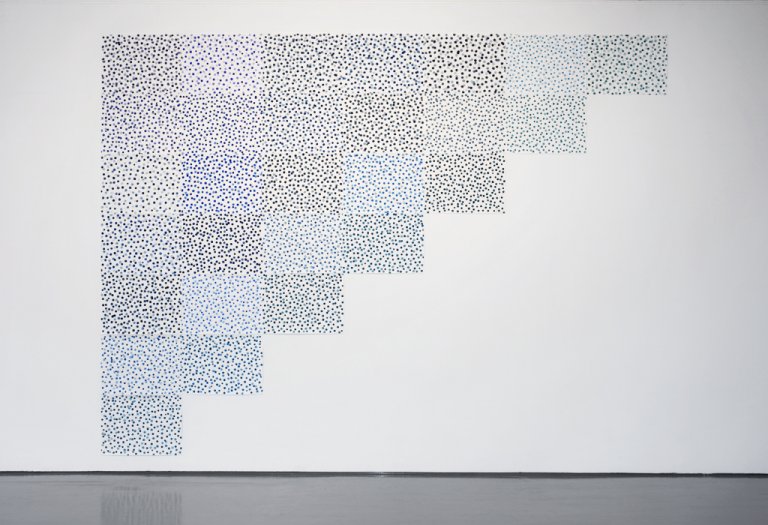 8456 Shades of Blue (After Hume), 2008, Ink on paper, 28 Drawings: overall dimensions: 391 x 533 cm; each, 55,9 x 76,2 cm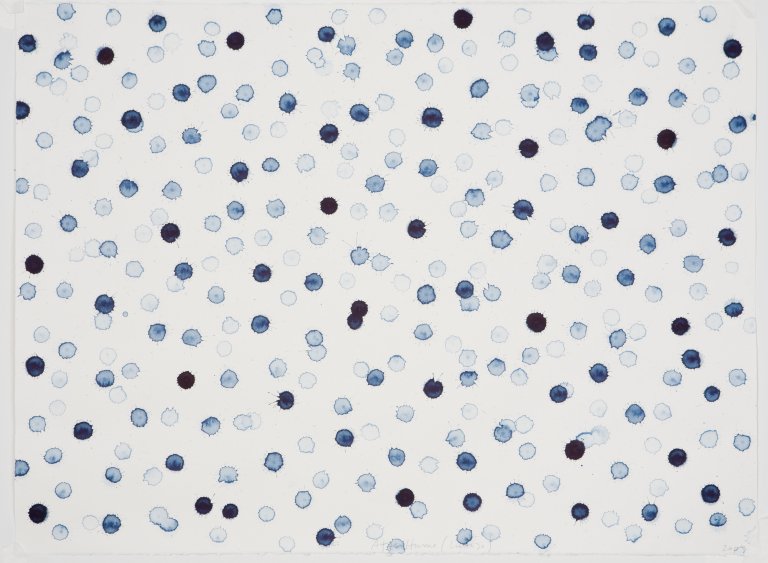 8456 Shades of Blue (After Hume), 2008, detail