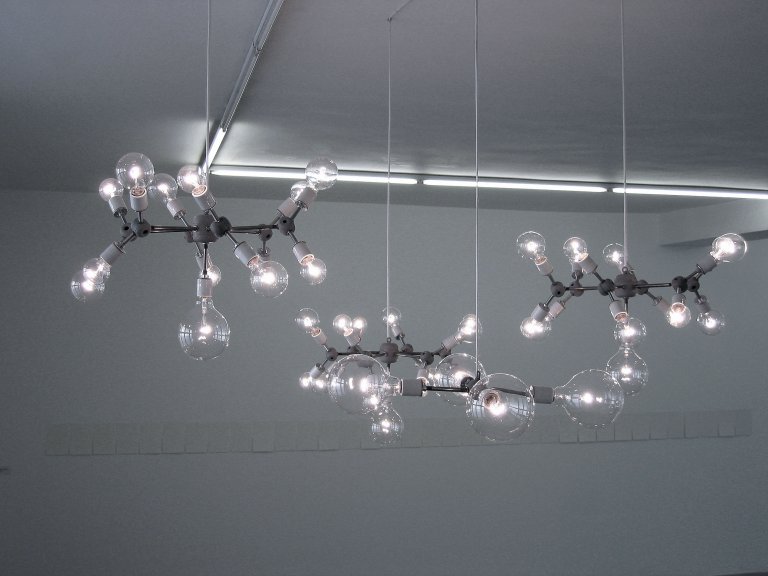 Prussian Blue, 2005, 4 light fixtures and 43 incandescent light bulbs
Based on the molecule Prussian Blue
Spencer Finch »Prussian Blue«
Berlin, March 05, 2005 - April 09, 2005
Galerie Nordenhake is pleased to present its first solo exhibition with the American artist Spencer Finch. For a viewer acquainted to Finch's work this exhibition will reveal well-known and recurrent themes. We have references to philosophical phenomenology and psychology of perception: What does it actually mean to experience a colour? What is seeing? How do we communicate experiences? How can a sensual stimulus trig an existential reconstruction of a cultural context - as in the case of the famous Madeleine in Marcel Proust's Recherche? And how can such a context be shared? Finch has worked consistently with these questions during his career as an artist. "Prussian Blue" is yet another step in the development of a deeply personal "Cultural Colour Doctrine" that involves such disparate phenomena as the pink colour of Jacqueline Kennedy's hat the day her husband, the President, was shot, or the tone of the ceiling above the sofa in Sigmund Freud's examination room, and the shade of blue in the sky over the place where the first atomic bomb was developed in the desert of Los Alamos in 1945.
read more
For his first solo exhibition in Berlin, Spencer Finch delves into Prussian blue, the pigment that was the first artificial pigment, and invented in this very city by Heinrich Diesbach some 300 years ago. Suddenly blue was for the first time available as an affordable colour, both commercially and artistically. Its use quickly spread to textiles and it was notably used to dye the uniforms of the Prussian army. In the 19th century it showed itself useful for the early photographical pioneers and was used for cyanotypes or blueprints.
Prussian Blue, 2005 is a three-dimensional model of the molecular structure of said pigment, executed using standard light bulbs in different sizes. As all Finch's works, the chandelier is representational. This is in fact what the pigment looks like on the molecular level.
In Self Portrait as Crazy Horse, 1995-2005, a large site specific cyanotype photograph made directly on the wall, Spencer Finch again connects to the use of Prussian blue but also to the German fascination with Indians as manifested in the huge success of Karl May's stories. Using the whole gallery space and its large windows as a camera and a gesso-primed, and photosensitised wall as the "film", he spends a day in front of the wall, using the time from sunrise to sunset as exposure time. The final result is a cyanotype made directly on the wall that shows himself as the famous Indian chief. The cyanotype process uses the same components as the ones found in Prussian blue and gives an image traced in white on a blue background. In the work, which hovers between, painting, photography and performance, the artist seems to appear as a white shadow on the wall. Or is it only your imagination? Crazy Horse was a Lakota warrior and mystic who successfully lead an uprising that culminated in the battle of Little Big Horn, also known as Custer's Last Stand. However, even if occupying a place in our collective memory, and even if coming from an era when photography already played a significant role in defining historical key figures and places, Crazy Horse never allowed anyone to take his picture, "Why would you wish to shorten my life by taking from me my shadow?"
The main work that Finch has made especially for the exhibition is an installation called Two Examples of Molecular Orbital Theory (Prussian Blue) 2005. Blue light is seen coming from two large door openings leading in to large light-filled rooms. Both appear blue, but the colour is achieved by different means. Again the artist questions what we see but also shows faith in representing the unattainable - be it the colour of Jackie's pillbox hat or the elusive position of electrons in a molecule. Similar ideas come back in a series of water-colours, Study for a Transparent Language, Index of Prussian Blue (35 watercolour drawings), 2005, that catalogues alphabetically 35 different names for the pigment, ranging from American Blue to Williamson's Blue. But again, does anyone know what blue is?
This is Spencer Finch's first solo exhibition at Galerie Nordenhake. In 2003 he participated in our exhibition on painting, "Pale Fire", with the light installation New York Boogie Woogie, 2003, (the light at Times Square on the night of April 27, 2003, at 10 pm).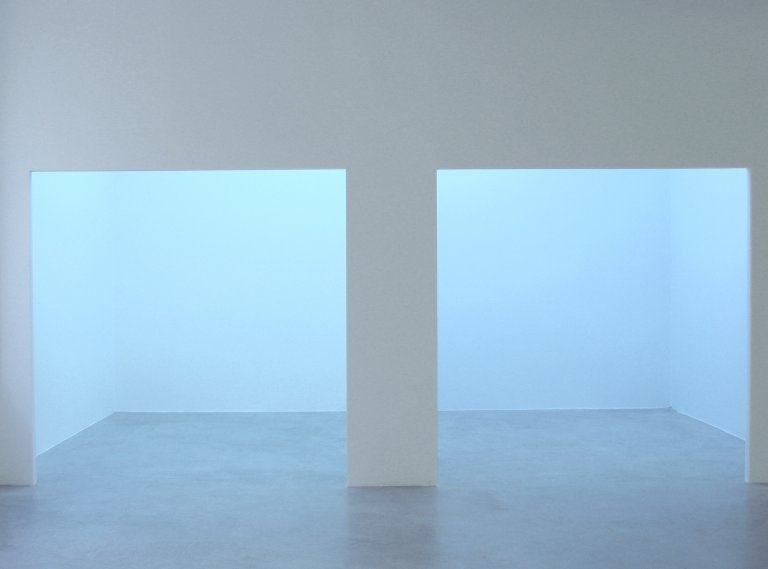 Two Examples of Molecular Orbital Theory (Prussian Blue), 2005, room installation, each room 355 x 400 x 280 cm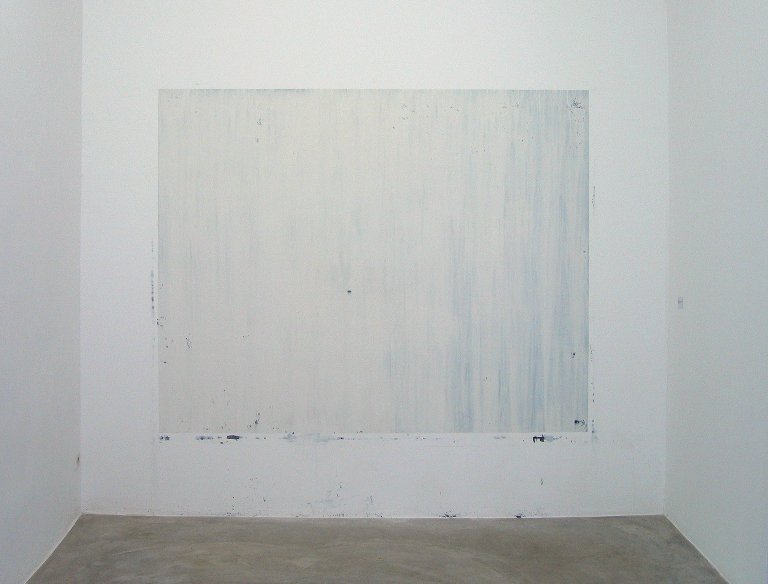 Self Portrait as Crazy Horse, March 3, 2005, 1995-2005, cyanotype on wall, site specific, 200 x 250 cm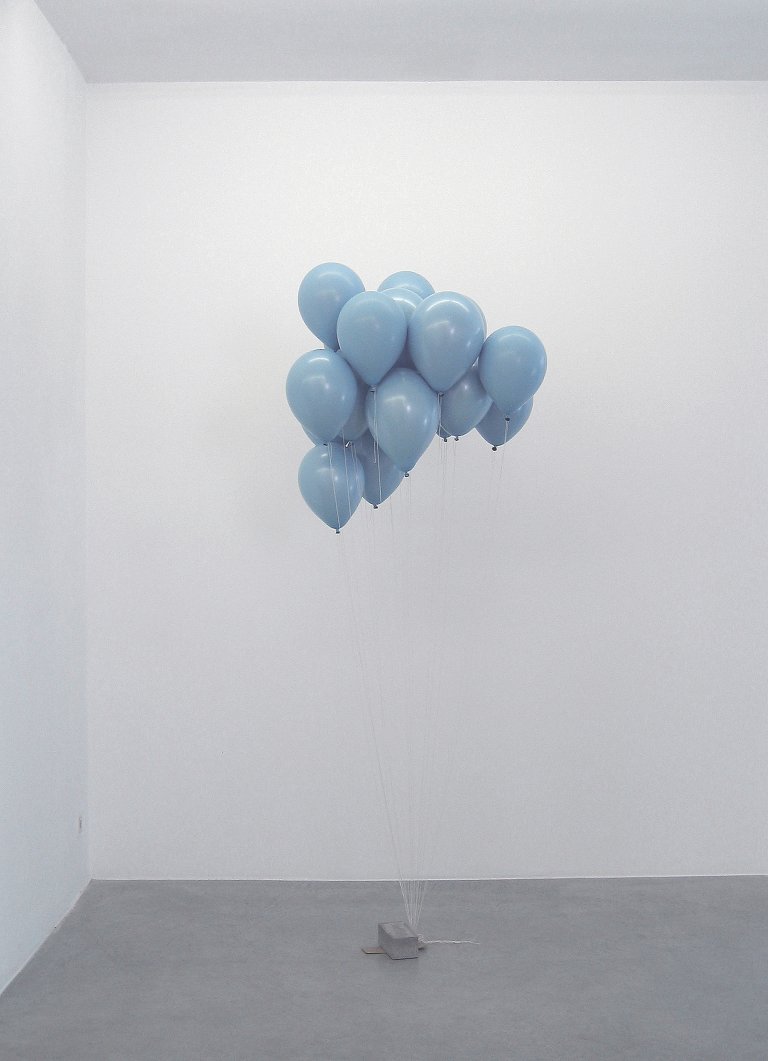 Sky (Over Coney Island, November 21,2004 1:14 pm), 2005, 15-25 balloons, string, brick, variable dimensions, each balloon ø 26 cm