Seated with two hands, 2021. Pigment print on acid-free cotton paper, mounting tape, split pins
142 x 104 cm
Frida Orupabo
Frida Orupabo was born 1986 in Sarpsborg, Norway, and lives and works in Oslo. Solo exhibitions include Fotomuseum Winterthur (2022); Museu Afro Brasil, São Paulo (2021); Kunsthall Trondheim, Trondheim (2021); Huis Marseille, Amsterdam (2020); Portikus, Frankfurt am Main and Kunstnernes Hus, Oslo (both 2019). Orupabo participated in the Okayama Art Summit (2022); the 34th São Paulo Biennial (2021) as well as the 58th Venice Biennale exhibition (2018). Together with Ming Smith and Missylanyus, Frida Orupabo presented her work in Arthur Jafa's exhibition "A Series of Utterly Improbable, Yet Extraordinary Renditions" at Moderna Museet in Stockholm and Galerie Rudolfinum in Prague (both 2019), Julia Stoschek Collection, Berlin (2018), and Serpentine Sackler Gallery, London (2017).
Frida Orupabo's first monograph was published by Sternberg Press on the occasion of her exhibition at Kunsthall Trondheim 2021. The book contains extensive documentation of her work and essays by Stefanie Hessler, Lola Olufemi, and Legacy Russell.
Her work is included in the collections of Tate, UK, Guggenheim Museum, USA, Studio Museum in Harlem, USA, LACMA, USA, Kadist Foundation, France / USA, Louisiana Museum of Modern Art, Denmark, Museum Ludwig, Germany, Jumex Museum, Mexico, Kistefors Collection, Norway, Fotomuseum Winterthur, Switzerland, Moderna Museet, Sweden, Mumok, Museum Moderner Kunst Stiftung Ludwig Wien, Austria, Nasjonalmuseet, Norway, Foundation ARCO, Spain, Perez Art Museum, USA, Astrup Fearnley Museum of Modern Art, Norway, Göteborgs Konstmuseum, Sweden, KIASMA, Finland, Verbund Collection, Austria, 21C Hotel Museum, USA, A4 Arts Foundation, South Africa, Alexander Tutsek-Foundation, Germany, Dean Collection, USA, Museum Rietberg, Switzerland, Scheryn Collection, South Africa, Turku Art Museum, Finland, Zabludowicz Collection, UK / Finland, Marieuse Hessel Collection, USA.
She was shortlisted for the Deutsche Börse Photography Foundation Prize 2023 and the Joan Miró Prize 2023, and was also shortlisted for the Future Generation Art Prize 2020.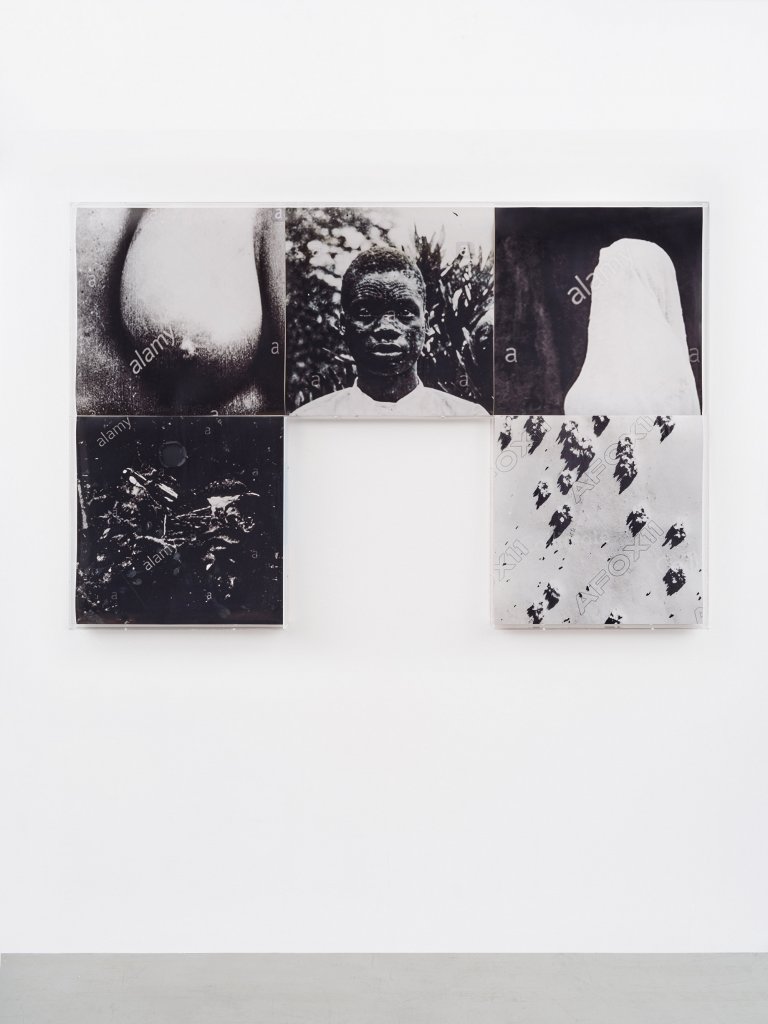 Fragments II, 2022, pigment print on acid free semigloss paper, acrylic glass frame, each print 58 x 58 cm, 22 7/8 x 22 7/8 in, framed 175 x 117 x 6 cm, 68 7/8 x 46 x 2 3/8 in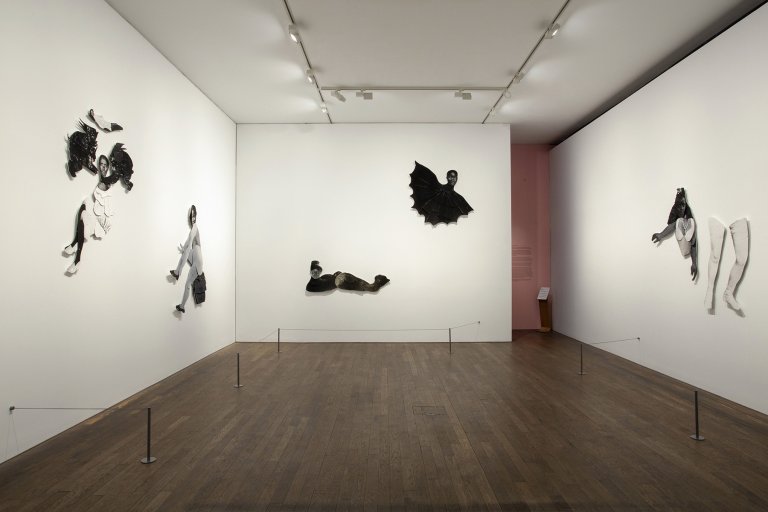 Deutsche Börse Photography Foundation, The Photographers' Gallery, London, 2023
Deutsche Börse Photography Foundation, The Photographers Gallery, London, 2023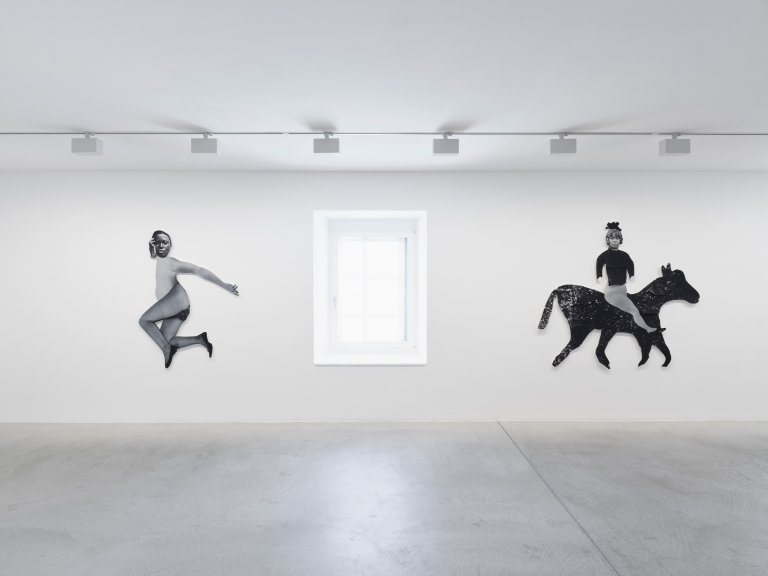 Installation view "I have seen a million pictures of my face and still I have no idea", Fotomuseum Winterthur, 2022
Installation view. "Flight" with Frida Orupabo, Kudzanai Chiurai, and Eric Magassa, Malmö Konsthall, 2023. Photo Helene Toresdotter
Installation view. "Flight" with Frida Orupabo, Kudzanai Chiurai, and Eric Magassa, Malmö Konsthall, 2023. Photo Helene Toresdotter
Installation view 34th Bienal de São Paulo, solo exhibiton at Museu Afro Brasil 2021
Untitled, 2021, 2 Collages, each 69 x 112 cm, installed at 34th Bienal de São Paulo, solo exhibiton at Museu Afro Brasil 2021
"Two Women" 2021, 12 movable individual objects, digital print on primed anodized aluminium, stainless steel, installation view Future Generation Prize 2021, Kyiv
Photo: Maksym Bilousov, PinchukArtCentre © 2021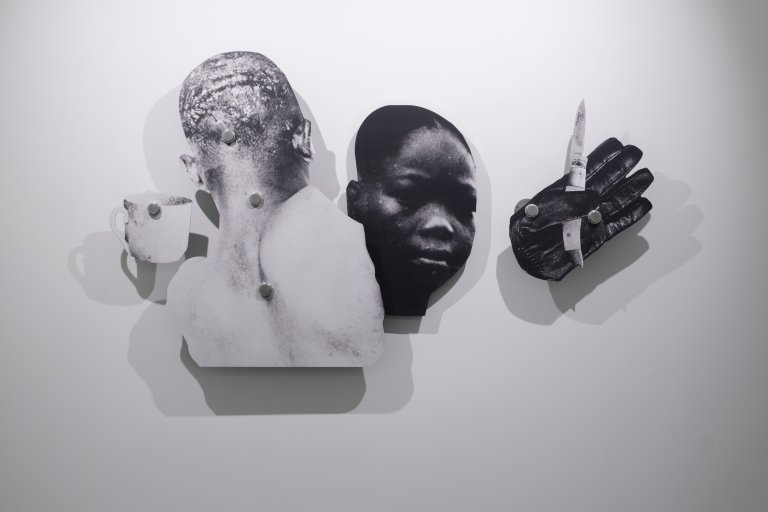 Detail "Two Women", 2021 (1st varation)
Detail "Two Women", 2021 (2nd varation)
"Two Women" 2021 (3rd variation)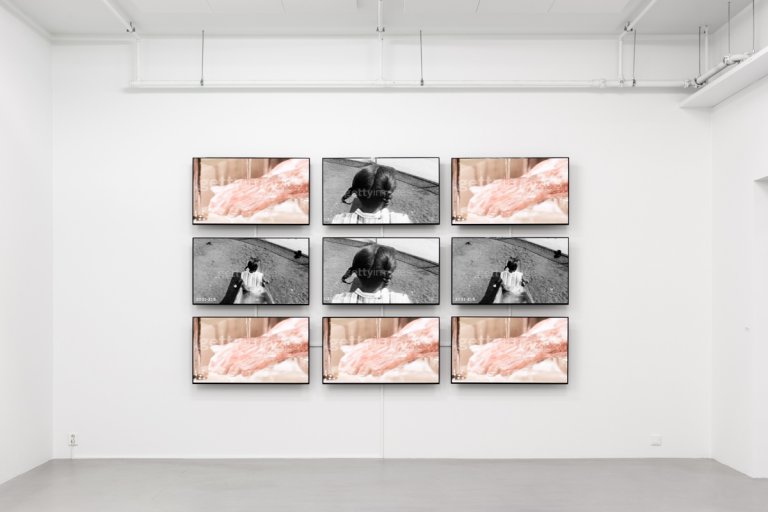 Installation view "How did you feel when you come out of the wilderness", Kunsthall Trondheim, 2021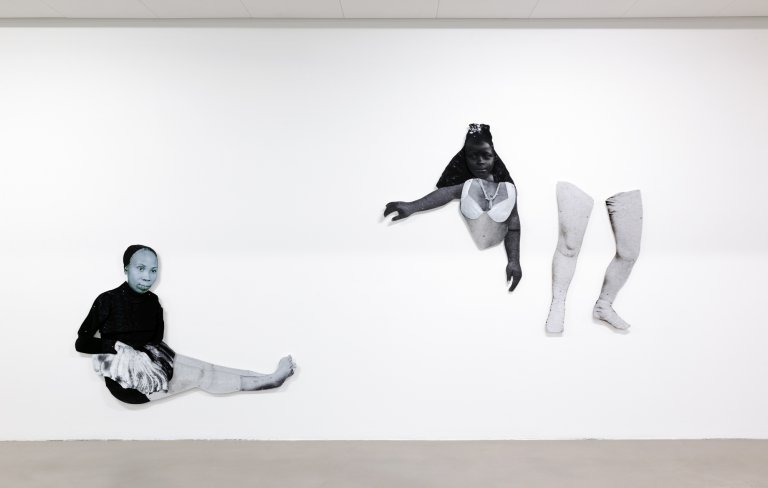 Installation view "How did you feel when you come out of the wilderness", Kunsthall Trondheim, 2021
Installation view "Jack Davison, Omer Fast, Frida Orupabo", Deichtorhallen. Internationale Kunst und Fotografie, Hamburg 2021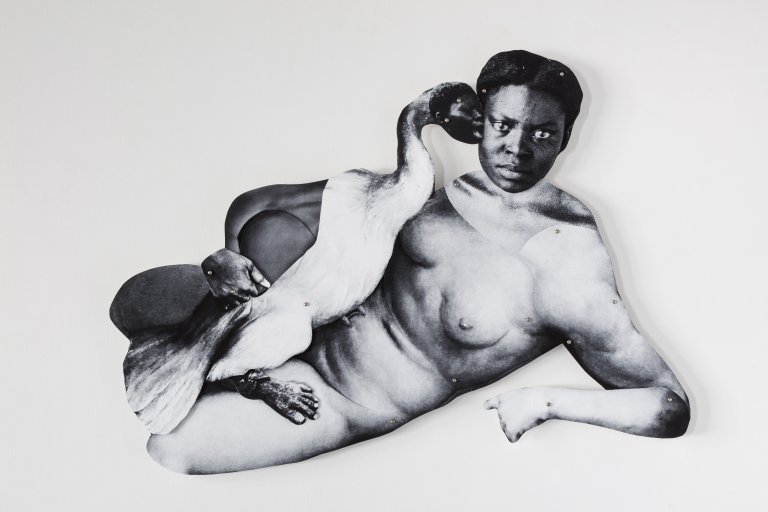 Leda and the swan, 2021, collage with paper pins mounted on aluminium, 94 x 67 cm
Installation view "Jack Davison, Omer Fast, Frida Orupabo", Deichtorhallen. Internationale Kunst und Fotografie, Hamburg 2021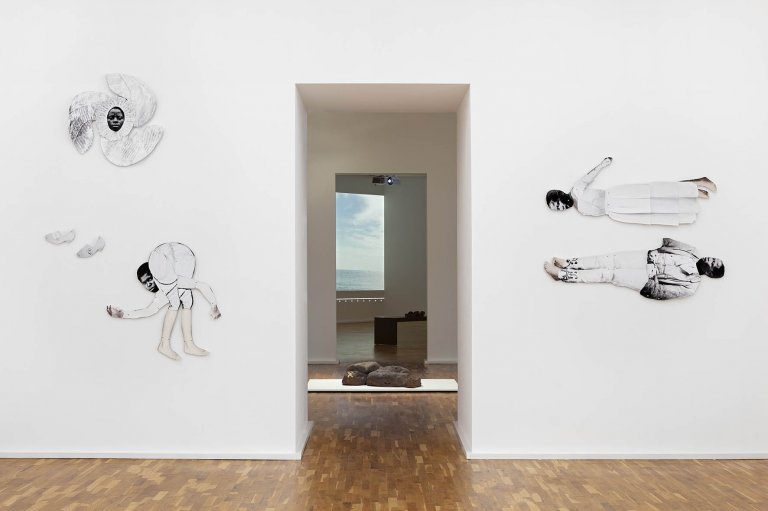 Installation view "Our Present", Museum für Gegenwartskunst Siegen 2020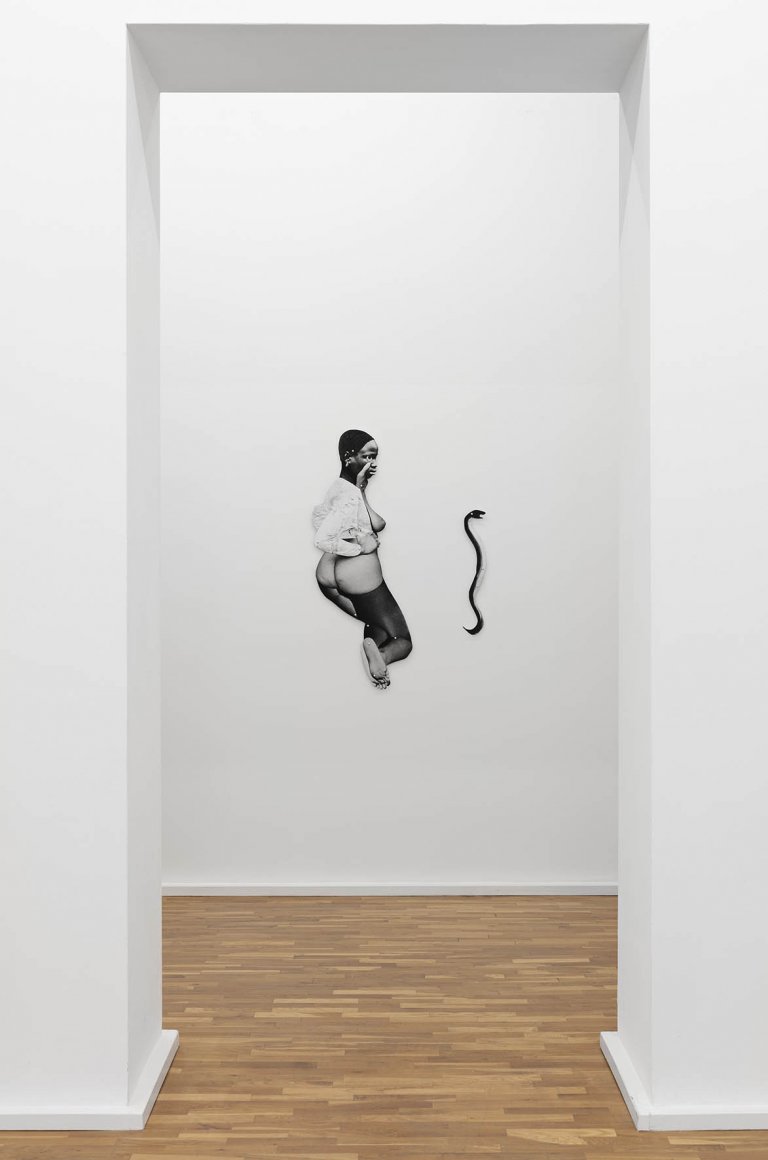 Installation view "Our Present", Museum für Gegenwartskunst Siegen 2020
Untitled, 2020, collage with paper pins mounted on aluminium
38 x 82 cm
Untitled, 2020, detail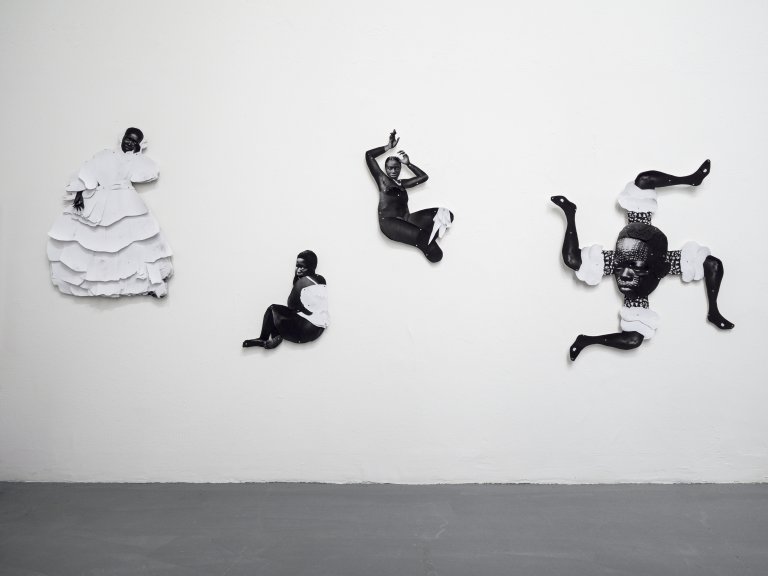 Installation view, "May You Live in Interesting Times", Venice Biennale, 2019
Installation view, "May You Live in Interesting Times", Venice Biennale, 2019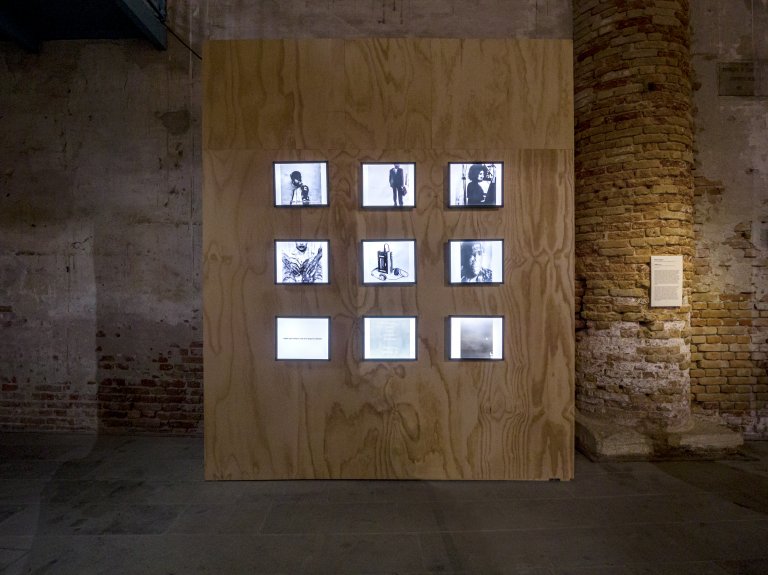 Installation view, "May You Live in Interesting Times", Venice Biennale, 2019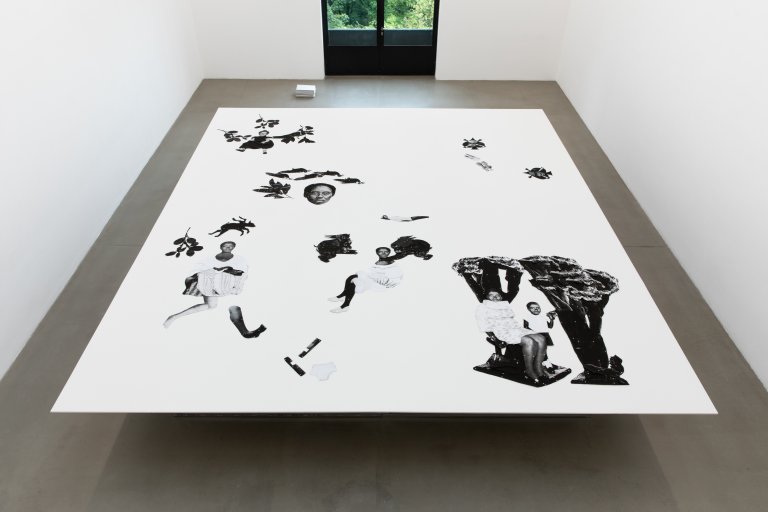 Installation view "the mouth and the truth", Portikus, Frankfurt am Main 2019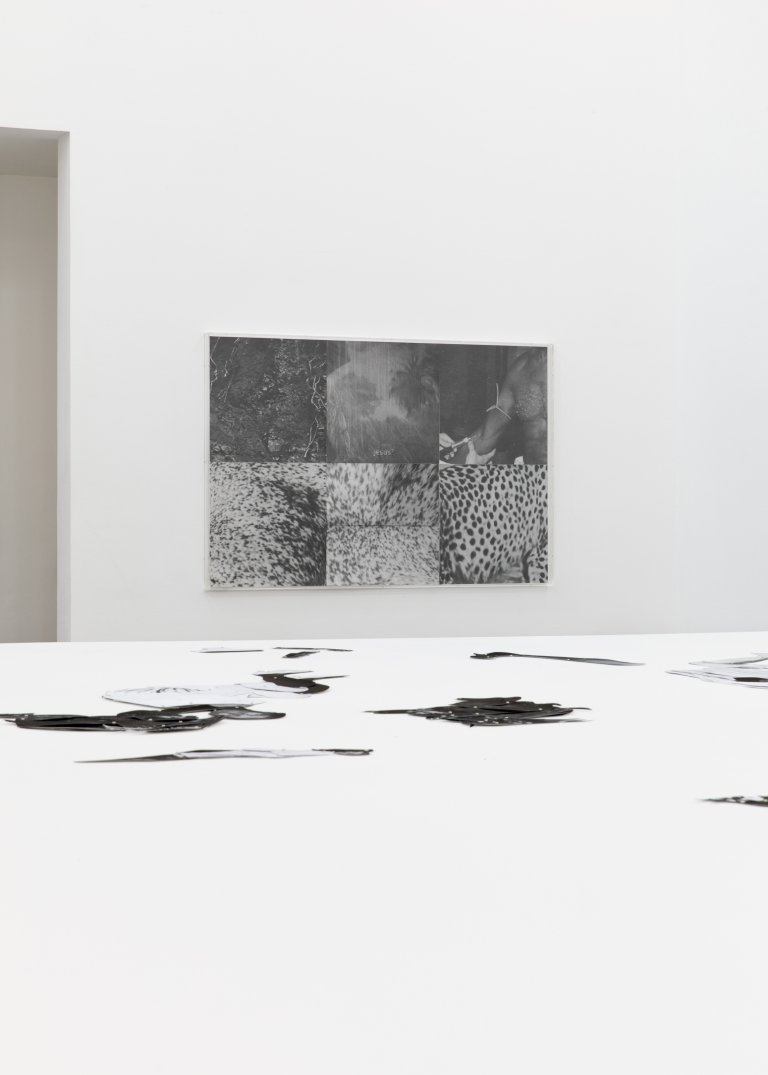 Installation view "the mouth and the truth", Portikus, Frankfurt am Main 2019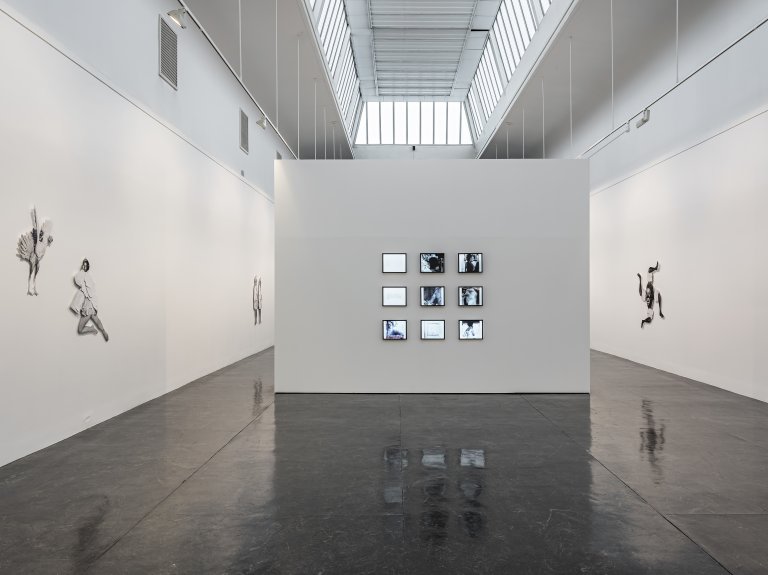 Installation view "Frida Orupabo & Arthur Jafa – Medicine for a Nightmare", Kunstnernes Hus, Oslo 2019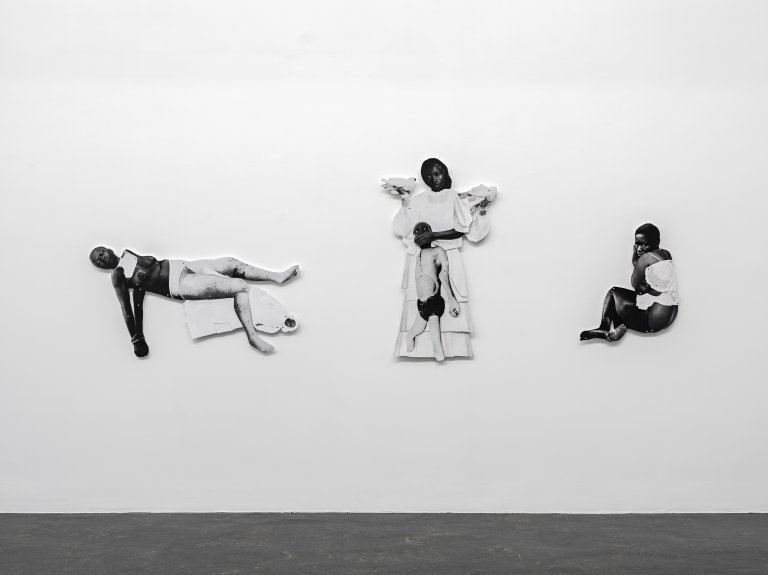 Installation view "Frida Orupabo & Arthur Jafa – Medicine for a Nightmare, Kunstnernes Hus, Oslo 2019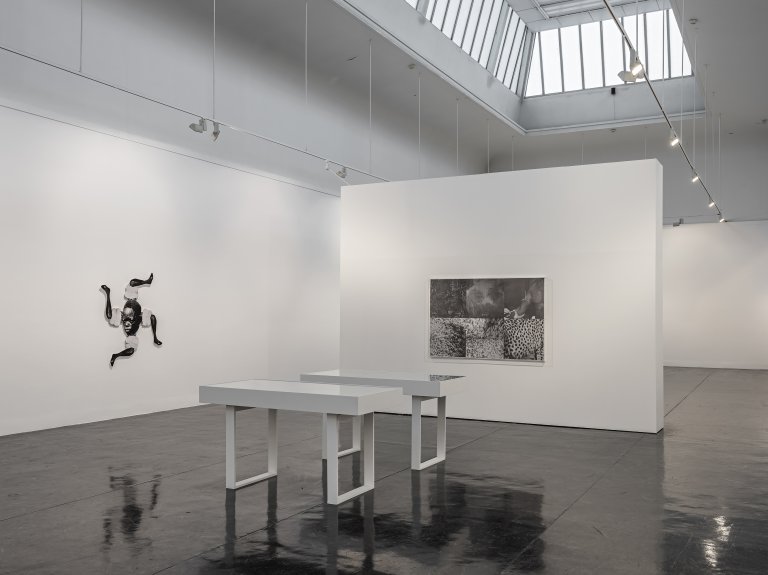 Installation view "Frida Orupabo & Arthur Jafa – Medicine for a Nightmare", Kunstnernes Hus, Oslo 2019
Installation view, "Sell It With Flowers", Museum of Art & History, Neuchâtel 2019
Untitled, 2019, framed paper collage, 82 x 59.5 cm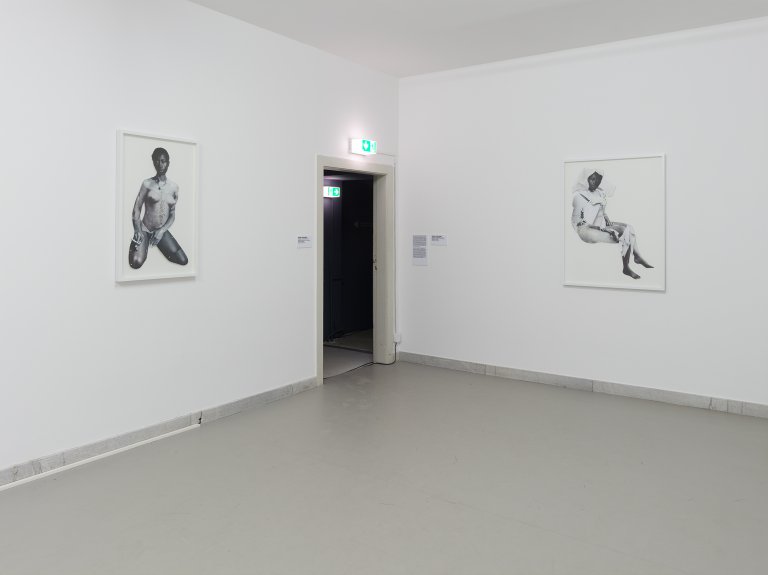 Installation view "Frida Orupabo - Arthur Jafa – A Series of Utterly Improbable, Yet Extraordinary Renditions", Julia Stoschek Collection, Berlin 2018
Installation view "Frida Orupabo – Two-Thirds Pleasure", Galerie Nordenhake, Stockholm 2018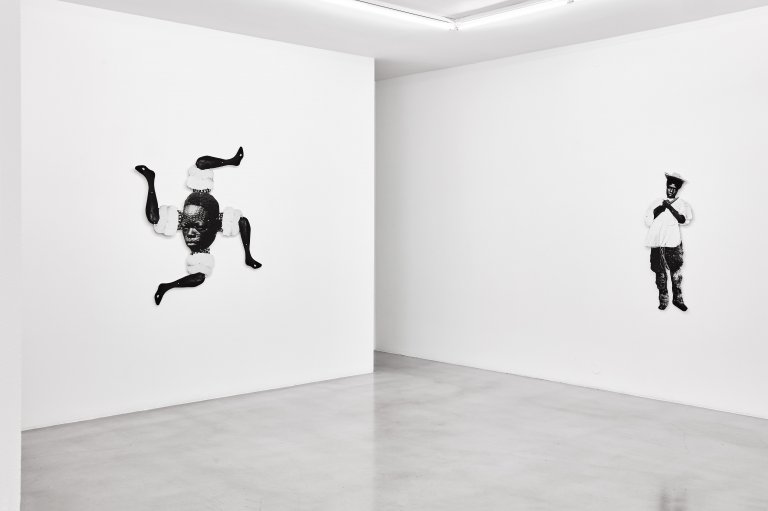 Installation view "Frida Orupabo – Two-Thirds Pleasure", Galerie Nordenhake, Stockholm 2018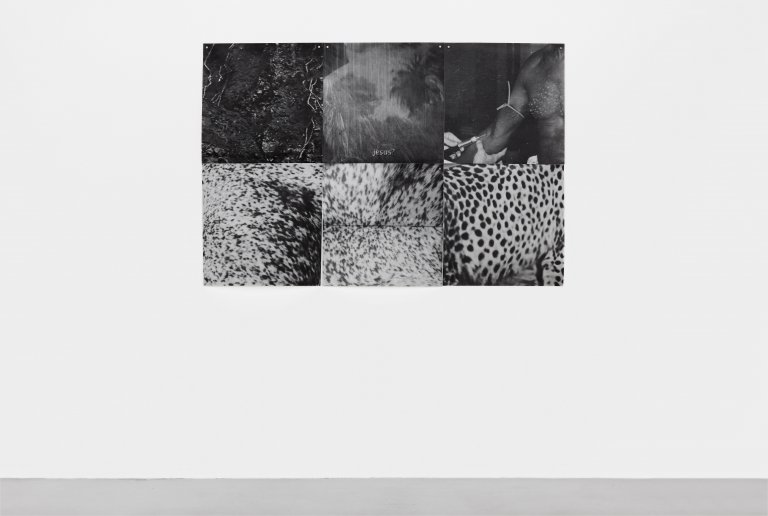 Untitled, 2018, digital C-print, 6 parts: 116 x 174 cm overall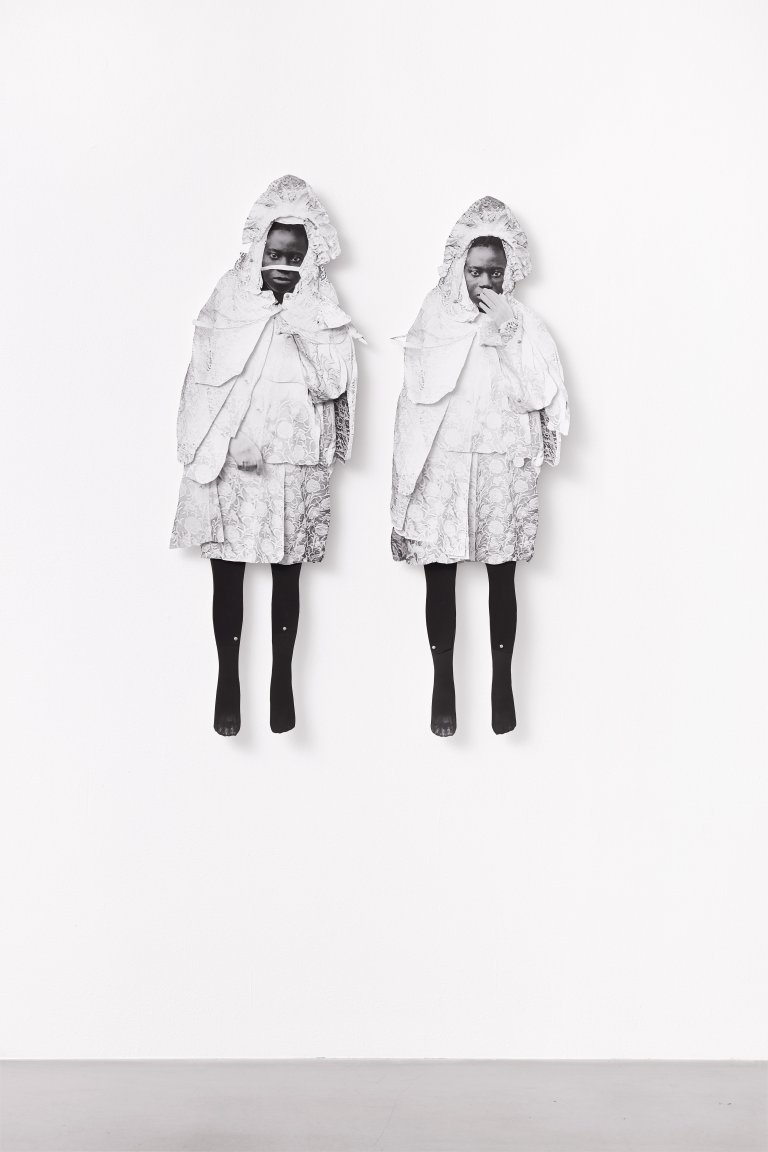 Untitled, 2018, collage with paper pins mounted on aluminium, 2 parts: 123.5 x 80 cm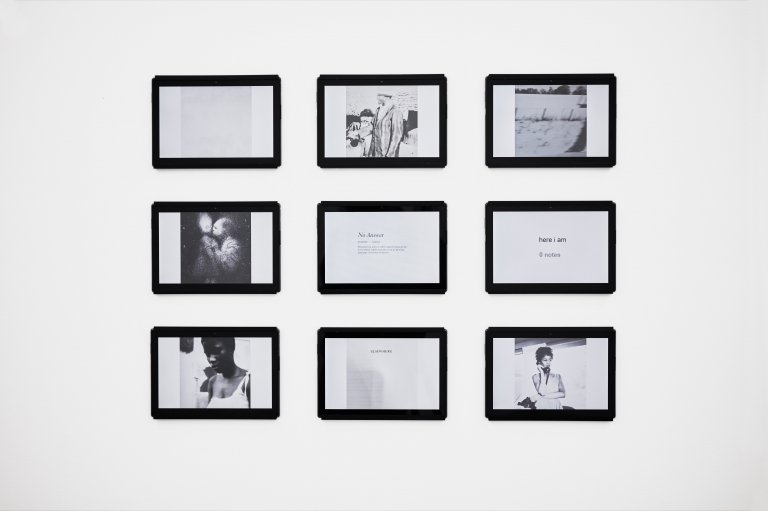 Untitled, 2018, multimedia on 9 Lenovo tablets, unfixed duration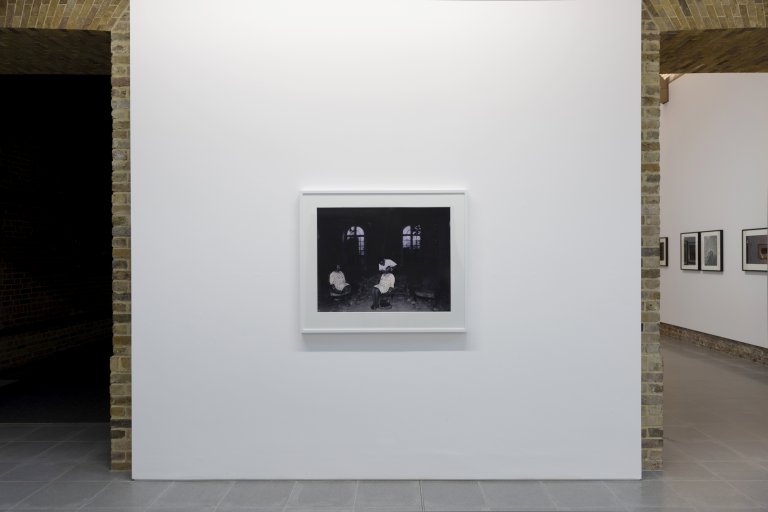 Installation view "Arthur Jafa – A Series of Utterly Improbable, Yet Extraordinary Renditions", Serpentine, London 2017