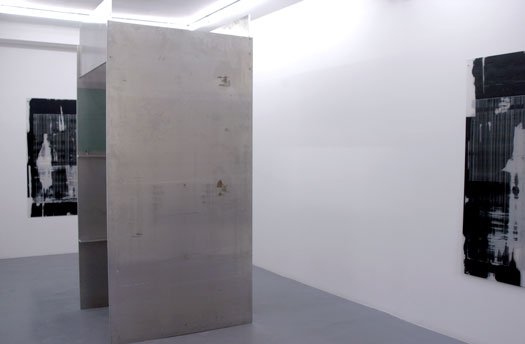 Installation view
Håkan Rehnberg »Håkan Rehnberg«
Stockholm, September 29, 2003 - October 24, 2003
It is an extraordinary pleasure for the gallery to be able to show two exhibitions with the Swedish artist Håkan Rehnberg, almost at the same time. In September 29 a show with recent works opens at our Stockholm address, and one week later, October 3, we have another exhibition - "The Inverted Room" - taking place in Berlin.
Since his first show at Galerie Nordenhake, ten years ago, Rehnberg has come to occupy a central position on the Scandinavian art scene. His painting, characterized by a thorough philosophical (as well as aesthetic) reflection over the status of the artwork broke new ground already in the eighties - a strategy that in the nineties eventually developed into an intensified interest in what in lack of a better term may be called 'the painterly' (often manifested in his renowned diptyches and series at the time).
In his latest shows the attentive viewer has probably noticed yet another shift in his practice, where he takes the surrounding space into account, and almost incorporates it into the artwork itself. Many of his most recent paintings have tendency to 'leave the walls', thereby rendering an interesting object quality to his works. It is as if the strict demarcation between aesthetic genres - such as painting and sculpture - does not have that large importance anymore, thereby opening his works for a deeper reflection upon what is 'aesthetical' in art. Here the questions of figuration, illusion, facticity, frontality, and how the artworks 'take place' in the surrounding space, and thereby involve the beholder are brought into play.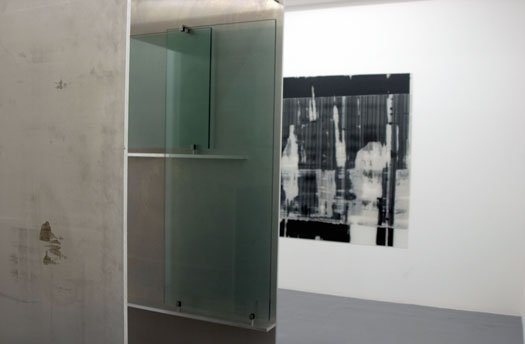 Installation view