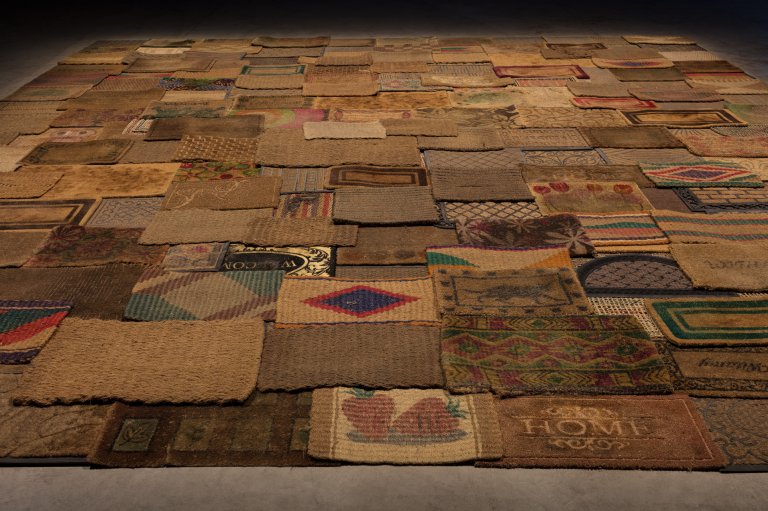 "Common Ground", 2013/2016, installation view "Mirosław Bałka – CROSSOVER/S", 2017, Pirelli HangarBicocca
Mirosław Bałka
Mirosław Bałka was born in 1958 and lives and works in Otwock, Poland and Oliva, Spain. In 1991, he received the Mies van der Rohe-Stipendium of the art museums in Krefeld, Germany. Since 2010 Balka is a member of the Akademie der Künste, Berlin. Bałka has exhibited widely, both nationally and internationally. He participated in Documenta IX (1992), the Venice Biennial (1990, 2003, 2005 and 2013), SITE Santa Fe's 6th International Biennial (2006) and the Sydney Biennial (1992 and 2006). In 2009, the artist was awarded with the prestigious Unilever commission for the Turbine Hall at the Tate Modern, London, where he presented the installation How it is.
Between 2015-2018, he presented a trilogy of retrospective exhibitions: "CROSSOVER/S" at Pirelli HangarBicocca, Milan (2017), "Die Spuren" Museum Morsbroich, Leverkusen (2017/18) and "Nerve. Construction" at the Museum of Arts Łodz (2015).
He presented solo exhibitions at the Freud Museum, London (2014); Museum of Contemporary Art Kiasma, Helsinki, IHME Contemporary Art Festival, Helsinki (all 2013); Akademie der Künste, Berlin (2011); FRAC Centre Orléans (2011); Museo Nacional Centro de Arte Reina Sofia, Madrid and Staatliche Kunsthalle Karlsruhe (both 2010); Scottish National Gallery of Modern Art, Edinburgh (2008); Irish Museum of Modern Art Dublin and Museu de Arte de São Paulo/Museu de Arte Moderna Rio de Janeiro (both 2007); K21, Düsseldorf (2006); Museum of Contemporary Art, Strasbourg (2004); The Zacheta Gallery of Contemporary Art, Warsaw and SMAK, Ghent (both 2001); National Museum of Art, Osaka (2000); Museu Serralves, Porto (1998); Tate Gallery, London (1995); Van Abbemuseum, Eindhoven (1994); Museum Haus Lange Krefeld, and Renaissance Society at the University of Chicago (both 1992).
His work is owned by museums worldwide including: Hirshhorn Museum in Washington DC, Moderna Galerija in Ljubliana, MOCA Los Angeles, Museum of Modern Art, New York, Muzeum Sztuki, Łódź, SFMOMA, San Francisco, Tate Modern, London, The Art Institute Chicago, The Israel Museum, Jerusalem. He has also been commissioned to create a number of permanent outdoor works, including the memorial to the victims of the Estonia Ferry disaster in Stockholm (1997) and most recently AUSCHWITZWIELICZKA in Kraków Lipowa Str. (2010).
Miroslaw Balka has been exhibiting with Galerie Nordenhake since 1990.
Mirosław Bałka in conversation with curator and critic Julian Heynen, Sept 16 - Nov 18, 2017, at Galerie Nordenhake Berlin.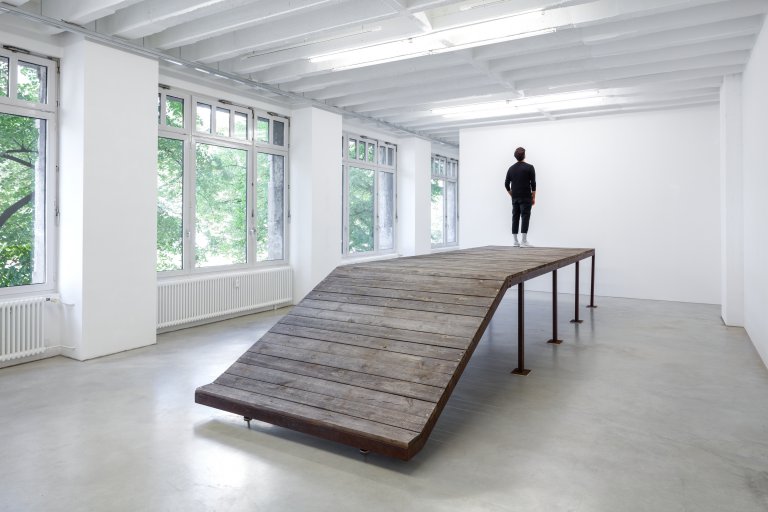 Installation view "Mirosław Bałka - 690 x 190 x 102", 2006, Galerie Nordenhake Berlin 2017, steel, wood, felt, 102 x 690 x 190 cm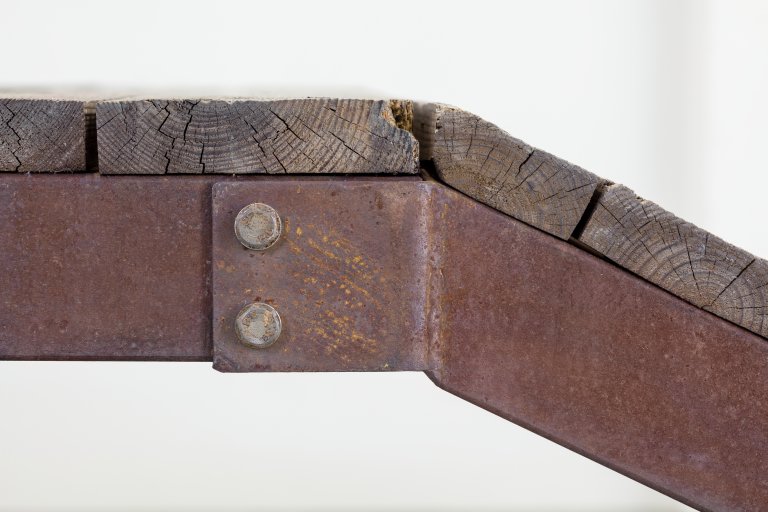 690 x 190 x 102, 2006, steel, wood, felt, 102 x 690 x 190 cm, detail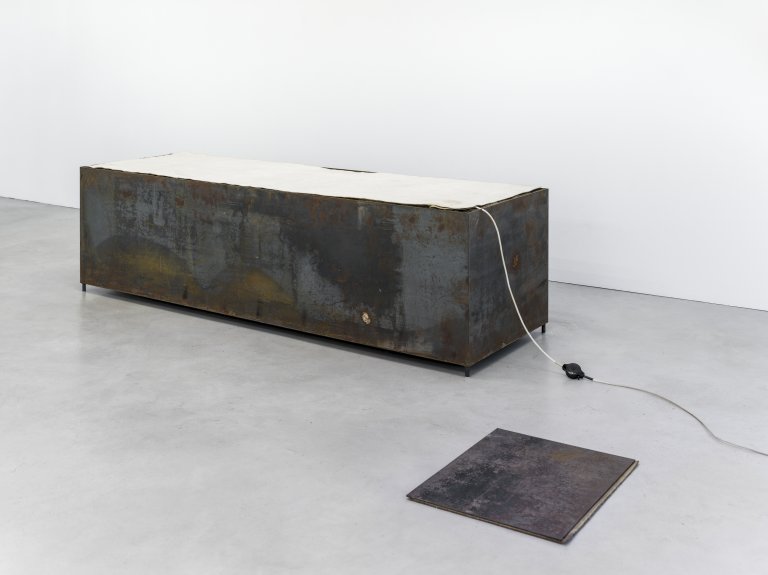 41 x 31 x 1, 190 x 60 x 54, 1992, steel, earth, electric blanket, felt, dimensions same as title in cm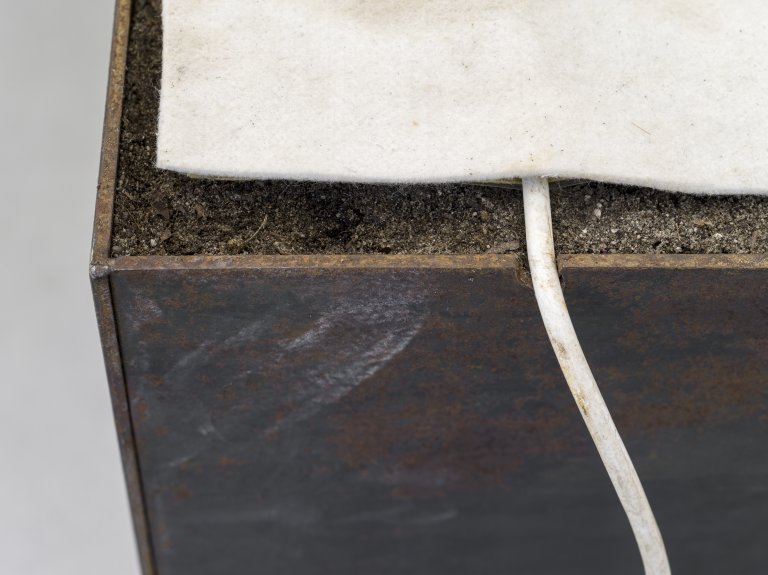 41 x 31 x 1, 190 x 60 x 54, 1992, detail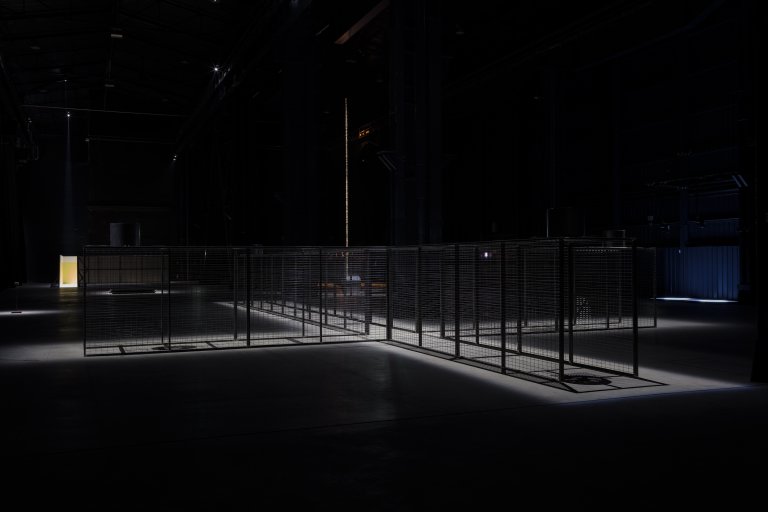 Installation view "Mirosław Bałka – CROSSOVER/S", 2017, Pirelli HangarBicocca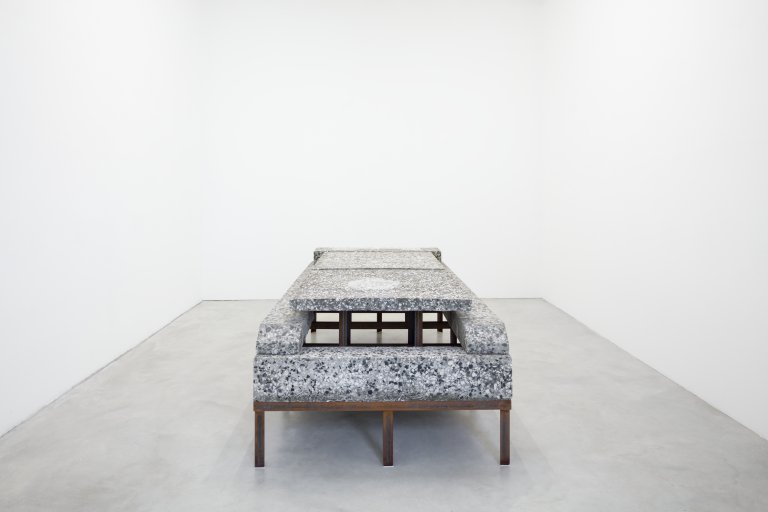 229 x 118 x 75 , 1975/2017, steel, terrazzo, felt, 75 x 118 x 229 cm
229 x 118 x 75, 1975/2017, steel, terrazzo, felt, 75 x 118 x 229 cm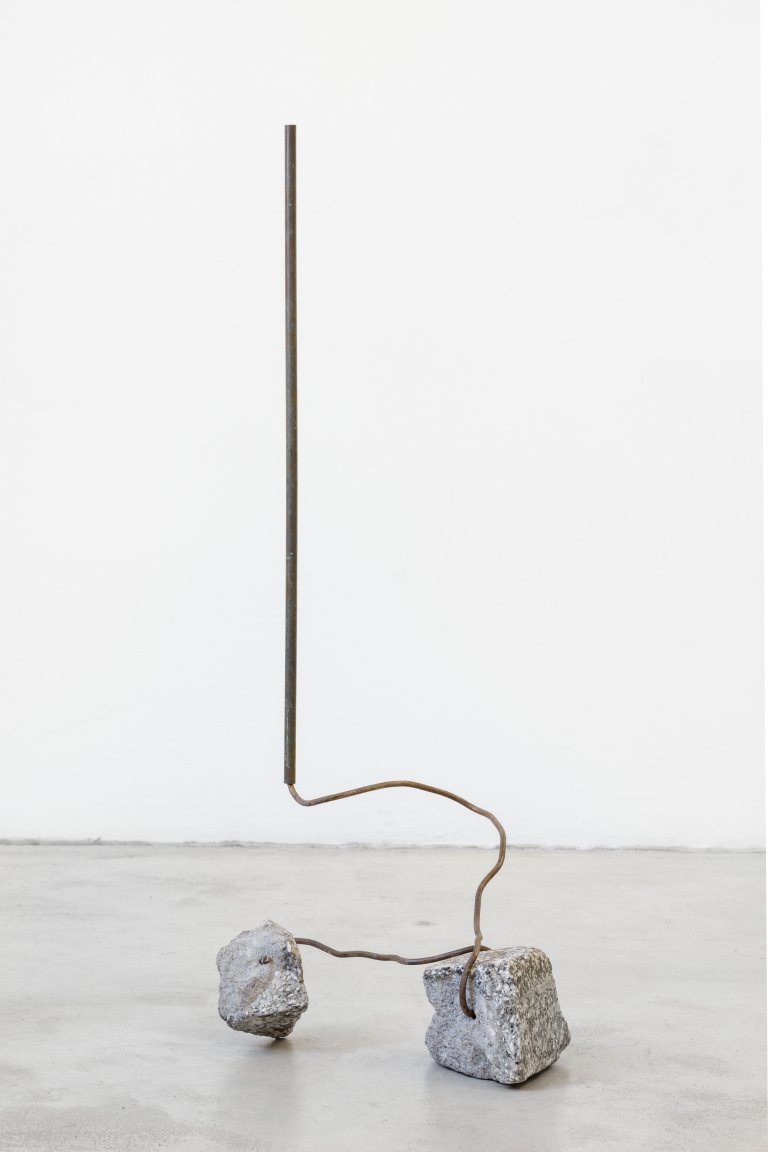 90 x 33 x 31, 2017, terrazzo, steel, brass, dimensions same as title in cm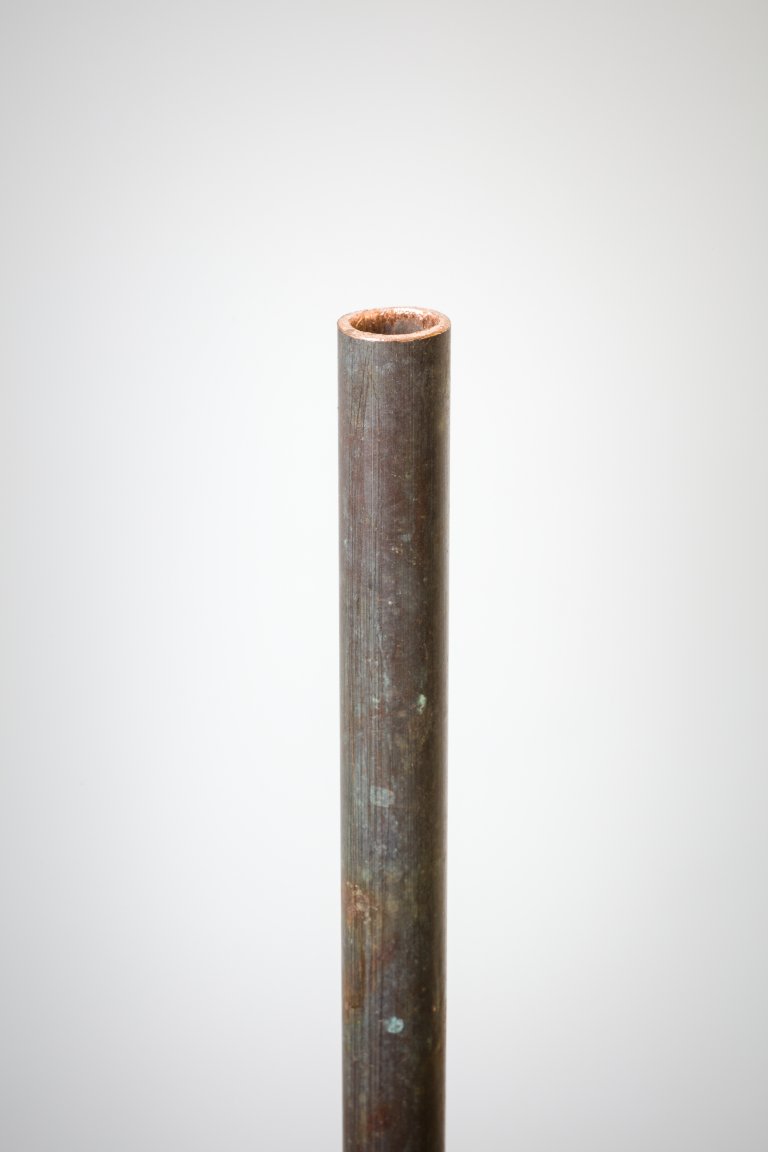 90 x 33 x 31, 2017, detail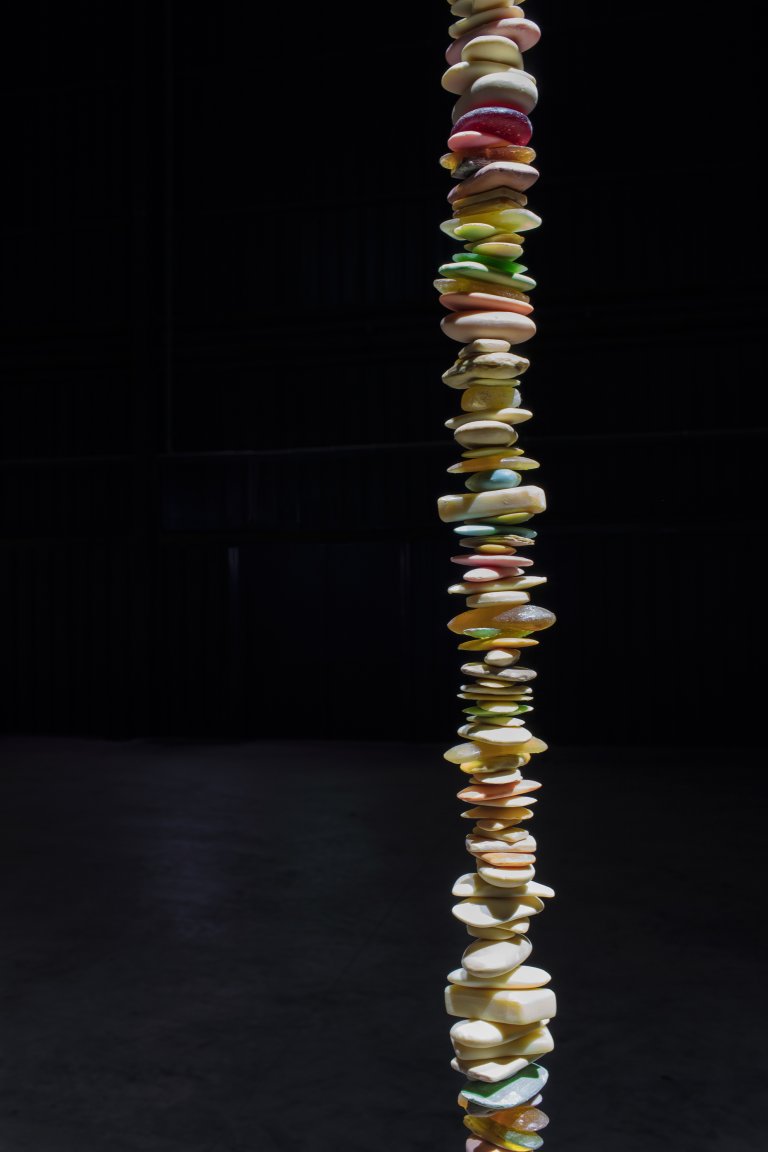 Installation view "Mirosław Bałka – CROSSOVER/S", 2017, Pirelli HangarBicocca
56 x 30 x 8, 2017, wood, plywood, steel, dimensions same as title in cm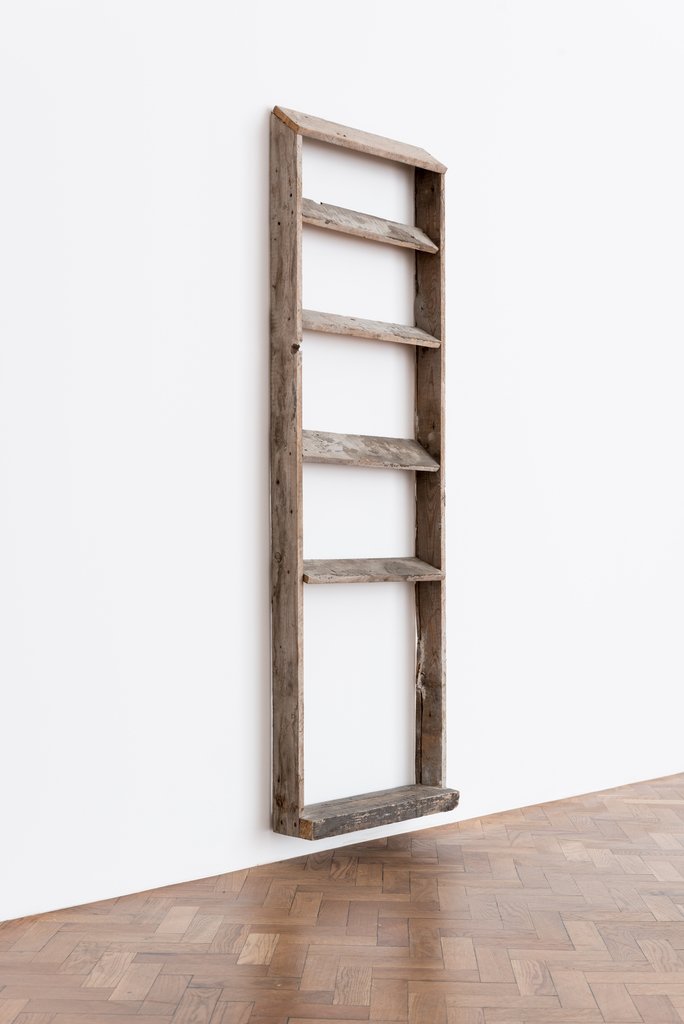 185 × 55 × 15, 1990, wood, steel, 185 x 55 x 15 cm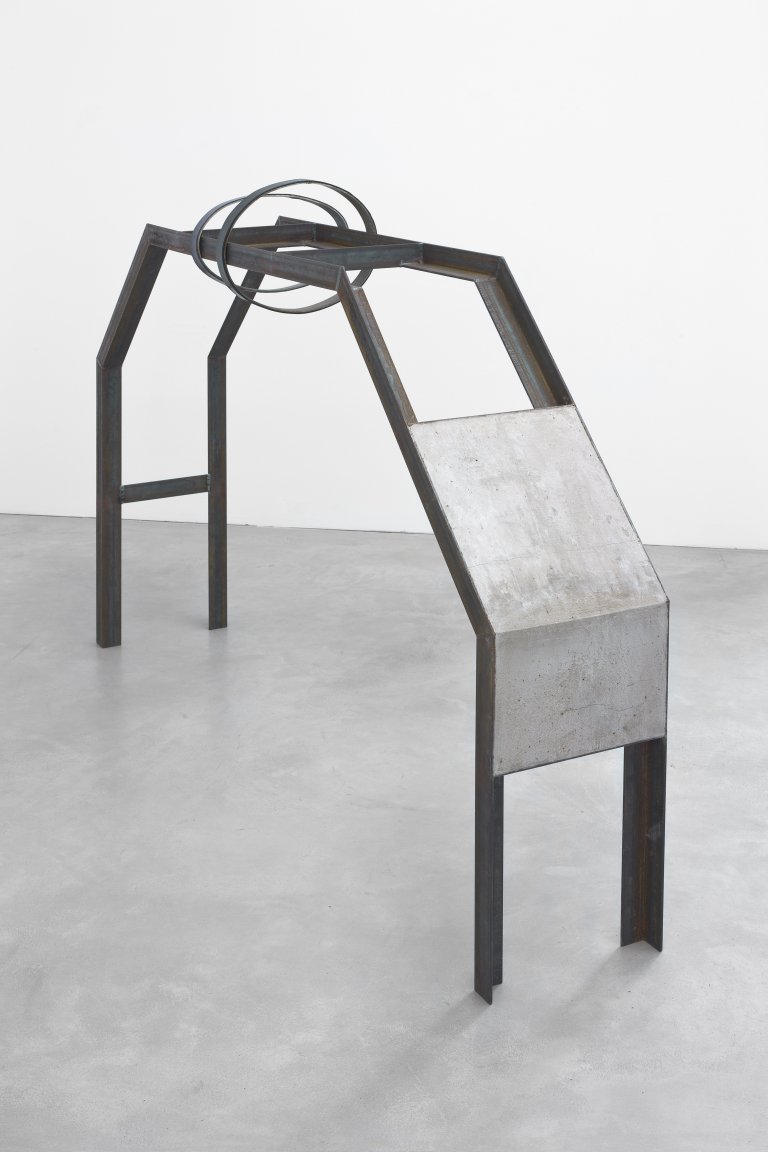 133 x 34 x 190, 2011, steel, concrete, leather, plastic, dimensions same as title in cm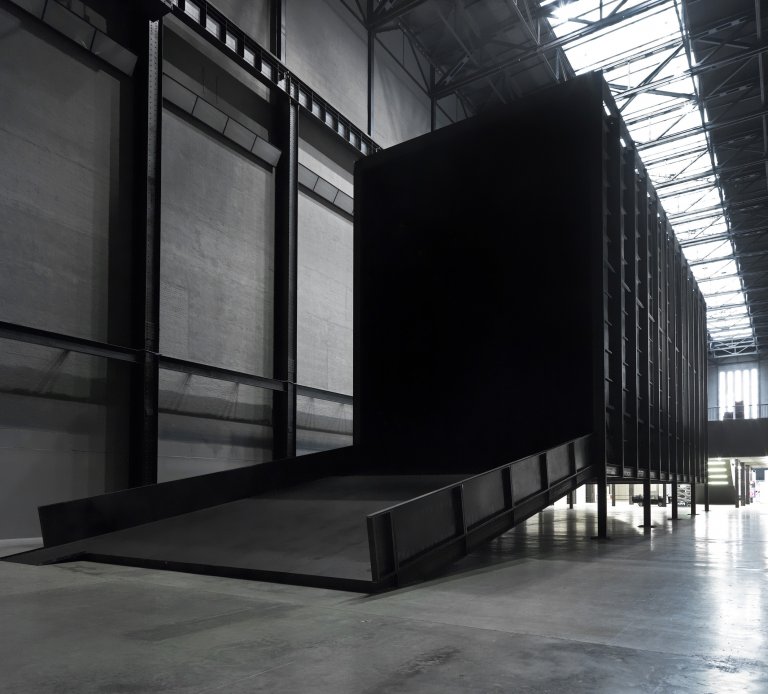 Installation view "Mirosław Bałka – How It Is", 2009, Turbine Hall at the Tate Modern London 2009, Photo: Tate Photography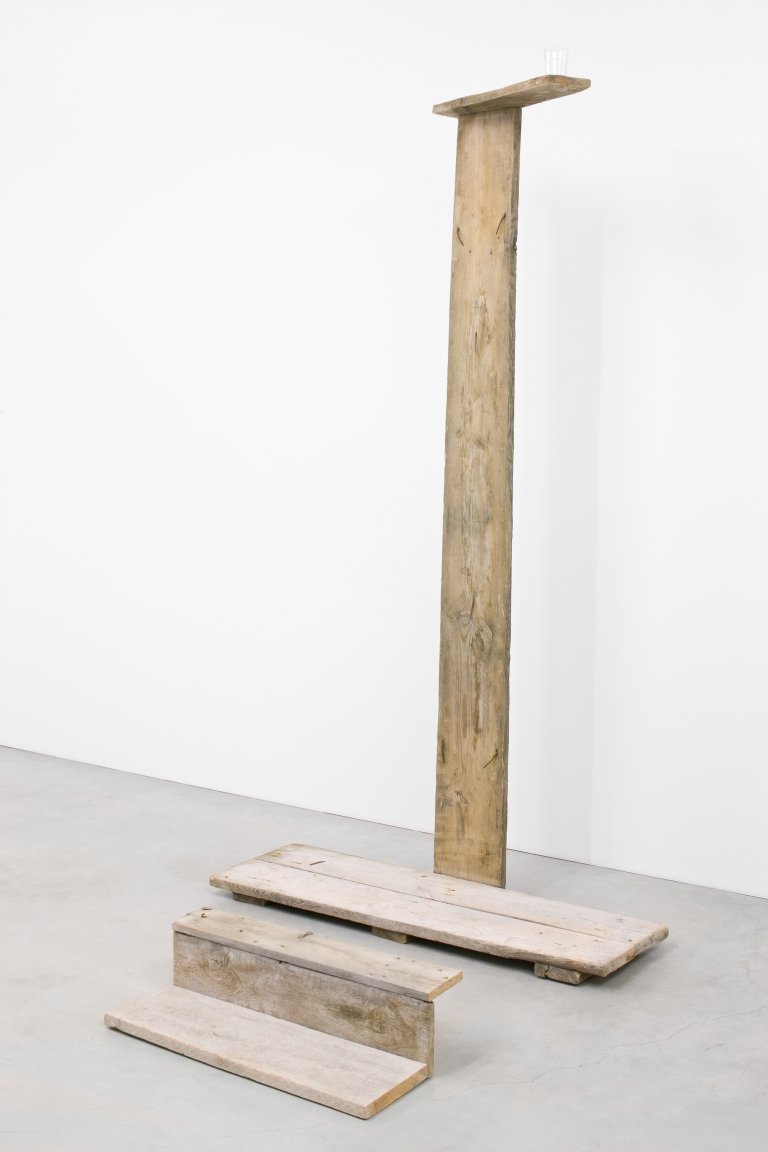 268 x 142 x 54, 84 x 40 x 22, 2008, wood, glass, dimensions same as title in centimeters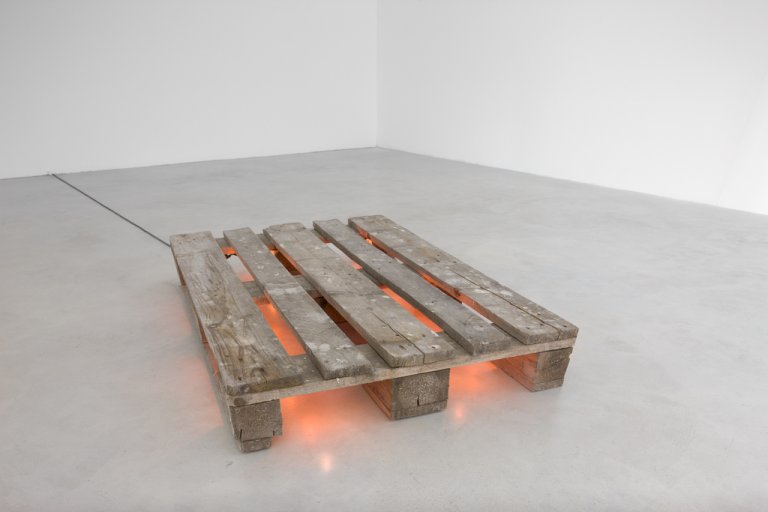 120 x 80 x 15 / DB, 2008, wood, light, dimensions same as title in centimeters [lit]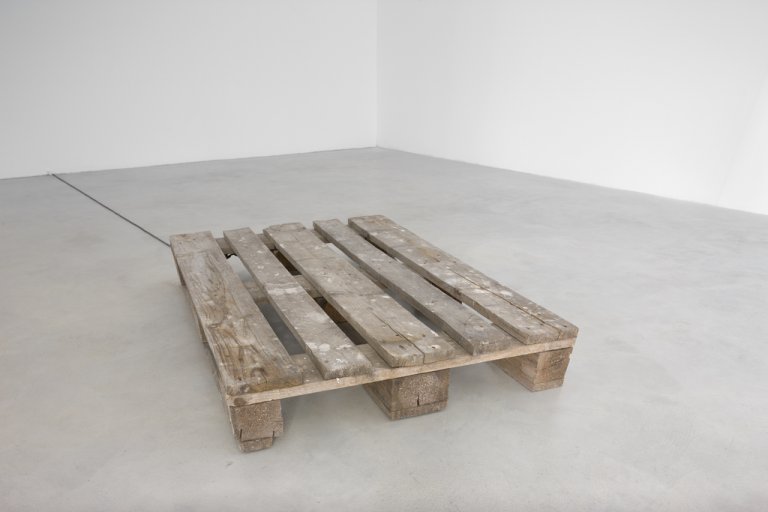 120 x 80 x 15 / DB, 2008, wood, light, dimensions same as title in centimeters [not lit]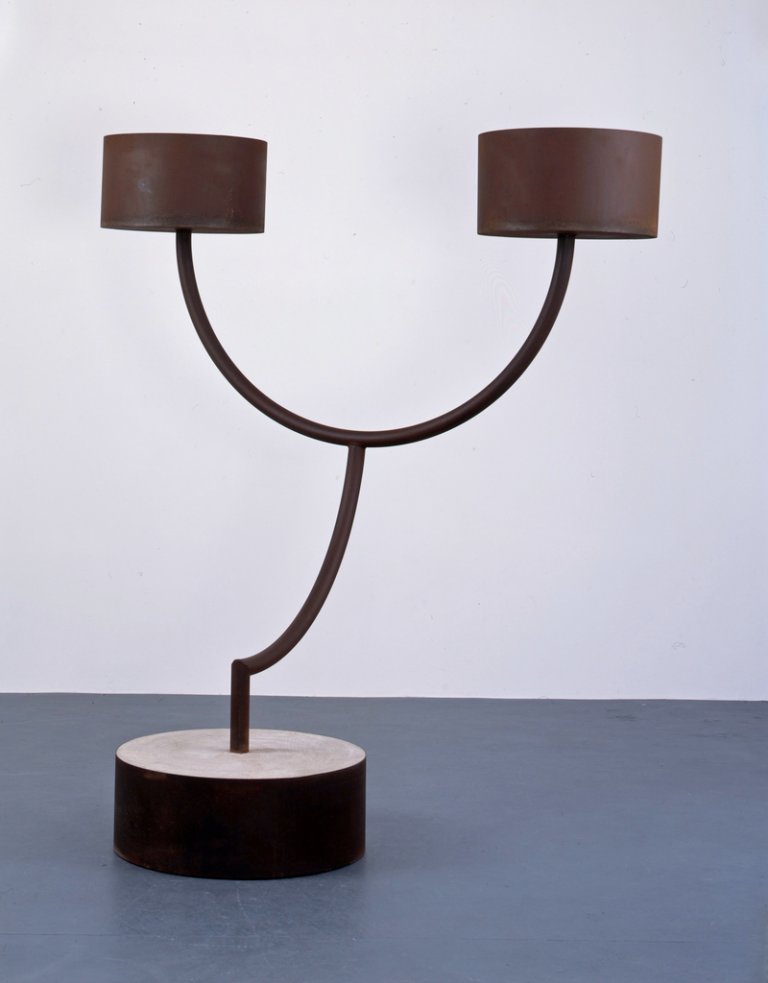 232 x 209 x 150, 2007, steel, concrete, 232 x 209 x 105 cm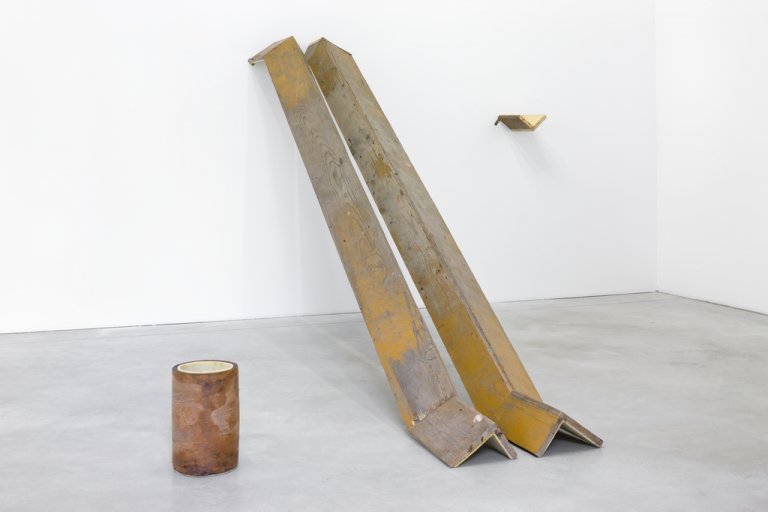 277 x 21 x 11, 277 x 21 x 11, Ø 17 x 26 + 23 x 16 x 19, 1991, wood, foam rubber, steel, dimensions same as title in centimeters, two wooden structures + 2 elements, one hanging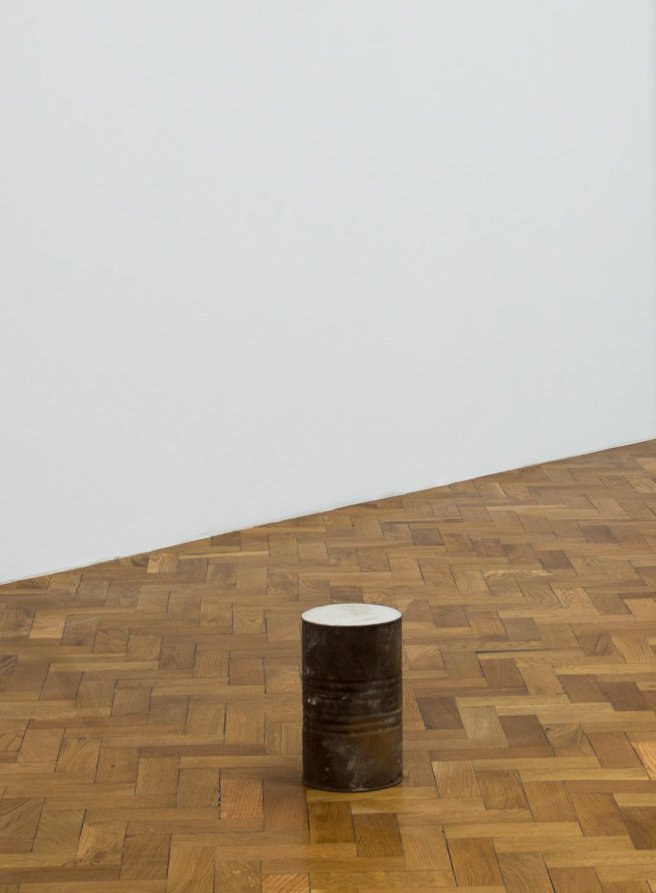 Ø 16 × 25.5, 1992, steel, plaster, h = 25.5, Ø 16 cm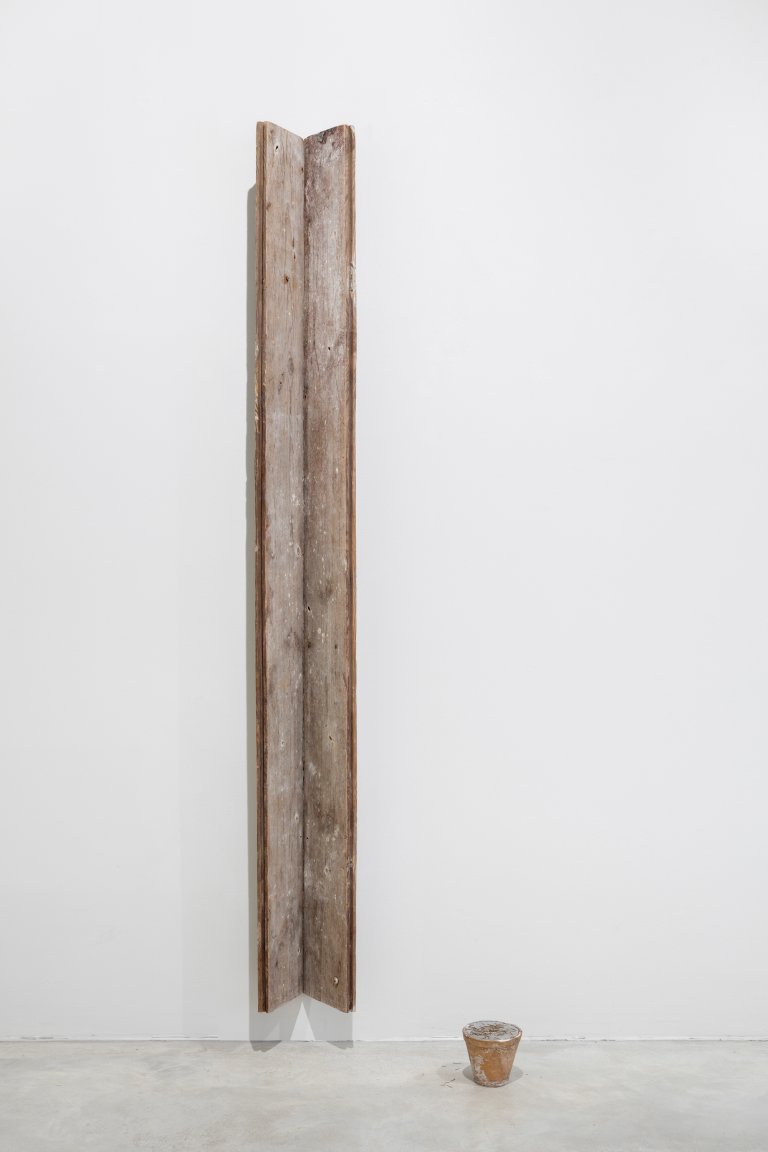 204 x 25 x 17 and 11 x ø 13 x ø 7.5, 1990/1991, painted wood and iron, ceramic pot, fir's needles, concrete, dimensions same as title in cm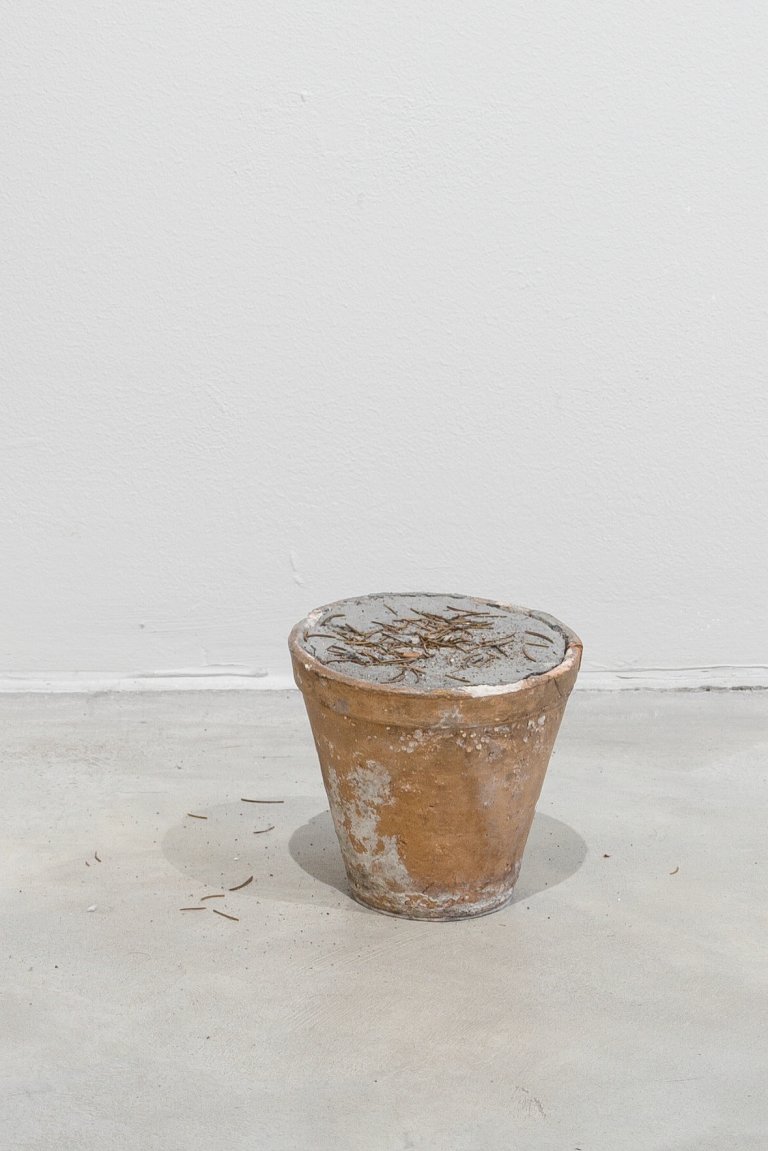 11 x ø 13 x ø 7.5, 1990/1991, detail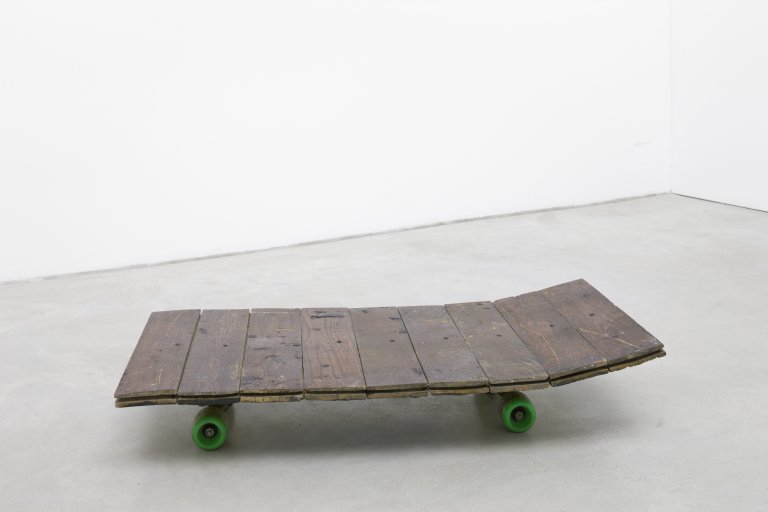 82 x 40 x 16, 2010, steel, plastic, wood, dimensions same as title in cm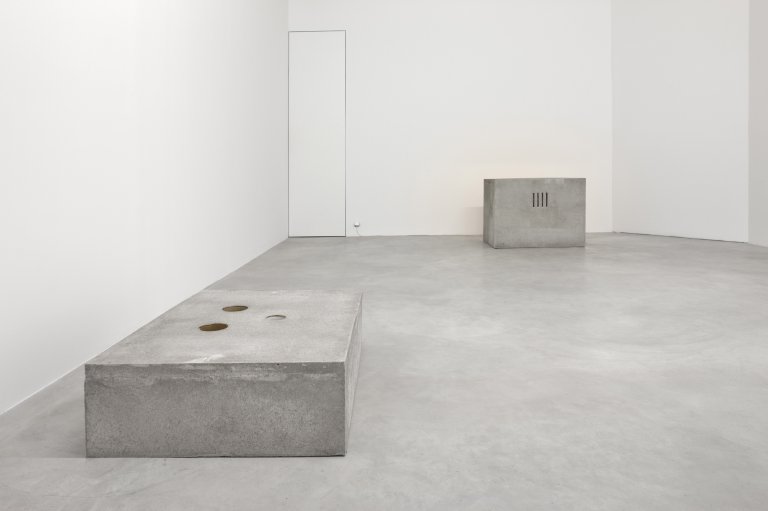 Installation view "Mirosław Bałka - Landschaftsabfälle", Galerie Nordenhake Berlin 2008
56 x 72 x 72, 2008, concrete, plastic, schnapps, pump, dimensions same as title in cm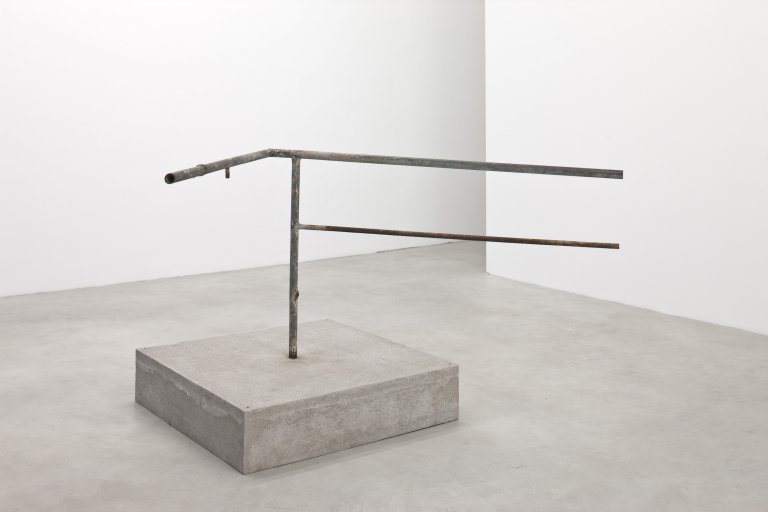 106 x 151 x 194, 2008, concrete, steel, dimensions same as title in cm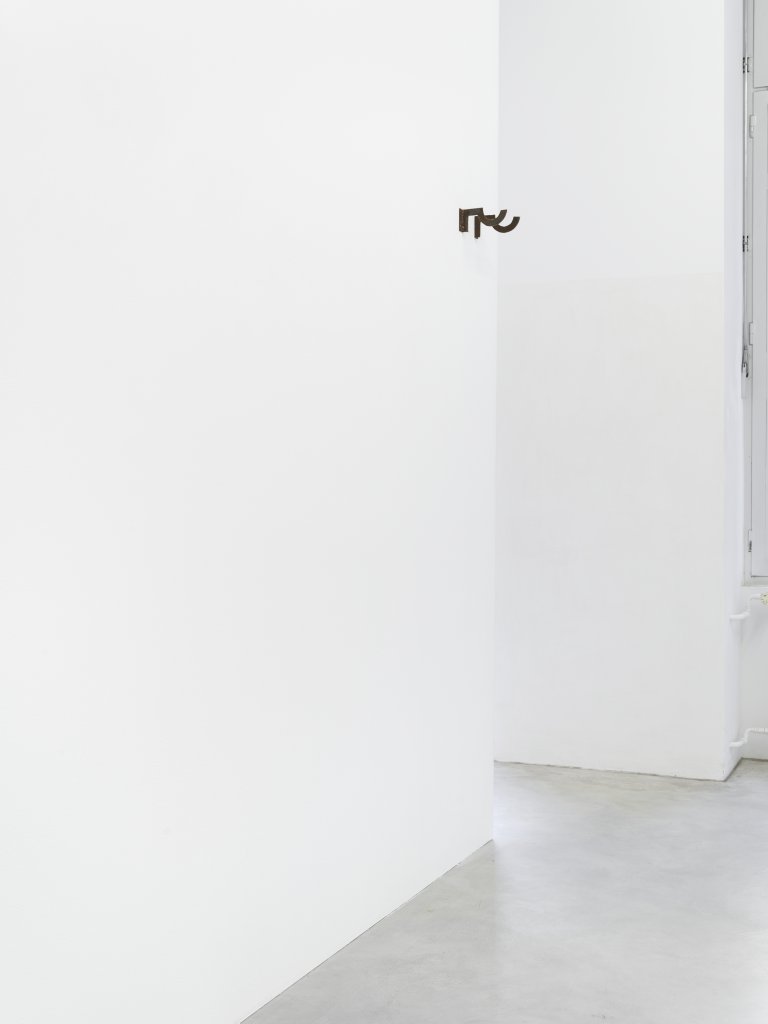 2 x (7 x 2.5 x 15), 2 x (7 x 2.5 x 15), 1994, steel, linoleum, soap, dimensions same as title in cm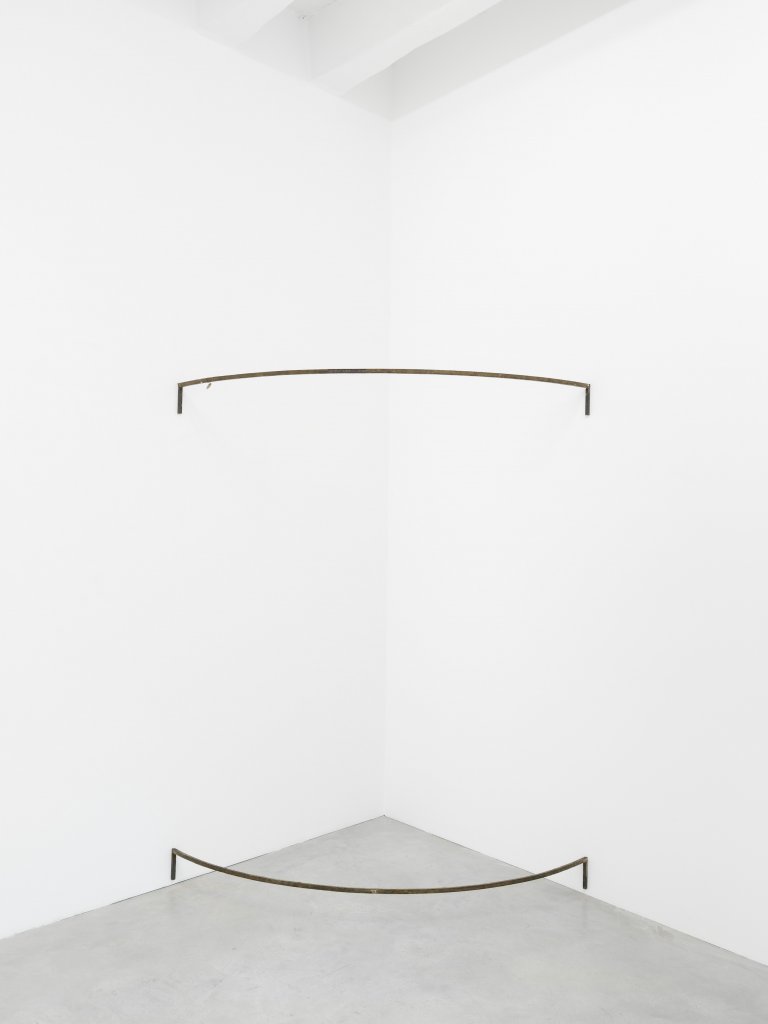 2 x (170 x 35 x 13), 1996, steel, soap, dimensions same as title in cm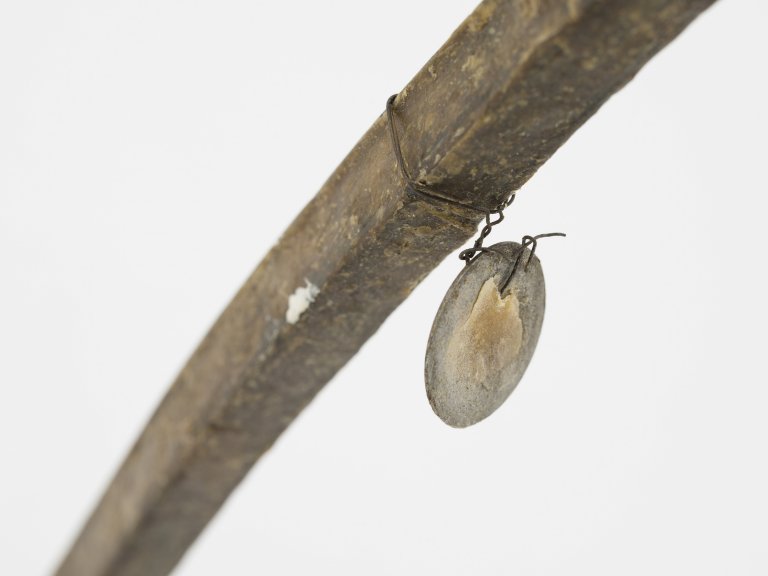 2 x (170 x 35 x 13), 1996, detail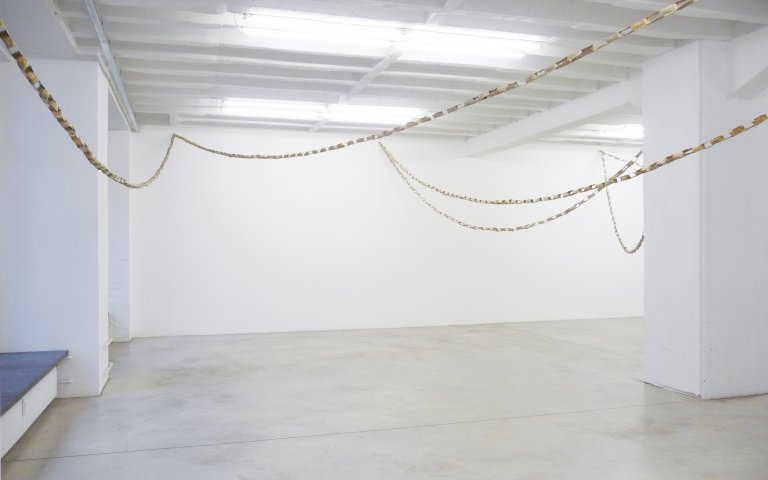 Sch, 2000, glue, paper, steel, dimensions variable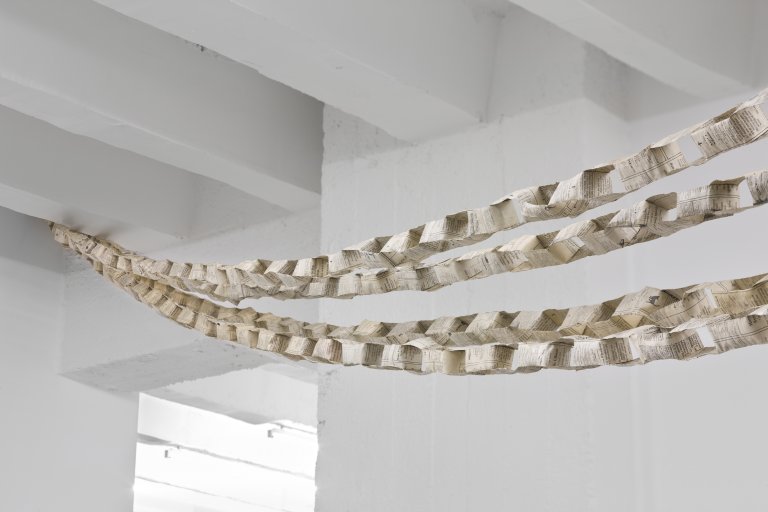 Sch, 2000, detail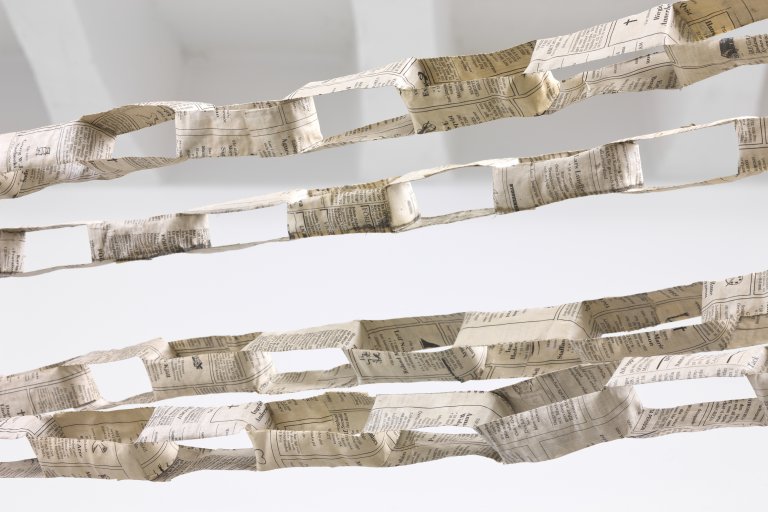 Sch, 2000, detail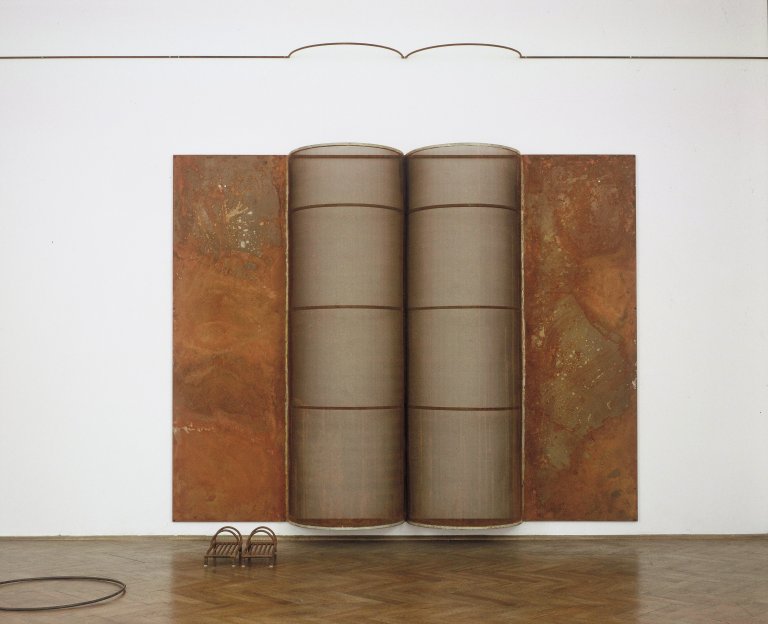 Pause, 1996, " 2 x (35 x 14 x 13), 190 x 240 x 30 "; steel, steel mesh, felt; " 2 x (60 x 30 x 10), 2 x (60 x 30 x 9), 50 x 11 x 60 "; steel, felt, heating cables, ash; " O 1 x 2467 " steel, soap, detail
37 x 25 x 40 (Untitled Dog), 1997, steel, soap, dimensions same as title in centimetres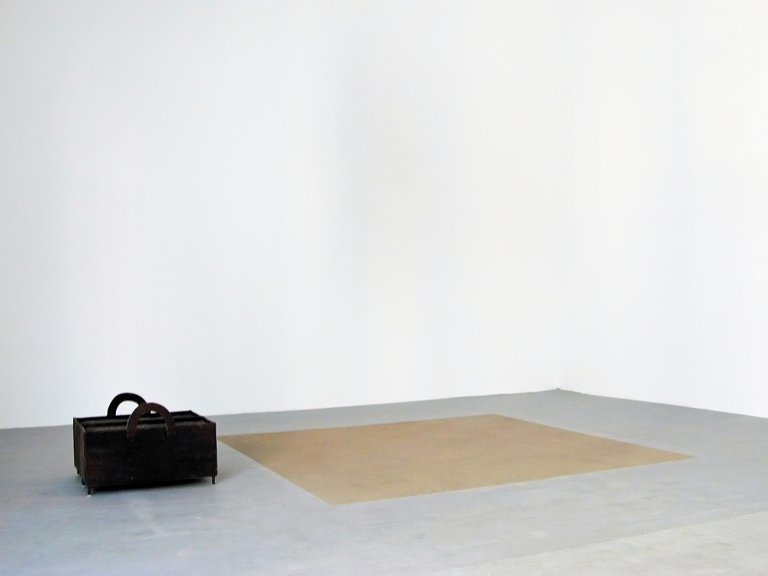 2 x (55 x 23 x 27), 190 x 190 x 0,3, 1995, steel, linoleum, pvc, ash, felt, dimensions same as title in cm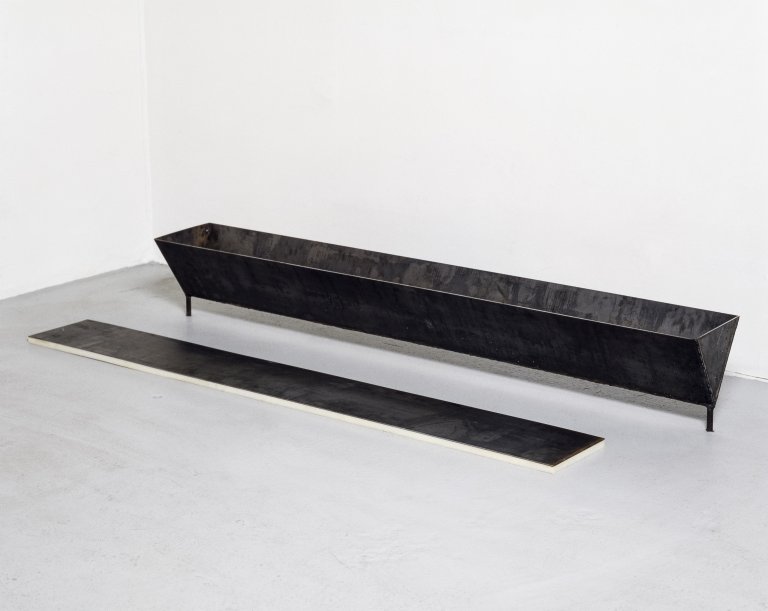 190 x 25 x 30, 190 x 25 x 2.5 , 1991, steel, sponge, dimensions same as title in cm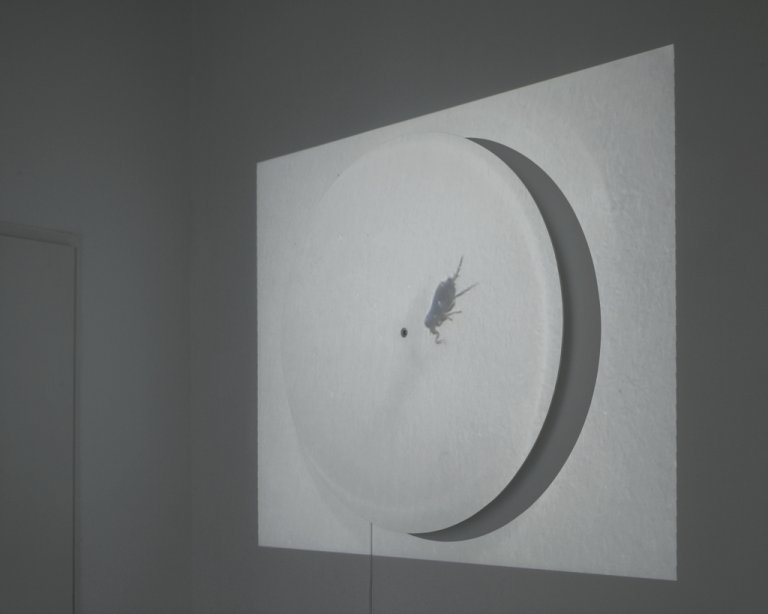 Ein Floh / Ein Leben und Ø 100 x 15, 2005, video, pvc, revolving motor, 116 x 150 x 15 cm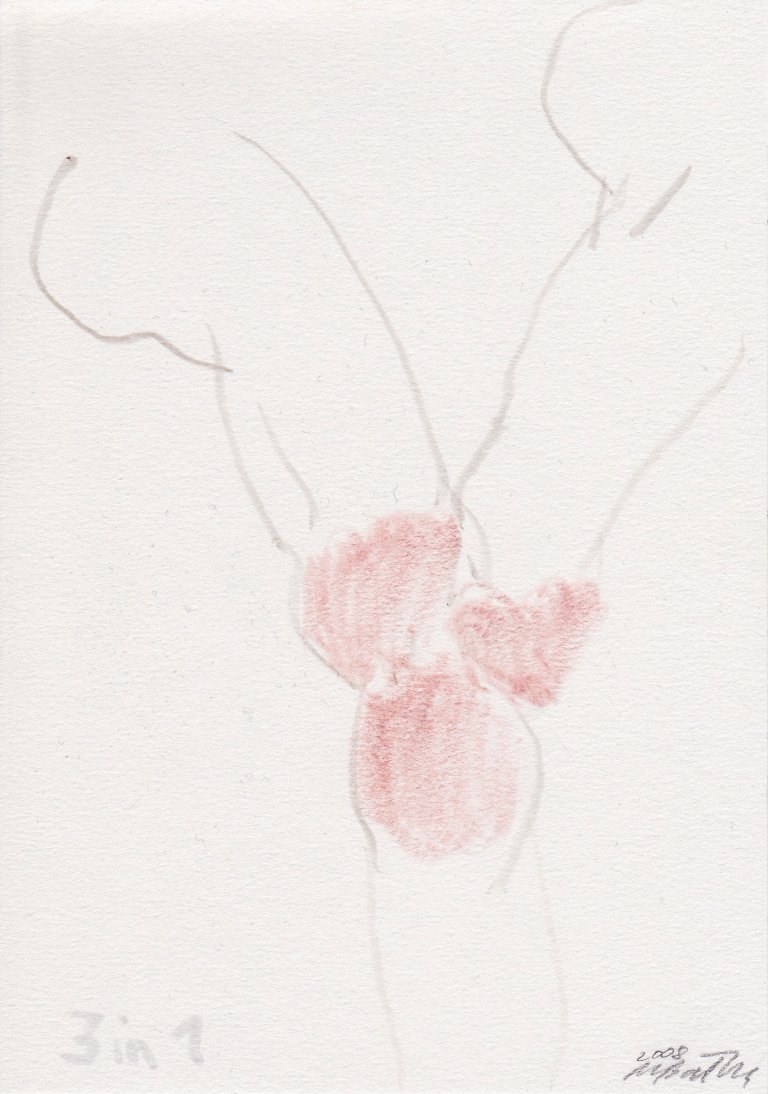 3 in 1, 2008, gouache on paper, 21 x 14.7 cm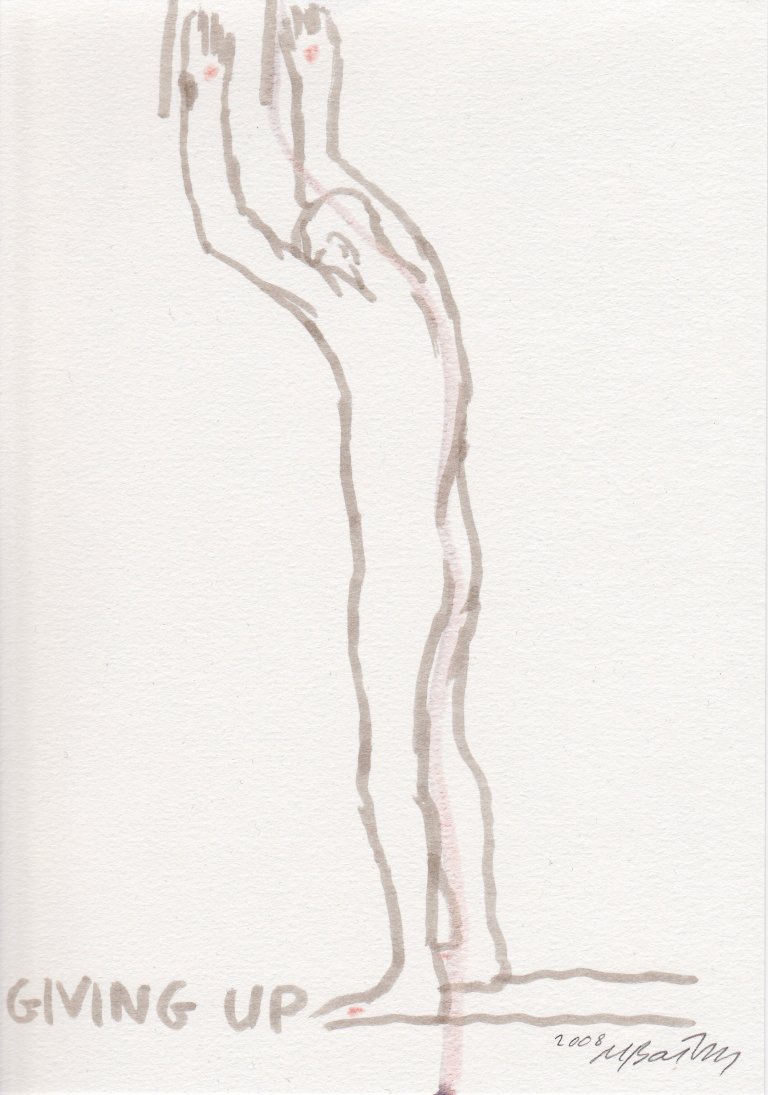 Giving Up, 2008, gouache on paper, 21 x 14.7 cm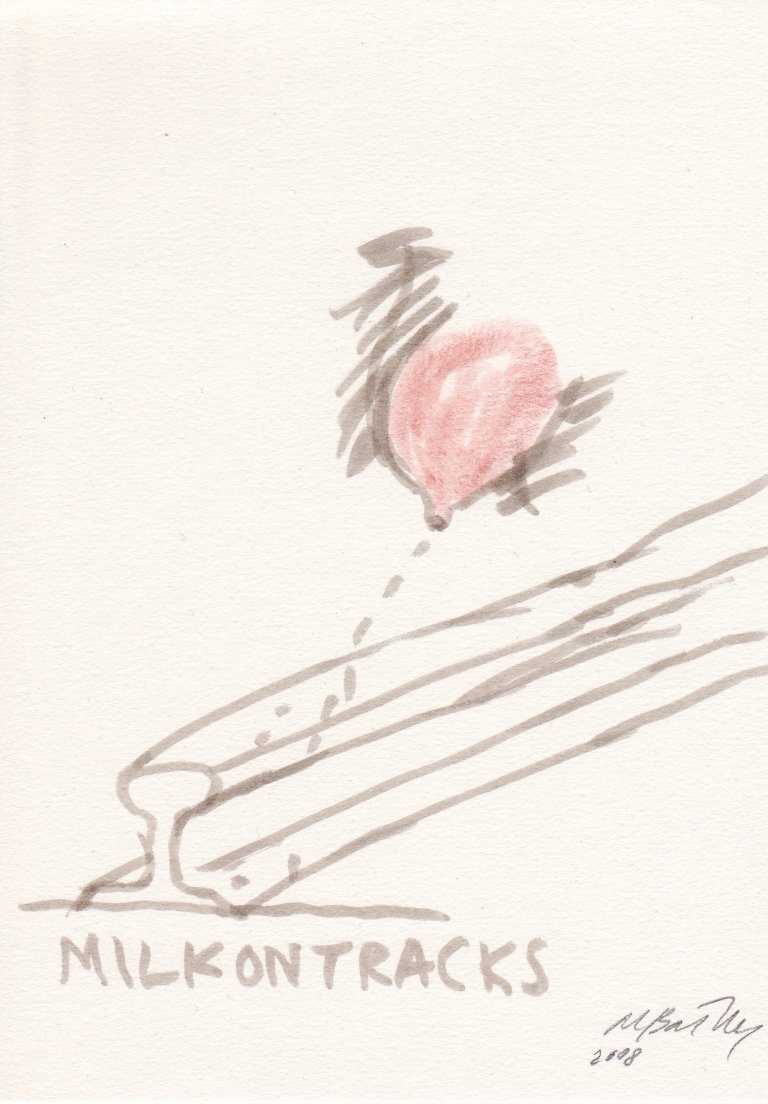 Milkontracks, 2008, gouache on paper, 21 x 14.7 cm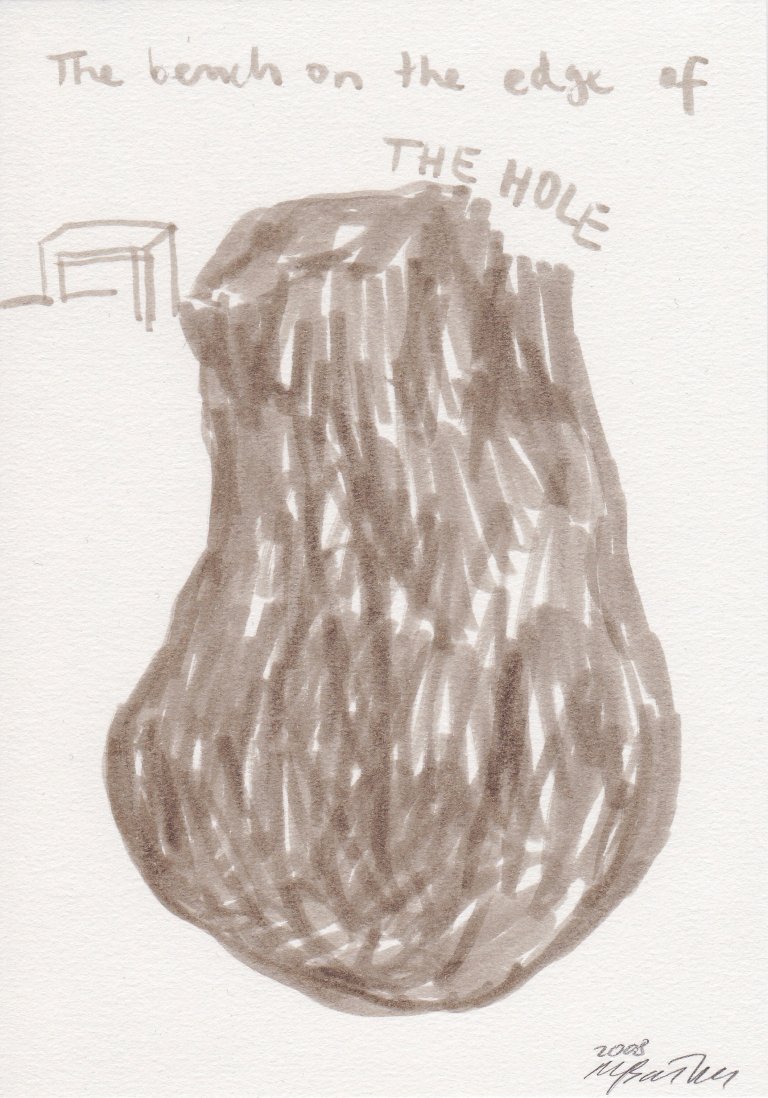 The Bench, 2008, gouache on paper, 21 x 14.7 cm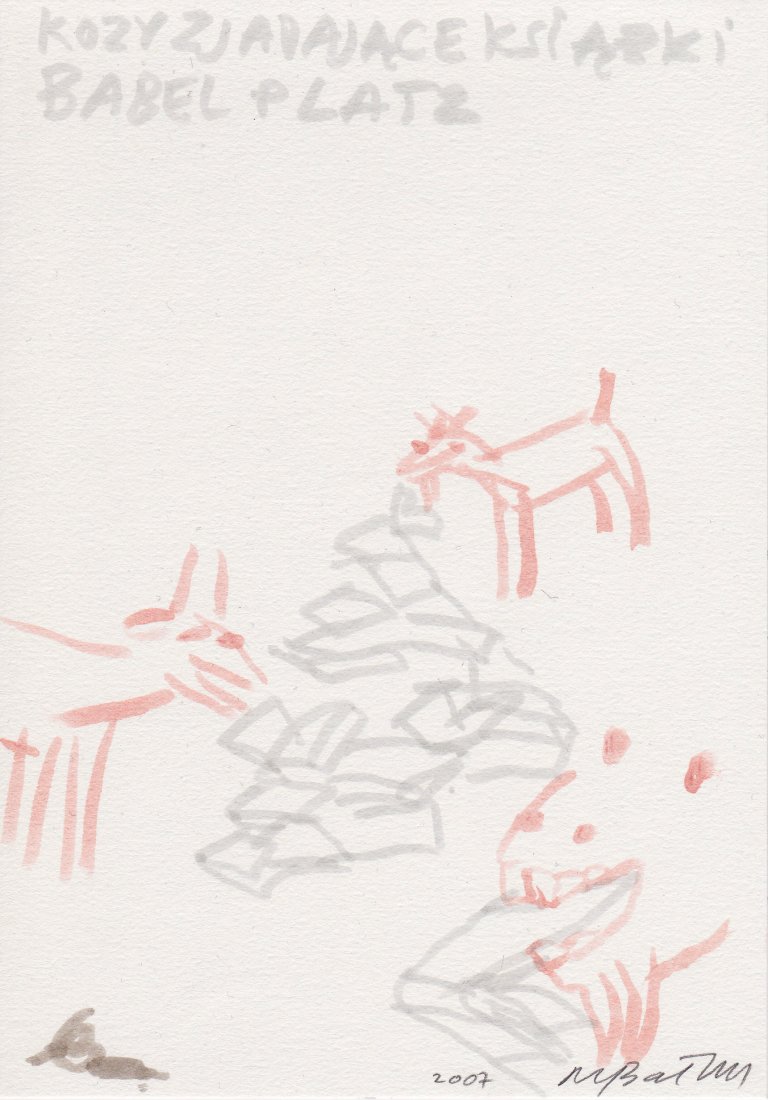 Babel Platz, 2007, gouache on paper, 21 x 14.7 cm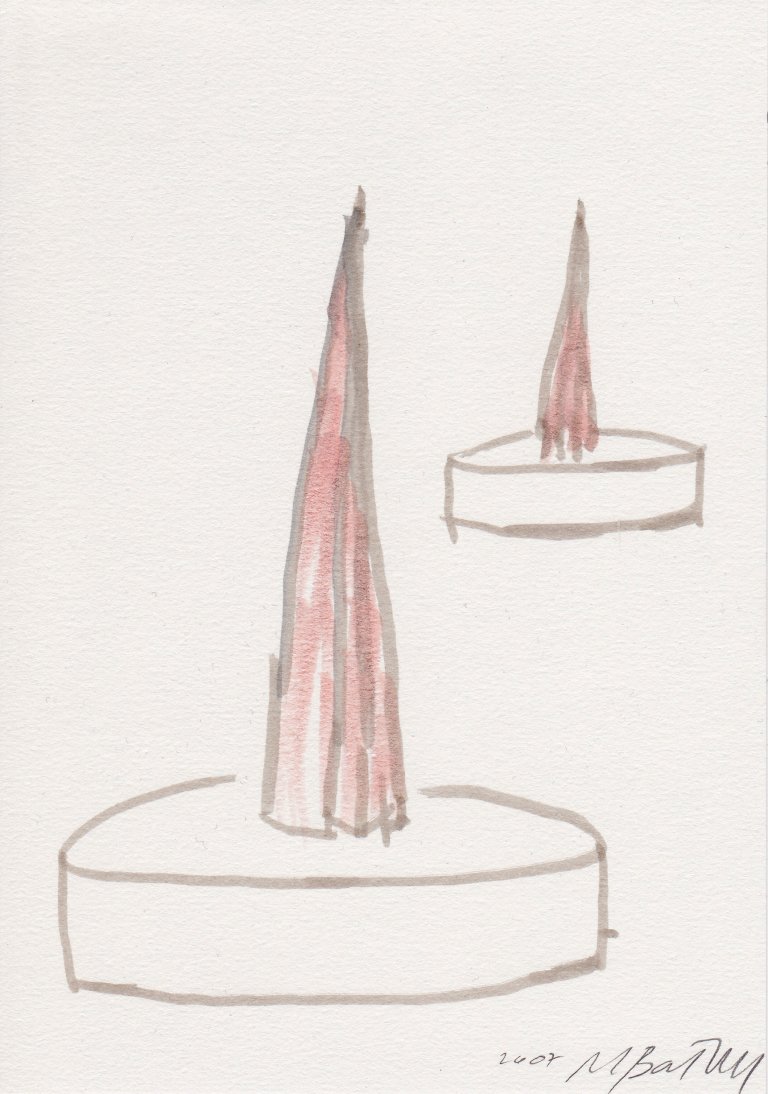 Untitled, 2007, gouache on paper, 21 x 14.7 cm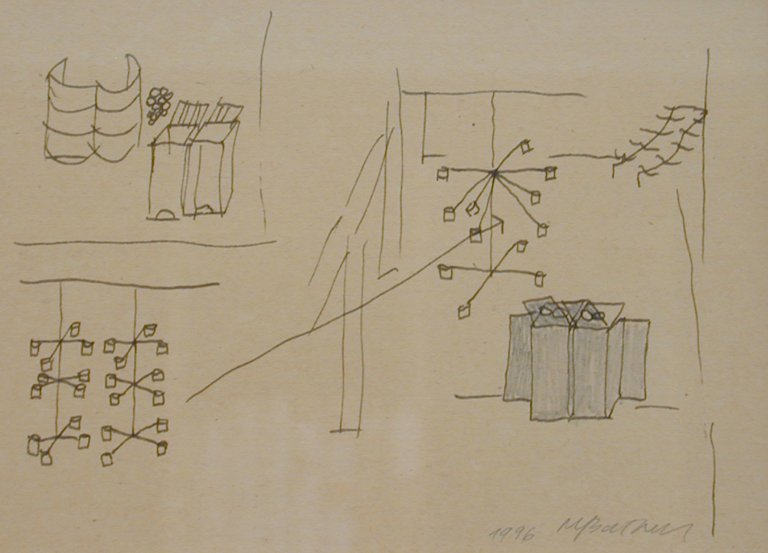 Untitled, 1996, crayon and black pencil on paper, 14 x 19 cm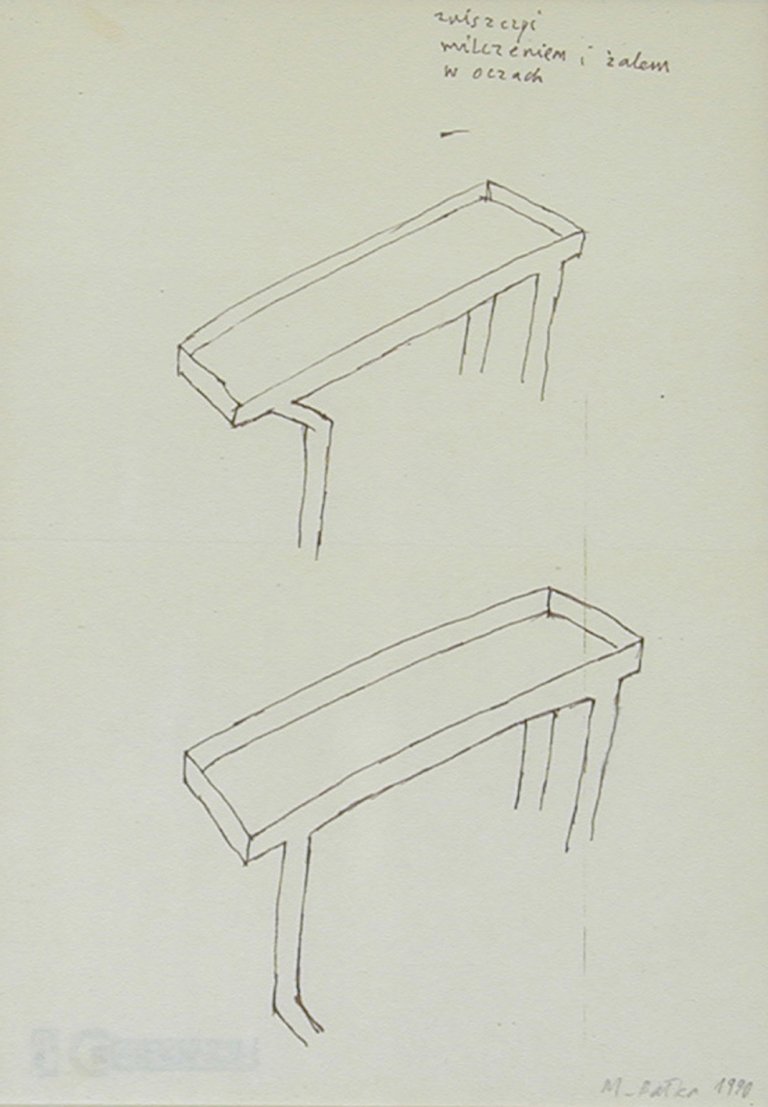 Untitled (Two tables), 1990, crayon and black pencil on paper, 20.5 x 28 cm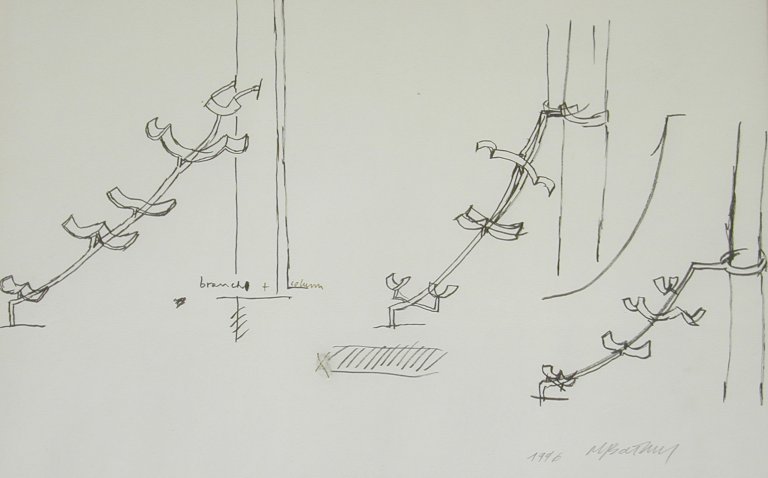 Untitled (branches + column), 1996, crayon and black pencil on paper, 20 x 29.5 cm