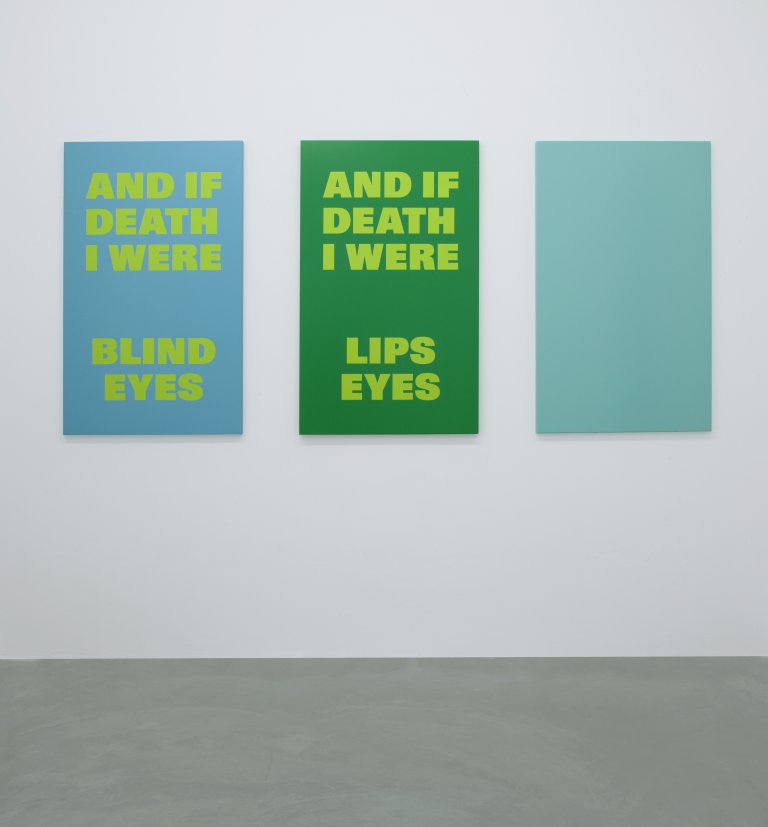 About Death II, 2, 1998 -2001/05, auto lacquer on aluminium, 3 elements, overall dimensions installed 126 x 281 x 3 cm
Rémy Zaugg »About Death II«
Berlin, September 03, 2005 - October 08, 2005
Rémy Zaugg is widely known for his object-like text paintings that involve the viewer in a complex discussion on perception and pictorial representation as well as the relevance of modernistic abstract painting. Starting with his "Perceptive Sketches" on Cézanne's painting "The House of the Hanged Man" (1873) Zaugg has systematically developed the relation between artwork and viewer as the central topic of his art.
read more
In his works perception is conceived as a process in which the viewer participates in the construction of the artwork and ideally obtains awareness of himself as a perceiving and constructing subject. Supplementing his interests in painting and transgressing the very discipline, he started to explore the spatial and contextual conditions of the display of art. Zaugg curated exhibitions and museums displays, developed extensive public projects, and collaborated in the field of architecture and urbanism mainly with architects Herzog & de Meuron. With his critical and analytic writing the artist established himself as a relevant voice in recent art theoretical thinking. His essay "Das Museum, das ich mir erträume" (1986) has had a major impact on contemporary museum's architecture.
Rémy Zaugg conceived the exhibition "ABOUT DEATH" for Galerie Nordenhake and has made several new works consisting of three, four, five or six paintings. They belong to his recent major series "About Death II". Like most of his works, the paintings are executed in auto-lacquer on aluminum and show no trace of a human touch. Unlike the paintings "About Death I", whose saturated colors unleash an extremely physical experience, the works of "About Death II" have bright, nearly kitschy colors that playfully contrast with the colored texts. Some list the names of flowers, plants, or mosses that recall themes of life's transience found in 16th Century Dutch still-life paintings. Others ask "AND IF / DEATH / I WERE" and confront these lines with words like "LIPS / FINGERS" or "WHITE / TEETH". Reduced to objects of colors and words the paintings generate an intellectual and physical experience.
Needless to say death sets an inevitable end to the artwork understood as process. It is not only an obstacle to perception, like blindness, a topic Zaugg has analyzed in a former series of paintings, but it's diametric opposite. The sensual paintings of the series "About Death II" seem to celebrate life and consider the possibility of an eternal art that outlives us all, the classical idea of ars longa, vita brevis - but only if there is a future viewer. Rémy Zaugg's art is not an autonomous entity; it exists exclusively in and through it's dialogue with the viewer.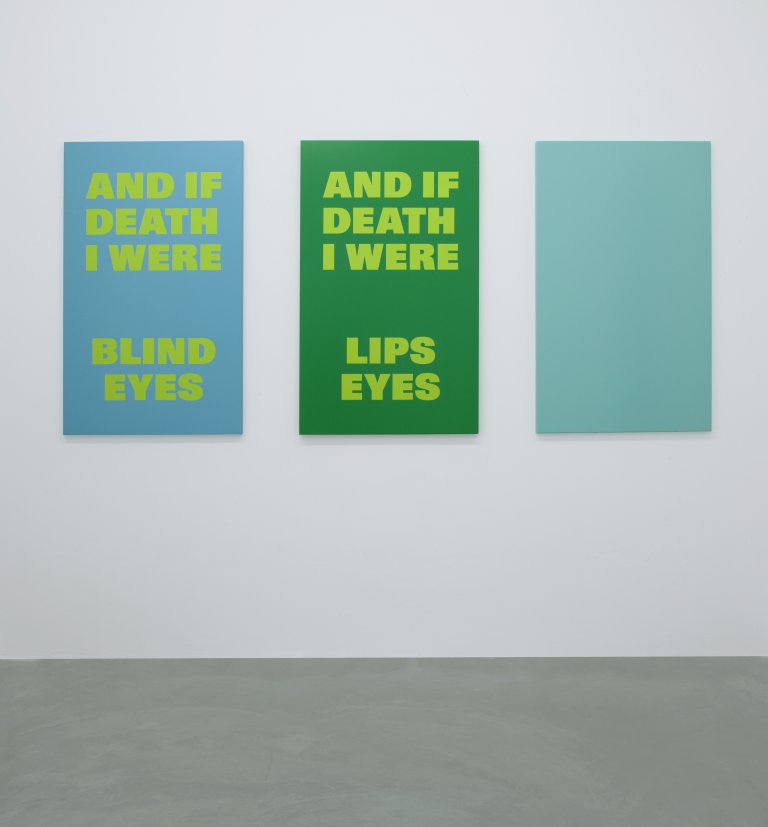 About Death II, 2, 1998 -2001/05, auto lacquer on aluminium, 3 elements, overall dimensions 126 x 281 x 3 cm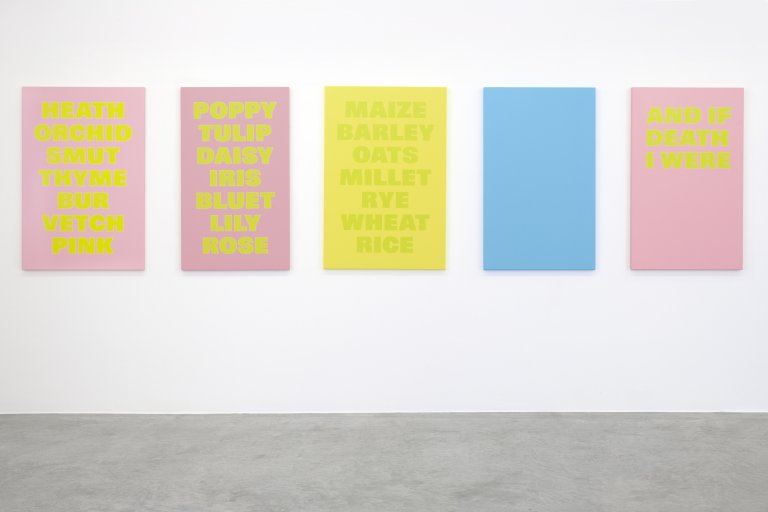 About Death II, 4, 1998 - 2002/05, auto lacquer silk-screened on aluminium, 5 elements, overall dimensions 126 x 497 x 3 cm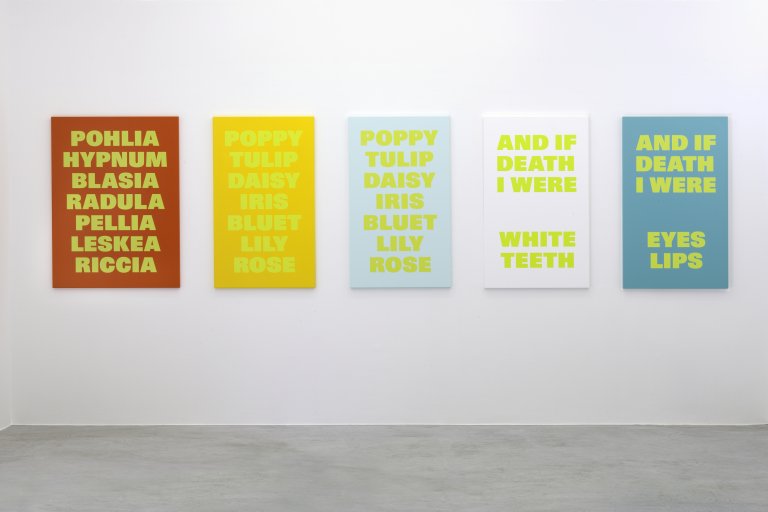 About Death II, 5, 1998 - 2002/05, auto lacquer silk-screened on aluminium, 5 elements, overall dimensions 126 x 497 x 3 cm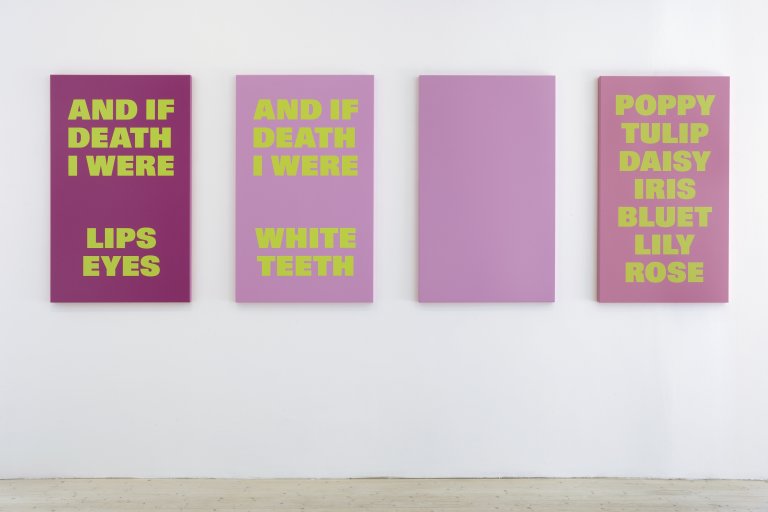 About Death II, 9 , 1998 - 2002/05, auto lacquer silk-screened on aluminium, 4 elements, overall dimensions 126 x 380 x 3 cm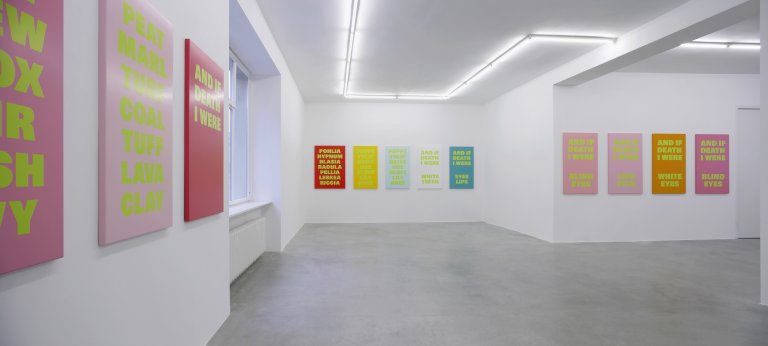 Installation view