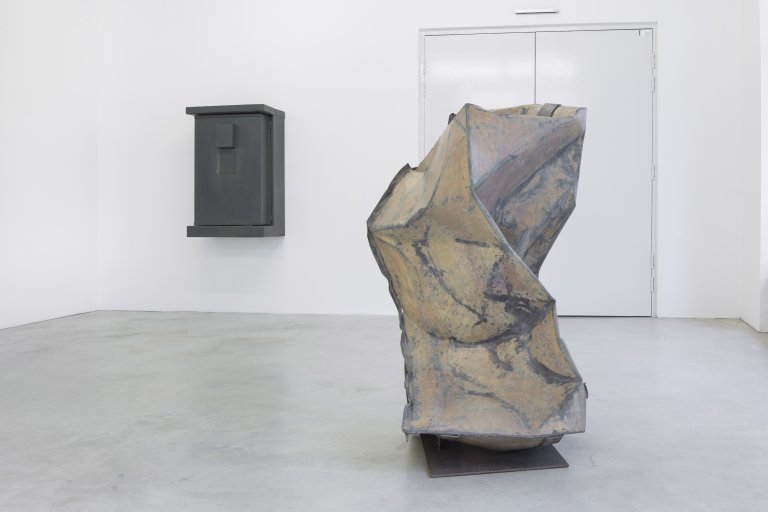 Installation view "und Erich mittendrin", Gallery Nordenhake Berlin 2012
Meuser »und Erich mittendrin«
Berlin, April 27, 2012 - June 23, 2012
Galerie Nordenhake is pleased to present an exhibition with new sculptures by Meuser, one of the most significant German artists of his generation. The exhibition loosely follows the logic of a strange publicly-accessible domestic environment. It playfully alludes through the title to the former Palast der Republik, familiarly called 'Erichs Lampenladen' in the GDR's time.
Meuser's artistic practice is founded on a consideration of the nature of substances, the act of making, and the unpredictable processes that can result from combining the two. He modifies what is a priori given, using distortion, enlargement, or recomposition, and turning it into something novel. Through a disorientating attention to detail and surface, by juxtaposition and a quiet compositional complexity, he delivers not a denouement of overlooked interior design ephemera but the pleasures of banality transmitted into things that provide a place for doubt. His—as much as anyone's doubt—being the surest sign that something is new, tender and alive.
read more
Using mostly salvaged pieces of scrap metal he constructs primarily three dimensional objects, although his works strive for a pictorial effect and can be cast somewhere between sculpture and painting. This becomes clear in wall-related pieces, the optical dematerialization of the metal's real weights by colouring the fragments with an additional layer of anticorrosive primers or matt lacquers thus producing monochrome surfaces and two-dimensional effects. Composed of an abstract vocabulary the sculptures' comparatively simple forms suggest constructivist clarity and recall the objecthood and repeatability of Minimal Art. However by associating the sculptures with the ordinary but not less enigmatic world of trivial things and everyday experience he opens them up to different relations and associations.
This process of opening up for new associations and perceptions is also suggested by his work's humorous, unconventional and irreverent titles. Both titles and Meuser's material already exist and are taken out of context: as refuse of industrial production and as headlines from newspapers, idioms, song titles or expressions from the Ruhr Valley.
His works reverberate with material transformation and decay as well as with poetic internal collisions and contradictions that cause his sculptures to oscillate between seeming beautiful and ugly, elegant and awkward, graceful and burdened. As an example of this attitude, one can see in his "lamp"-works where the supposed functionality is completely negated if not parodied. As a seemingly useful object, it suggests a purpose, but it is of no real use as a lamp, and the function is only suggested by its shape.
Meuser traverses a territory in which the sublime and the ludicrous, passion and indifference, depression and levity keep eclipsing one another, or the possibility or need for such distinctions fades away. Precise and subtle, Meuser's work is only as ambiguous as life.
Meuser was born in 1947 in Essen. Between 1968 and 1976, he studied with Joseph Beuys and Erwin Heerich at the Staatliche Kunstakademie in Düsseldorf. In May 2008, a major retrospective of his work titled "Woman rides, the horse goes on foot" was featured at the Kunsthalle Düsseldorf. Other solo exhibitions include the Staatliche Galerie Karlsruhe (2011), Kunstverein Oldenburg (2003), Staatliche Kunstakademie der Bildenden Künste, Karlsruhe (1996), and Kunsthalle Zurich (1991). He has participated in several group exhibitions including Ruinöse Abstraktion, Bonner Kunstverein (2007), Faster! Bigger! Better! at ZKM Museum für Neue Kunst und Medien, Karlsruhe (2006), EXIT- Ausstieg aus dem Bild, at ZKM (2002) and Superman in Bed, Museum am Ostwall, Dortmund (2001). In 1992 he participated in documenta IX in Kassel. His works also belong to numerous art collections including the Museum Abteiberg, Mönchengladbach, Neue Galerie Graz, and the Contemporary Art Collection of the Federal Republic of Germany, Bonn.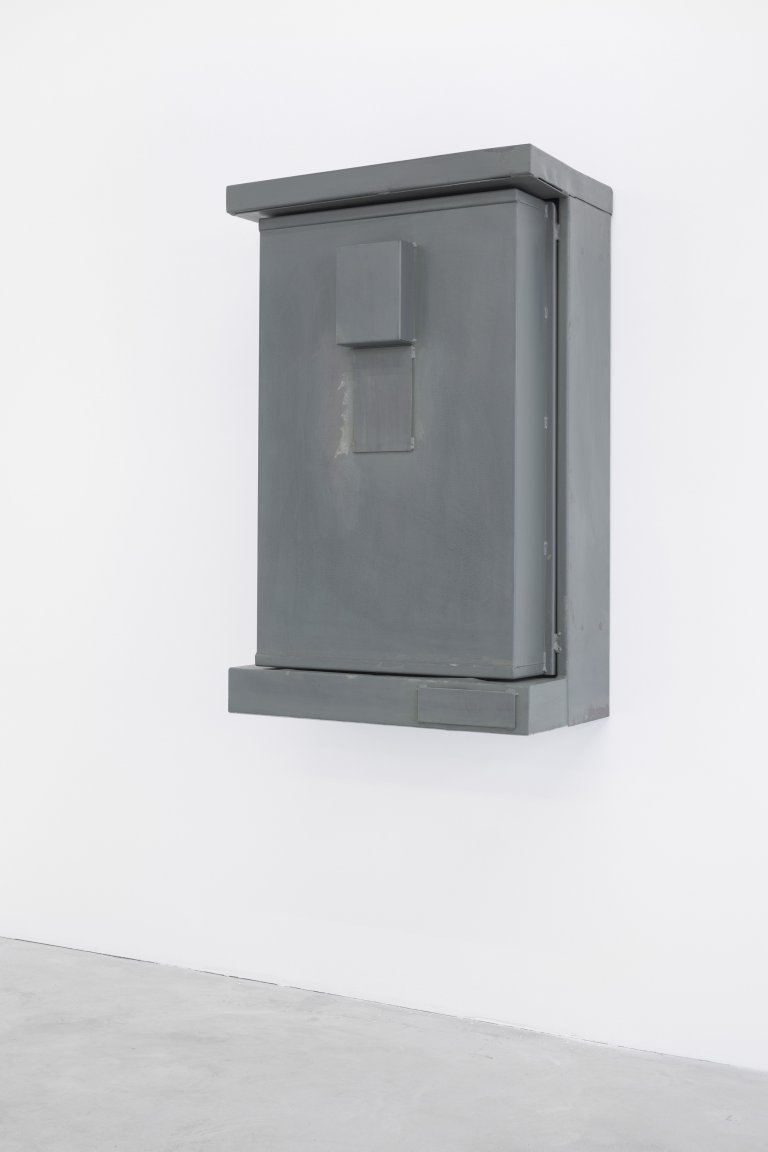 Zu ihrer eigenen Sicherheit: Geht nichts rein und geht nichts raus, 2012, steel, oil, 114 x 71,6 x 41,6 cm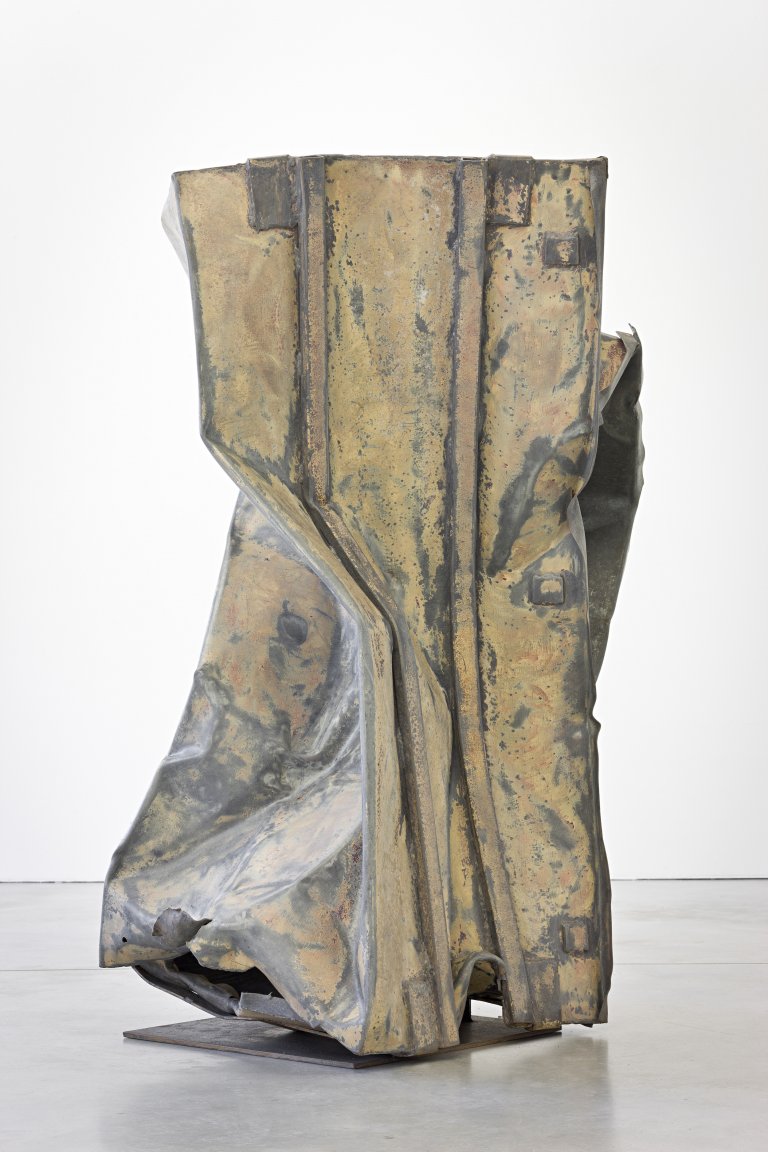 Urmel, 2012, steel, oil, 135 x 70 x 70 cm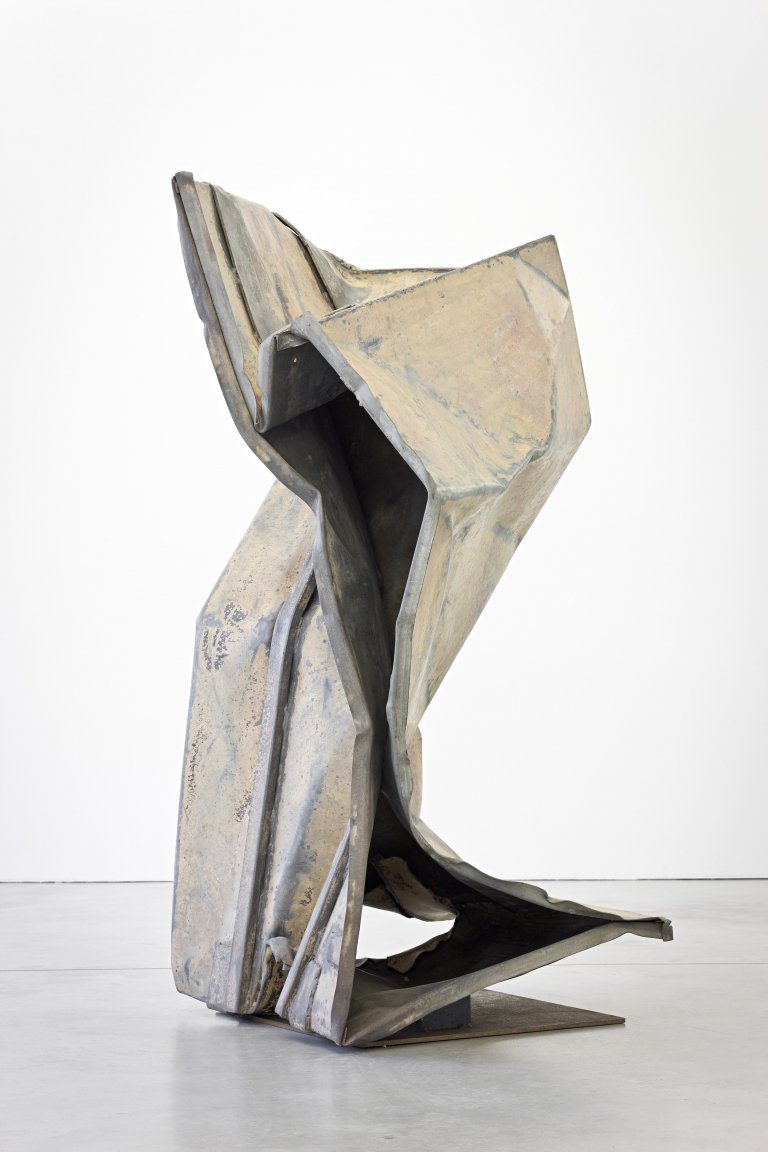 Urmel, 2012, steel, oil, 135 x 70 x 70 cm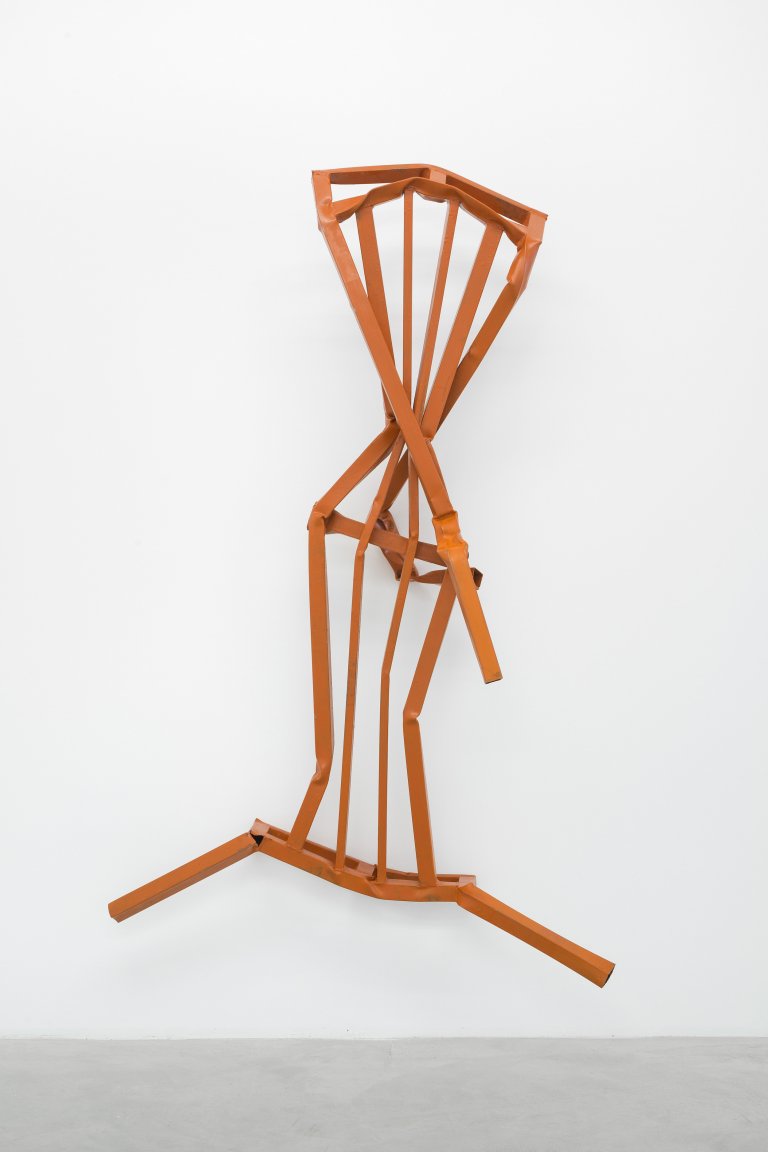 Flachgelegt, 2012, steel, oil, 188 x 123 x 39 cm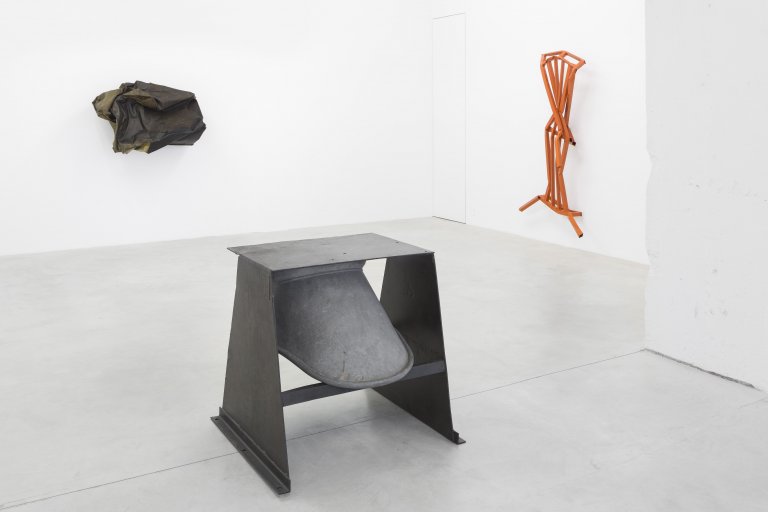 Installation view "und Erich mittendrin", Gallery Nordenhake Berlin 2012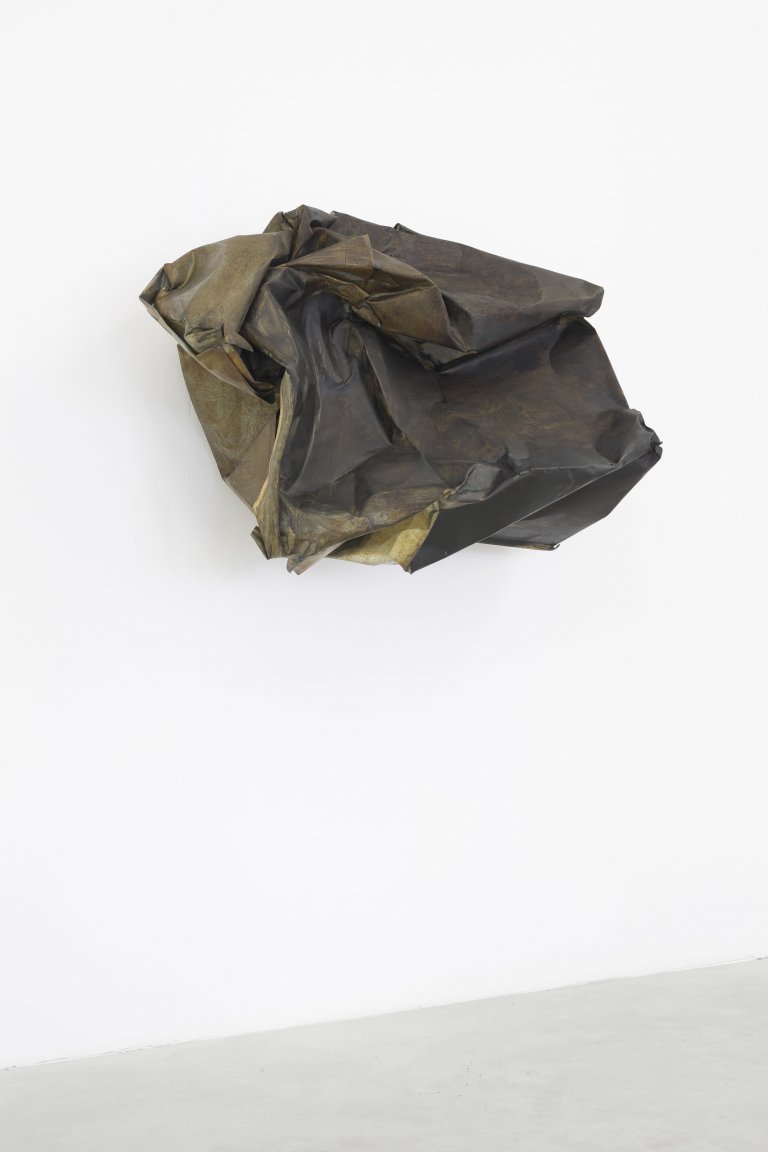 Hängen im Schacht, 2011, steel, oil, 120 x 55 x 80 cm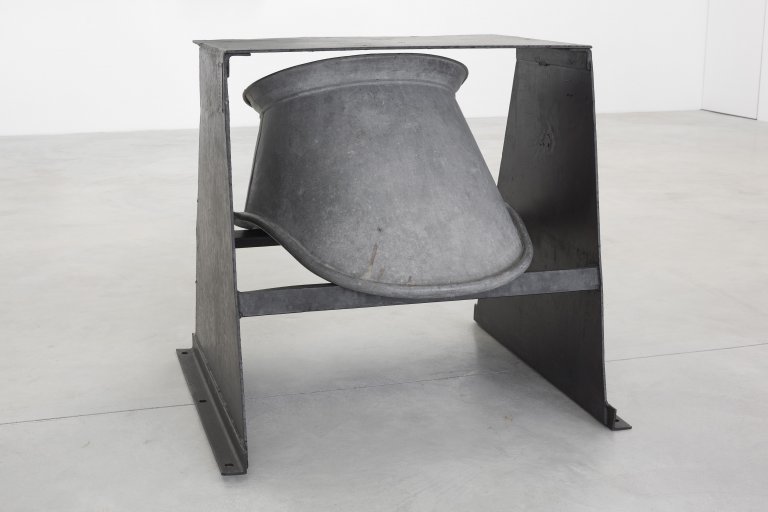 Ente, 2012, steel, oil, 91 x 84 x 83 cm