Self Portrait, Elbow, 2000, gelatin silver print, 91.5 x 165 cm
John Coplans »John Coplans«
Berlin, September 08, 2001 - September 11, 2001
When John Coplans takes up photography in the mid '80s after a long career as a writer, editor and museum director, he chooses his own aging body as his vehicle for aesthetic expression. Mapping out different parts of his body - hands, feet, and knees-or showing off in full, as in the multi panelled Friezes and the magnificent Upside Down series, he touches on subjects as diverse as abstraction, seriality, Classical sculpture, beauty and decay. Although his black and white photographs always carry the description 'Self Portrait' in their titles, the face is never seen, thus letting the body do the talking.
read more
In John Coplans' new series of works he returns to classical sculpture with the body serving as a container for cultural ideals. In the four panelled Self Portrait, Reclining Body No. 4, 2001, the reclining body reminds of gisants such as in Germain Pilon's 16th century tomb of Henry II and Catherine de' Medici in Saint Denis in Paris. The gisants in Gothic tombs normally display the transient nature of the flesh with the body in decay but in the Mannerist version in Saint Denis we see the King as Christ and the Queen as Venus, evoking their past lives as ideal without denying death. To take a more recent example one could think of the famous photography of the dead body of Che Guevara, Christ-like and elevated, and whether one's political convictions the strength of the image lies in its language and its references to art history.
In the exhibition he is also showing a series of monumental photographs of parts of the body, such as elbows, arms and legs. An elbow stretches out over two panels as a landscape or a Clifford Still painting. The slightly different size and perspective on the arm between the two panels reveals the technique of the montage and its use of rhythm, movement and time. Once we start contemplating the Body Language (indeed a title for a series of works from 1986) of John Coplans it appears rather natural-dense and static Torsos, feet forever moving forward through the history and hands gesturing an occasional fresh remark.
In spite of his references to classical, as well as modern art, his work remains closely tied to his personal history. The self-portrait referred to in the titles might perhaps be a portrait of his life rather than of his body. He also states that the act of posing in front of the camera gives access to a layer of long forgotten memories from a long and adventurous life.
John Coplans' personal history is as fascinating and multi-facetted as his works. He was born in London, 1920 and educated in South Africa and London. He served in the British armed forces 1938 to 1946. After the war he briefly studied art. In 1957 his paintings were included in "Metavisual, Tachiste and Abstract Art", the first survey of British post war abstract art. He left London for San Francisco in 1960 and was one of the founding editors of the magazine Artforum (1962).
He became senior curator at the Pasadena Art Museum (1960-70) where he organised the exhibition "Serial Imagery". He also curated the retrospective exhibitions of Roy Lichtenstein (1967), Wayne Thiebaud (1968), Andy Warhol (1970), Donald Judd (1971), as well as the first museum shows of James Turrell, Robert Irwin and Richard Serra. He left L.A. for New York in 1971 to become the Editor in Chief of Artforum. Among his many books most noteworthy are Cézanne's Watercolours (1967), Serial Imagery (1968), Andy Warhol (1967), Roy Lichtenstein (1972), Elsworth Kelly (1972), Decisions, Decisions (together with Robert Bell, 1976), Weegee; Töter und Opfer (1978), Andy Warhol (together with Jean Baudrillard, 1990) and Provocations (1996). In 1978 he became director of the Akron Art Museum, and founded the Midwest art magazine Dialogue. In 1980 John Coplans returned to New York, where he now lives, in order to begin a new career in photography. His photographs are included in the collections of more than sixty museums in Europe, United States, and elsewhere. John Coplans has exhibited with Galerie Nordenhake since 1996.
Self Portrait, Elbow, 2000, gelatin silver print, 91.5 x 165 cm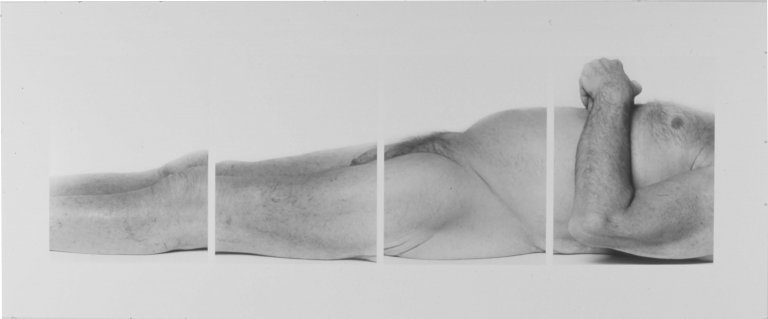 Self Portrait, Reclining Body, No 4, 2000, gelatin silver print, 91.5 x 206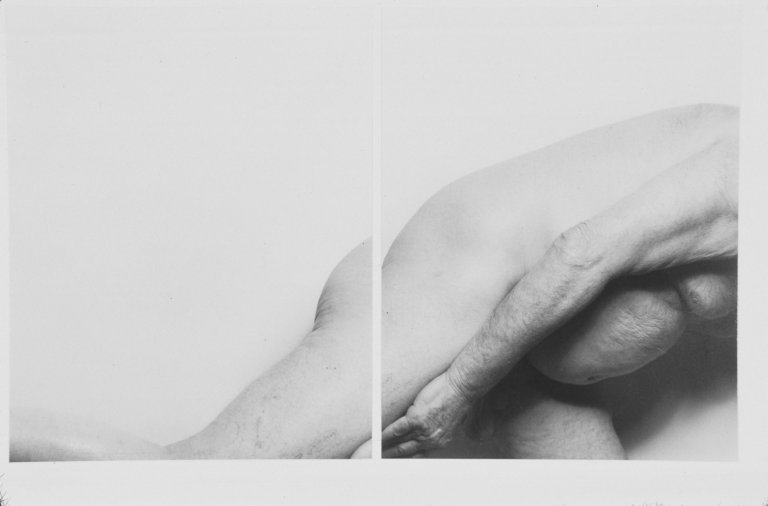 Self Portrait, Sideways, No 5, 2001, gelatin silver print, 127 x 203 cm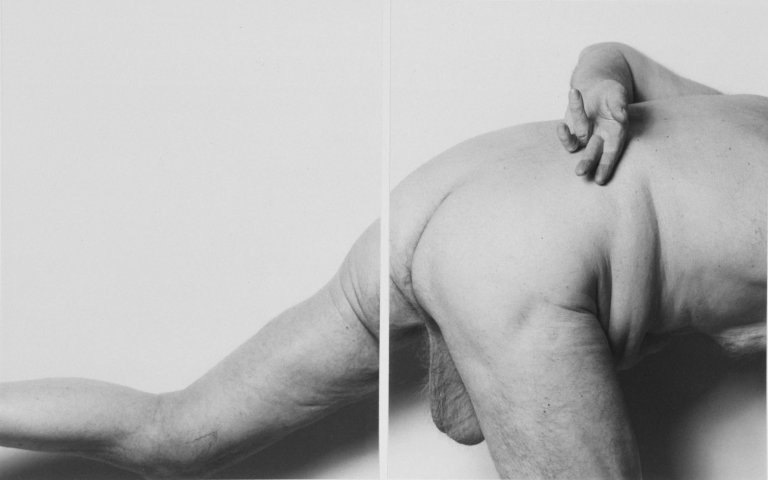 Self Portrait, Sideways, No 4, 2001, gelatin silver print, 127 x 203 cm