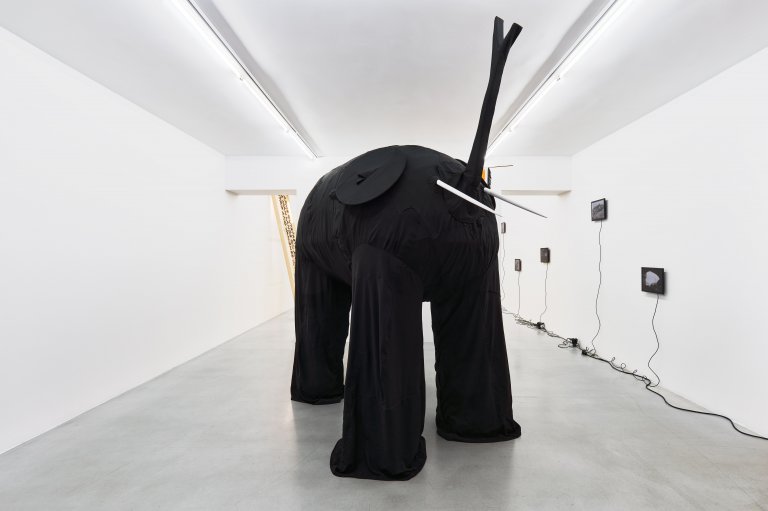 installation view
Samson Kambalu »FRACTURE REPUBLIC«
Stockholm, September 30, 2021 - November 05, 2021
Samson Kambalu fuses aspects of the Nyau gift-giving culture of the Chewa in his native Malawi with the anarchic and anti-materialist practices of the Situationist movement. For his second exhibition at Galerie Nordenhake Stockholm Kambalu presents a collection of sculptures, flags, prints and video works. His practice is often autobiographical and approaches art as an arena for critical thought and sovereign activities while remaining mischievous and provocative. It derives from his knowledge of 19th and 20th century Western philosophical thought, richly blended with and viewed through a lens of multiple and merging belief systems as experienced during his youth.
read more
A dominating presence in the exhibition is the huge sculptural gestalt of a ceremonial elephant, donned in cut and sewn together Oxford gowns. Shown for the first time in his recent exhibition at Modern Art Oxford the sculpture is based on an important "mask" character from the rituals of Kambalu's native Chewa culture. The Nyau have many masks representing different characters and animals, but after Kasiya Maliro (the Great Mother antelope), the Njovu (elephant) is the most important structure of the ceremony, representing the father ancestor and chief. Here the sculpture is stately and commanding, dignified yet comic.
Against the walls of the gallery lean large-scale illuminated placards recalling vintage cinema signage. In the place of feature presentation information, the texts describe mysterious narratives. Like enigmatic haikus they paraphrase Kambalu's video works presented elsewhere in the exhibition. The video works themselves are short absurdist vignettes that suggest found footage from early cinema and loop like broken film reels. Kambalu's 'Nyau Cinema' is characterised by spontaneity, playfulness and a non-linear approach to time.
Kambalu describes the formation of syncretic culture as an act of 'détournement' – similar to the Situationist strategy of revaluation. He uses this approach in his "Dandy Gum Flags" - prints of fictional flag forms arising from his childhood memory of swapping and matching games with bubblegum wrappers embellished with flags of the world, as well as his "Beni Flags" - sewn cotton flags which hang like sovereign banners. These national and sovereign emblems are manipulated and dissected using a smartphone app to create images that recall vernacular of geometric Western abstract painting, as well as the vibrant colours and bold patterning of West African textiles.
Samson Kambalu is an artist and writer working in a variety of media, including site-specific installation, video, performance and literature. Kambalu was recently awarded the highly prestigious commission for the 4th Plinth in London's Trafalgar Square. Recent and ongoing solo exhibitions of note include Culturgest, Lisbon, Modern Art Oxford, Peer UK, London and a two person exhibition with Vincent Meessen at Kunstmuseum Mu.zee, Oostende. He has been featured in major exhibitions and projects worldwide, including the Athens Biennale (2021), Dakar Biennale (2014, 2016), Tokyo International Art Festival (2009) and the Liverpool Biennial (2004, 2016). He was included in All the World's Futures, Venice Biennale 2015, curated by Okwui Enwezor. More recently Kambalu was the Malawi Cultural Consultant for the film The Boy Who Harnessed the Wind and translated the script into Chichewa. He also appears in the film as the shopkeeper Joe Godsten. Kambalu studied at the University of Malawi (BA Fine Art and Ethnomusicology); Nottingham Trent University (MA Fine Art) and Chelsea College of Art and Design (PhD Fine Art). Kambalu, who began his academic career at the University of Malawi, has won research fellowships with Yale University and the Smithsonian Institution, and is an associate professor of Fine Art at Ruskin School of Art, and a fellow at Magdalen College, Oxford University.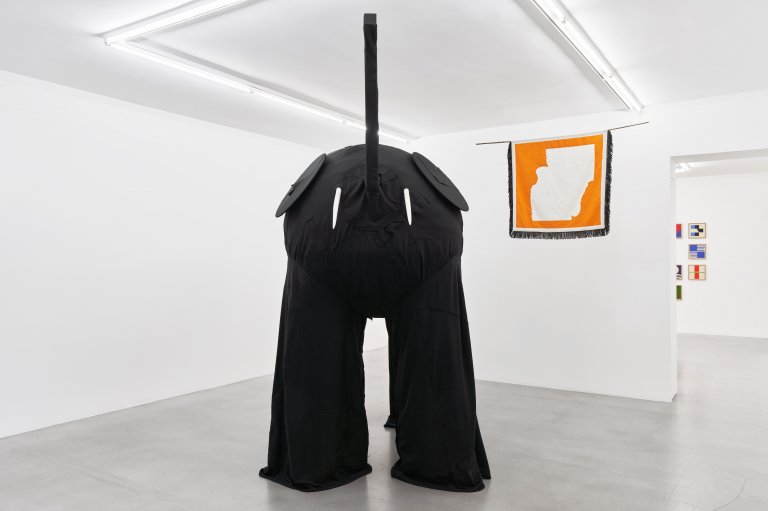 Drawing Elephant II, 2021, Oxford MA gowns, cotton thread, wool, wood, castors, oil paint, 252 x 342 x 140 cm; Paper Cup Nation, 2021, sewn polyester and cotton, wood, 100 x 100 cm
Strip Lander, 2019, digital video, 31 sec
Amistad (Synopsis), 2021, poplar, black valchromat, fluorescent lights, 330 x 120 cm; Strip Lander (Synopsis), 2021, poplar, black valchromat, fluorescent lights, 330 x 120 cm
installation view
Plato's Cave, 2019, digital video, 58 sec
On a Boat a Pointer, 2019, digital video, 55 sec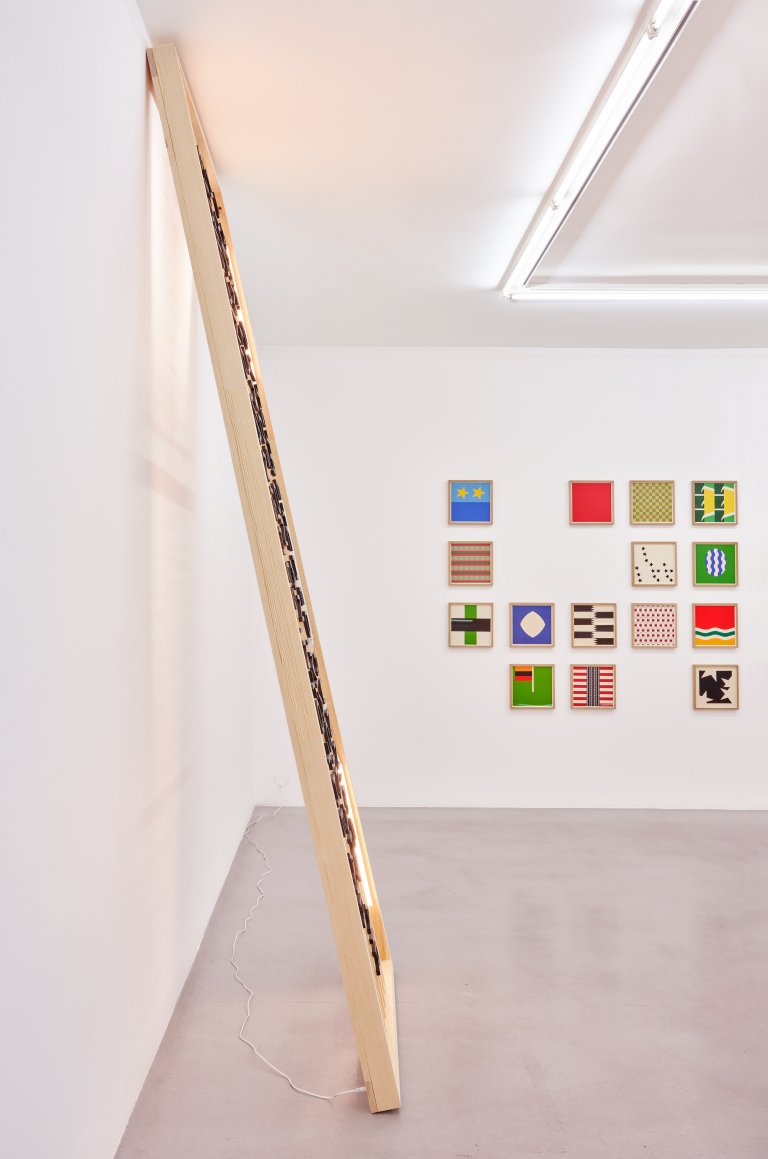 installation view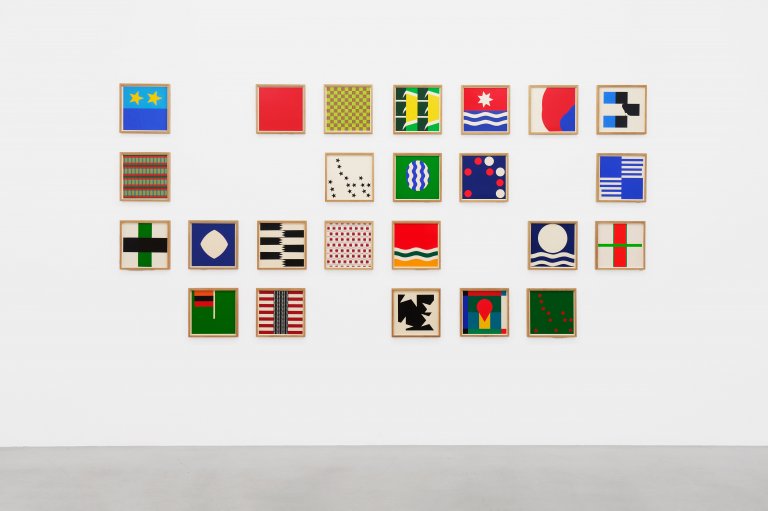 Flag Factory 6, 2021, 24 digital prints on archival paper, oak frames, 30 x 30 cm each, 34 x 34 cm each framed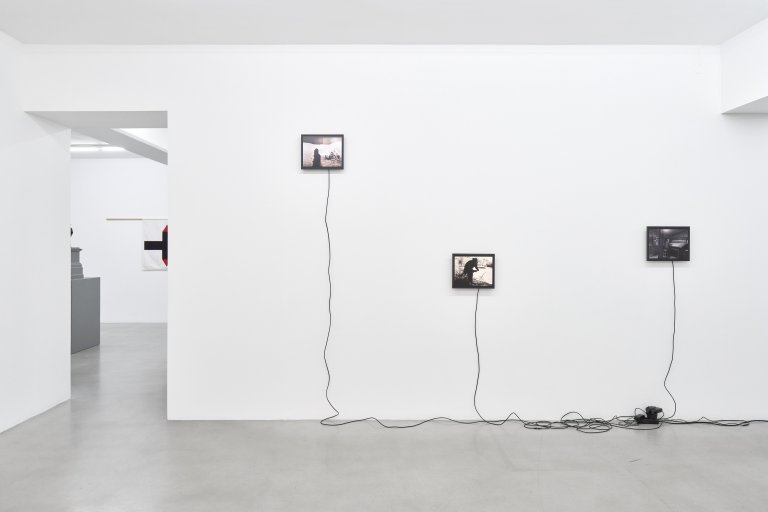 21 Steps for Man, 2015; Sculptor, 2020; Drawing in the 18th Century, 2019 (all digital video edition of 3 + 1 AP)
Drawing in the 18th Century, 2017, digital video, 31 sec
Sculptor, 2020, digital video, 46 sec
21 steps for man, 2015, digital video, 17 sec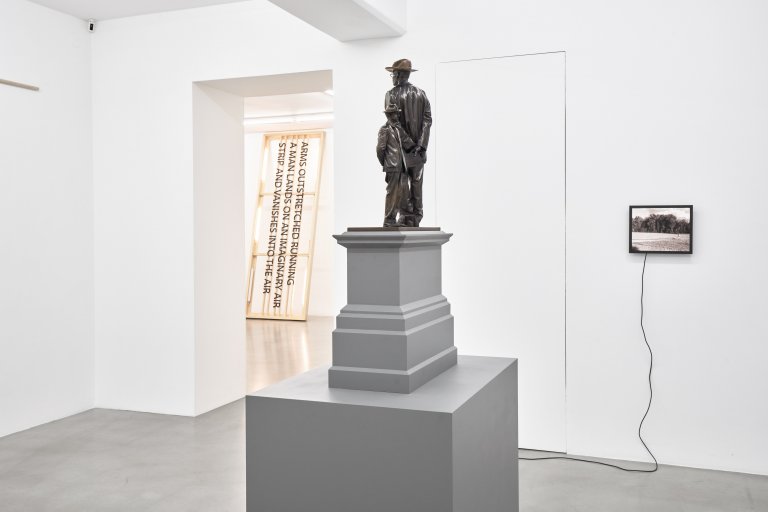 installation view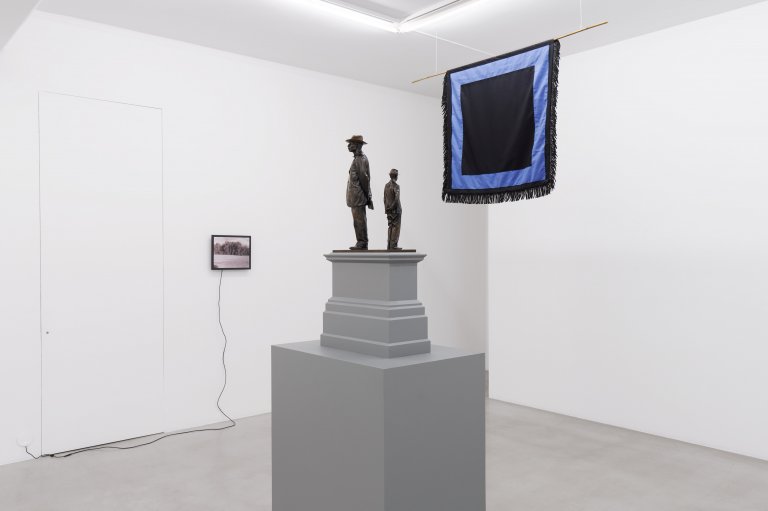 I Cross a Photograph, 2016, digital video, edition of 3 + 1 AP; Antelope, 2021, bronze, resin 55 x 42 x 16 cm, 204 x 60 x 60 incl. plinths; Square Country, 2021, sewn polyester and
cotton, wood, 100 x 100 cm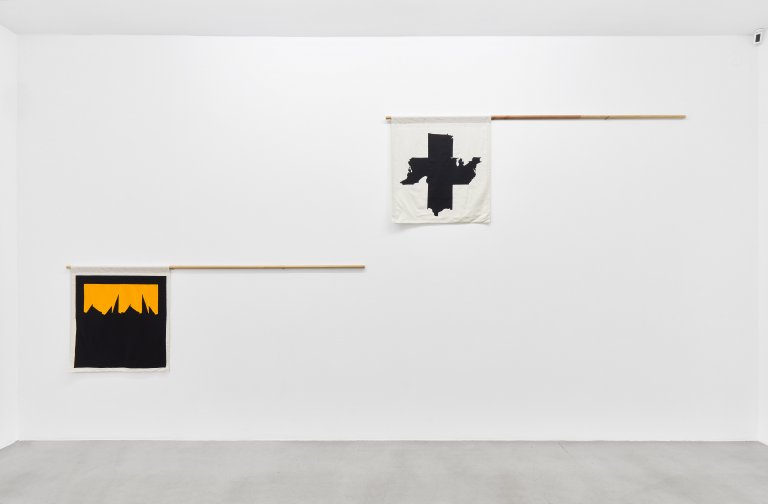 Tattoo City, 2021, sewn polyester and cotton, wood, 80 x 80 cm; Fracture Nation, 2021, sewn polyester and cotton, wood, 80 x 80 cm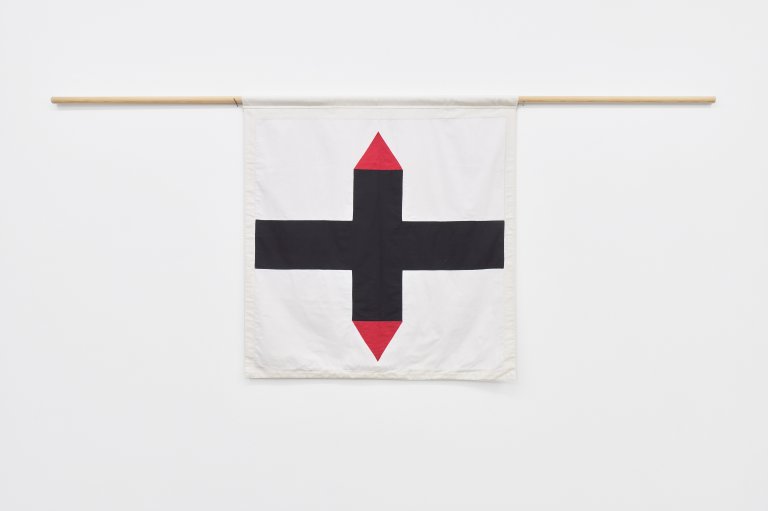 Constitutional, 2019, sewn polyester and cotton, wood, 80 x 80 cm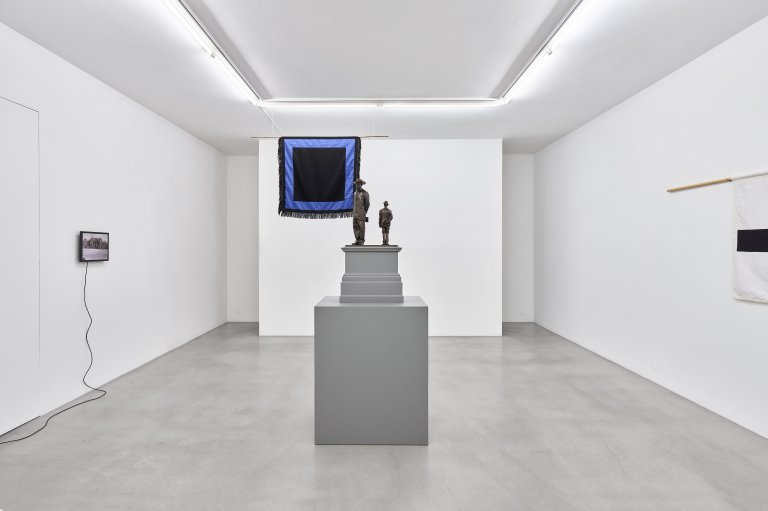 installation view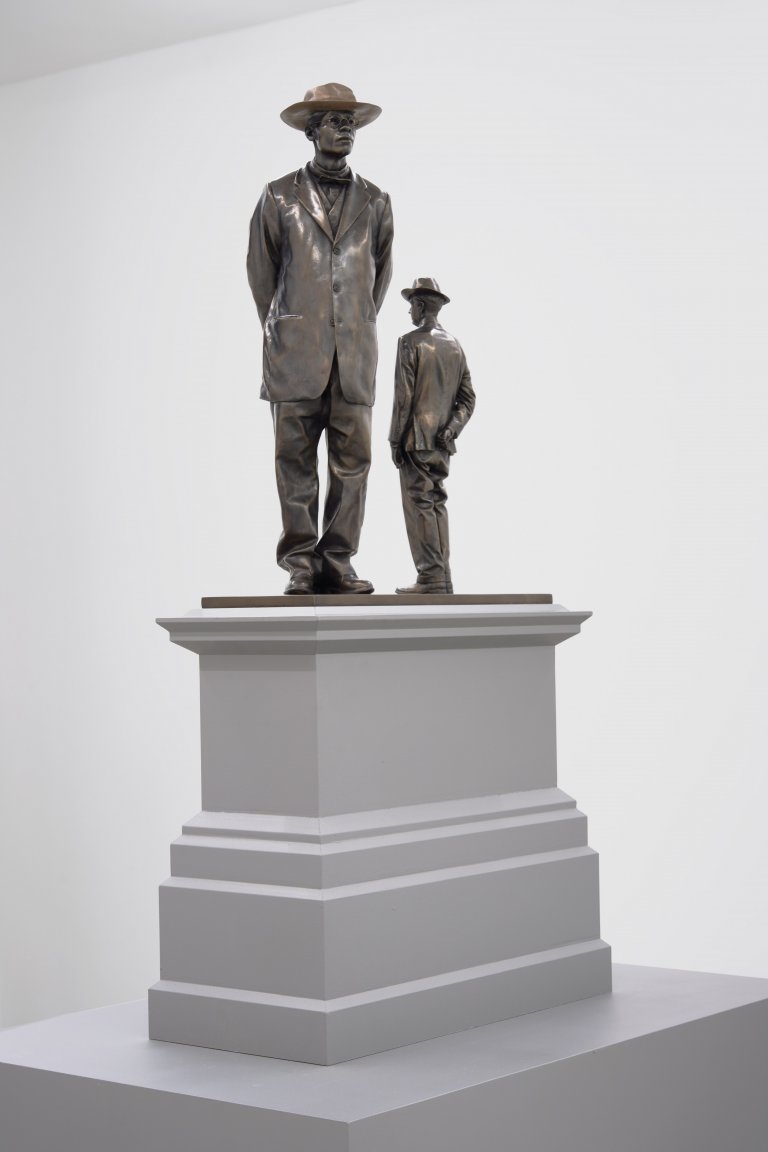 Antelope, 2021, bronze, resin, 55 x 42 x 16 cm, 204 x 60 x 60 incl. plinths, edition of 3 + 1 AP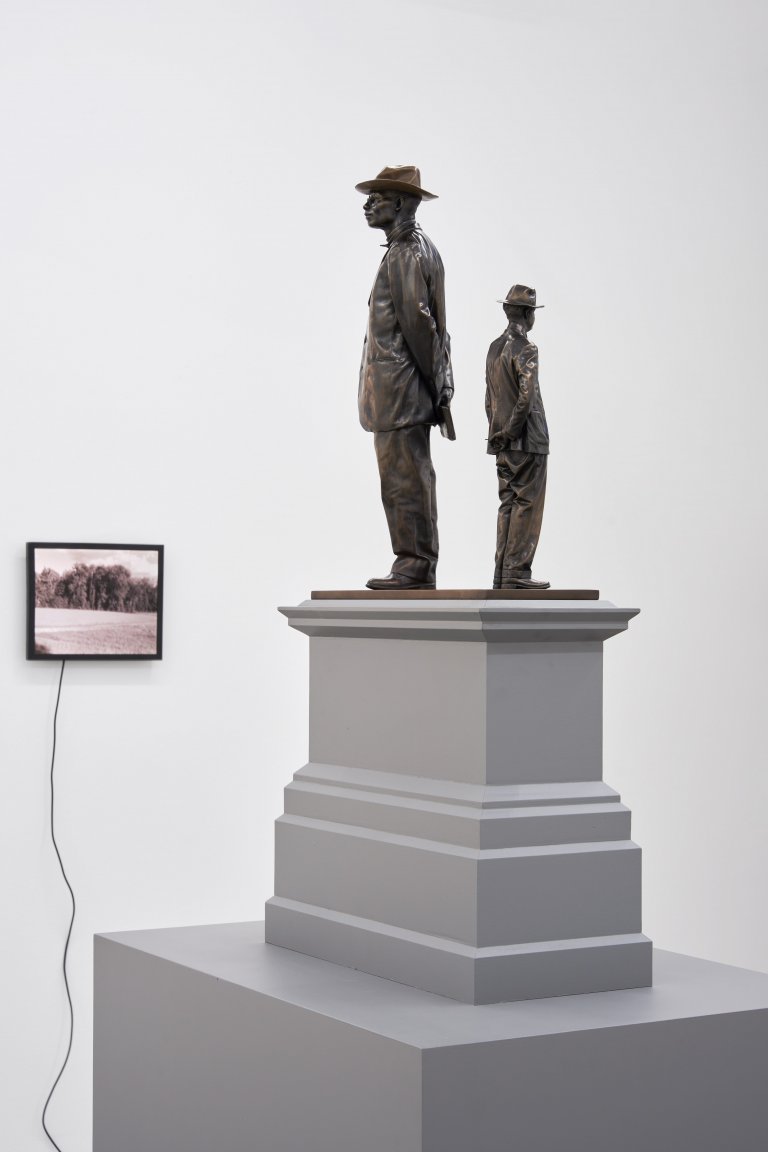 installation view
I Cross a Photograph, 2016, digital video, 44 sec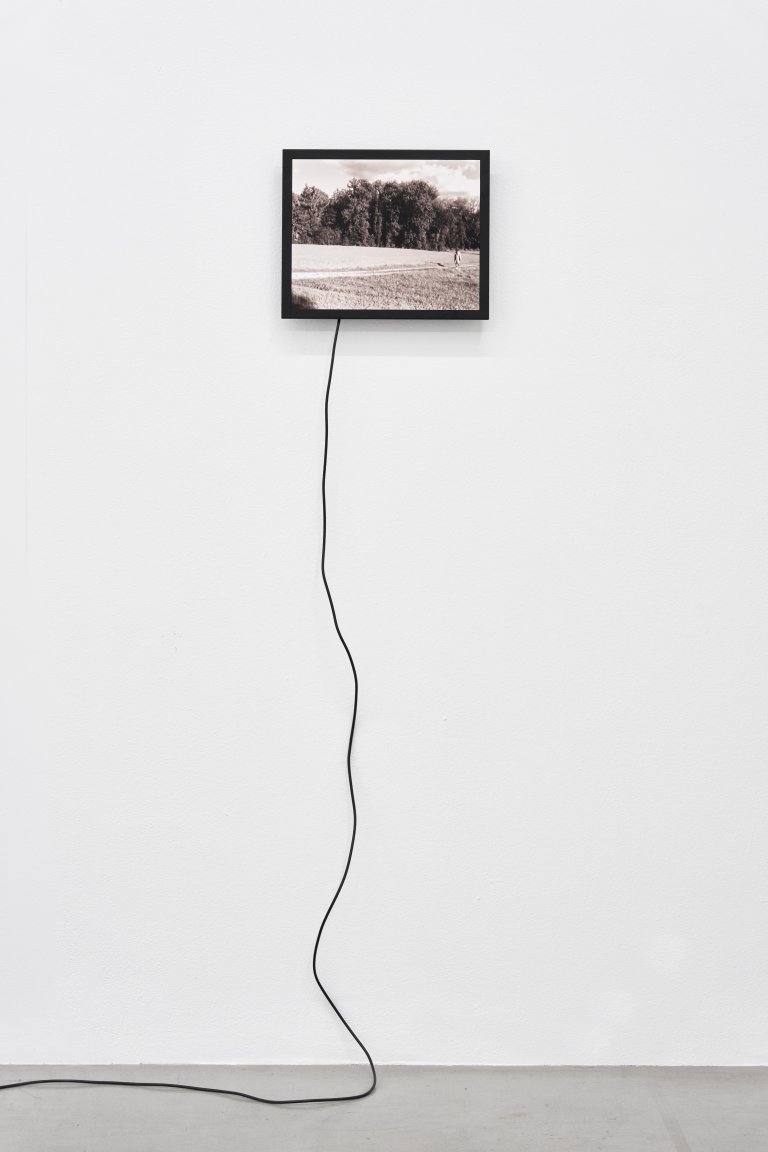 I Cross a Photograph, 2016, digital video, edition of 3 + 1 AP