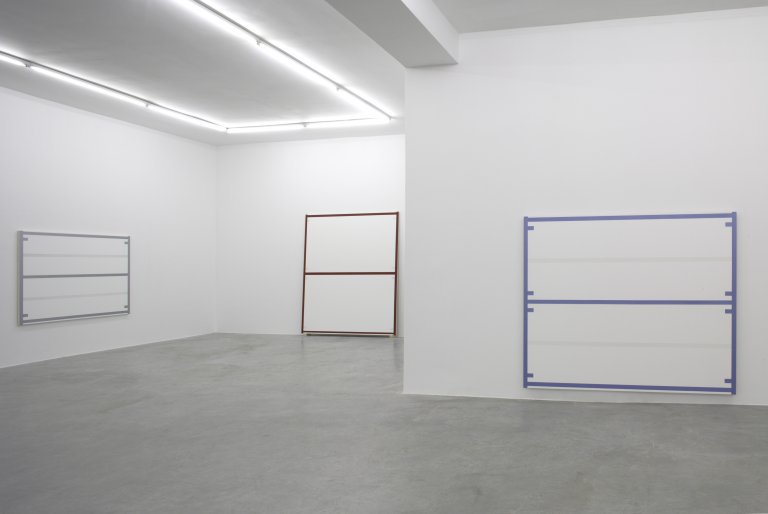 Installation view
Alan Uglow »Alan Uglow«
Berlin, February 07, 2006 - April 11, 2006
Galerie Nordenhake is pleased to present a solo exhibition with the New York based British artist Alan Uglow. The exhibition is a survey of his work from 1977 up until today's recent paintings.
Alan Uglow is widely known for subtle paintings composed of monochrome rectangular fields edged and bisected by stripes of contrasting colours. When he began to paint around 1965 he was mainly interested in the boundaries of the painting. It was in fact Giacometti's setting of figures within space that made Uglow realise that with reduction he could obtain a certain kind of presence. At the same time Robert Ryman developed his highly reduced white paintings, often just showing the traces from masking tape at the edges and corners.
Uglow's geometrical approach is minimal but also has a highly individual twist. One major influence for his work comes from his lifelong fascination with football. It led to sculptures and photographs related to the spatial structure of the stadium, like his constructions "Sudcurve" (1993) or "Coach's Bench" (1997/98). On a few occasions this type of work has been exhibited together with a roaring soundtrack recorded in the stands of a crowded football stadium. But there are also clear links between the beautiful game and his paintings, for example in the stripes of his 1992 work "Stadium II" that evoke the white marking lines on the football field.
For over twenty-five years Uglow's work has remained consistent, and he is still working in series began a long time ago such as the Stadium Series and the World Hotel Series. He is interested in paintings ability to be timeless - there is no difference between a recent stadium painting and an early one. His paintings are pristine but do not lose their touch with reality. Their seriality and uniformity does in fact relate to the ordinary and the mundane, and also the choice of titles and colours point in this direction. Hotels and football stadiums are generic in their functions and general layout, colours chosen might relate to the colour of a passing car or to be taken off a colour chart. His spare, elegantly proportioned abstractions are not strictly minimal or formal, they do misbehave and are not painted with proclaimed primary colours such as in the recent work "Hanging Standard # 2 (Blue)" where white fields are bisected by light blue iridescent bands. In Uglow's practice the exploration of the essentials of painting is not an end in itself but a means to generate the sense of discovery and psychological confrontation.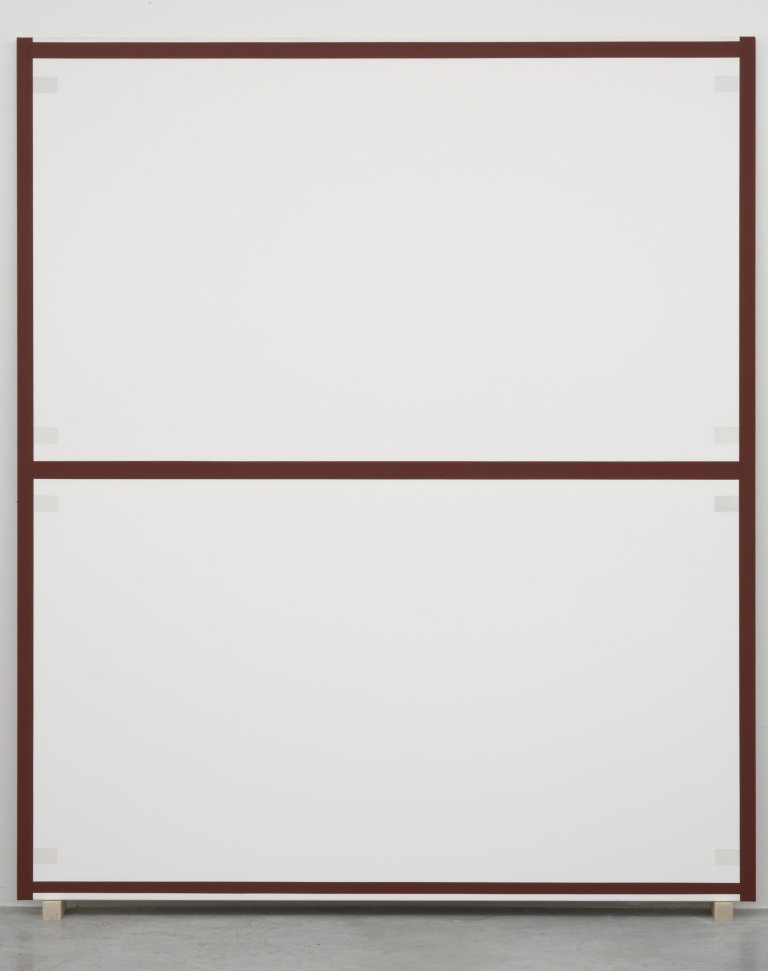 Standard # 2 (Red Oxide), 2002, acrylic on cotton, 214 x 183 cm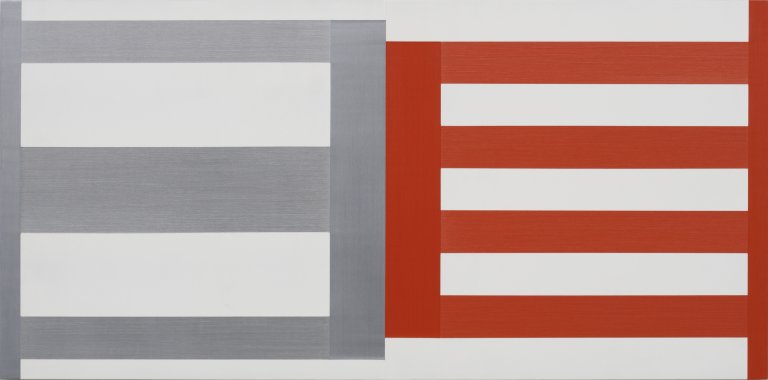 Barcode # 16, 2005, acrylic on wood panel, 30 x 60 cm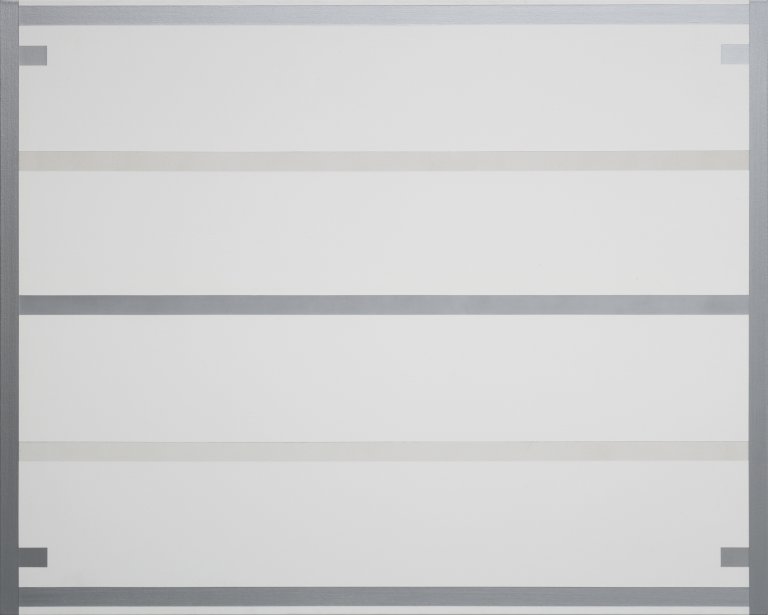 Hanging Standard # 3 (Silver), 2006, acrylic on cotton, 122 x 152 cm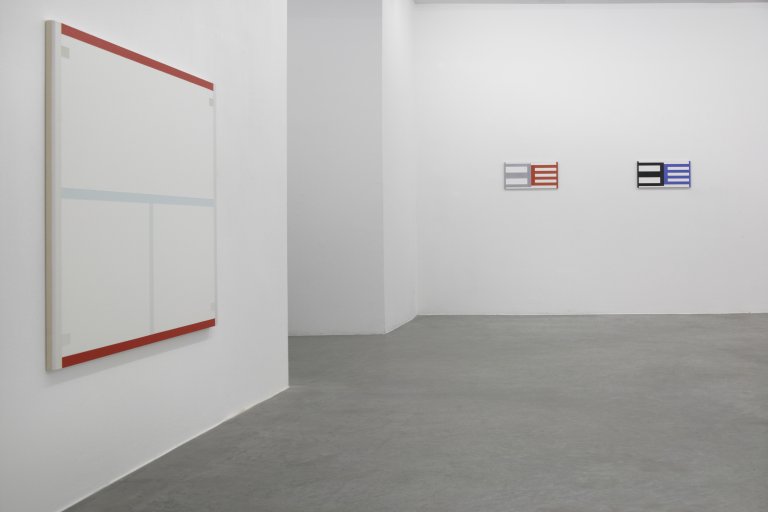 Installation view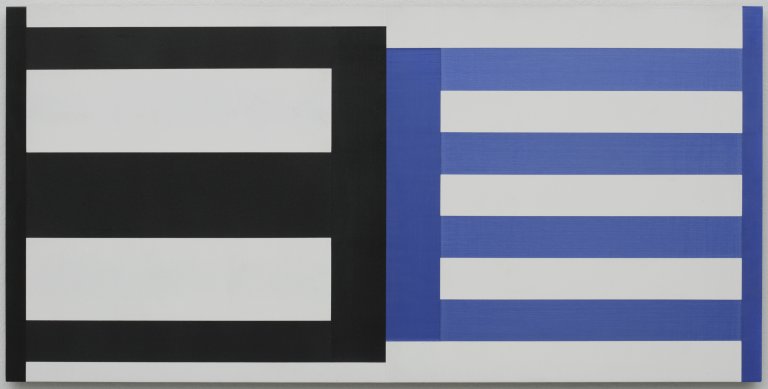 Barcode # 17, 2005, acrylic on wood panel, 30 x 60 cm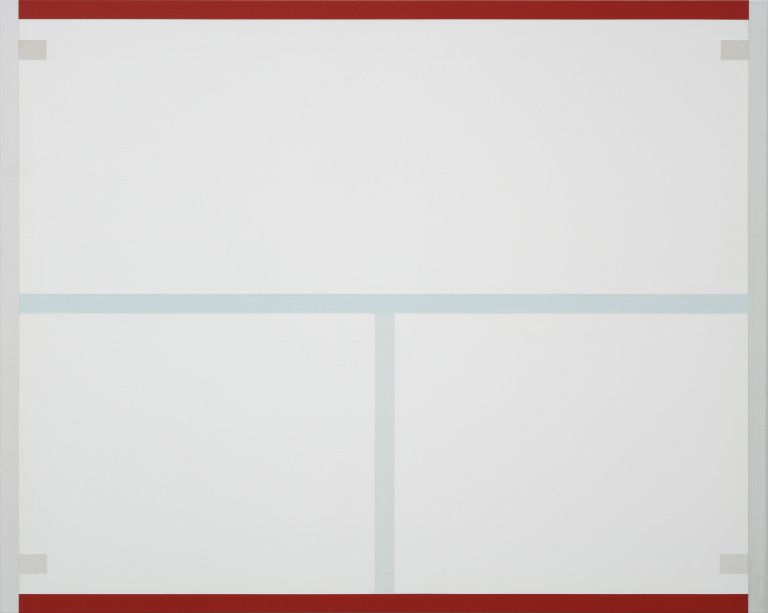 T. Bar, 2006, acrylic on cotton 122 x 152 cm