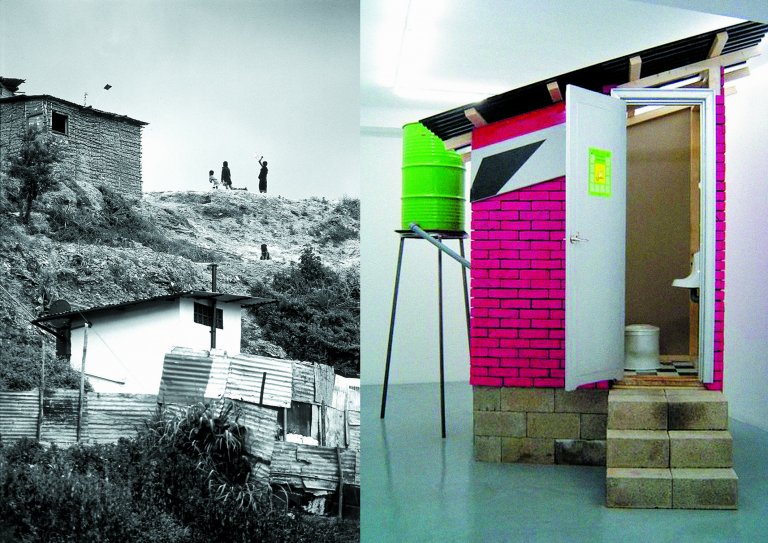 Installation view "Caracas: Dry Toilet", 2004 Stockholm (right); Source image: Caracas, Venezuela (left)
Marjetica Potrč »Caracas: Dry Toilet«
Stockholm, March 03, 2004 - April 17, 2004
Galerie Nordenhake is very pleased to present an exhibition with the Slovenian artist Marjetica Potrč. She has become internationally recognized for her "case studies" of makeshift buildings from all over the world. In analytical drawings and built up structures she shows that a hands on approach by the local community may work better than the visions form the urban planner's desk.
read more
Dry Toilet is Marjetica Potrč first project in real life, and her most successful ever. When arriving to Caracas she wanted to test her ideas about self-sustainability, small scale projects, self upgrading and empowerment of the individual. In collaboration with the Israeli architect Liyat Esakov she proposed and built a dry ecological toilet in La Vega barrio. It is a low-cost sustainable solution that can be implemented step by step and constructed by the residents themselves. The main problem in the barrios is not buildings/homes, but infrastructure, which has failed the barrios. Dry Toilet is dealing directly with infrastructure. It follows the logic of individual initiative and self-upgrading, a distinctive feature of barrio life that is also a noticeable trend in the contemporary city, where private rather than public values are coming to the forefront. The dry toilet points to a shift from institutional to individual empowerment.
In addition to the built structure Marjetica Potrč shows a set of drawings, which in Potrč's typically direct manner gives insights into her idiosyncratic process of thinking about urgent basic problems of urban architecture: energy supply, communication and infrastructure.
Marjetica Potrč is born 1953 in Ljubljana, Slovenia where she still lives and works. She has exhibited widely in the U.S. and Europe, recently at the biennials of Venice and Istanbul. Currently, she has a solo exhibition, "Urgent Architecture," at the Palm Beach Institute for Contemporary Art, in the U.S. Her work has also been seen at Kunsthalle Bern, and ZKM, in Karlsruhe this year, as well as in "Design for the Real World" at the Generali Foundation, in Vienna, in 2002. Here in Berlin she has participated in "Through a Sequence of Space" at Galerie Nordenhake, and in "Art Expeditions 1" at the Potsdamer Platz where she built a parasite house on the Sony Centre (both 2002). This is her first solo exhibition with the gallery.
Other exhibitions include representing Slovenia at the Venice Biennale in 1993 along with the artist collective IRWIN. Marjetica Potrč has also shown her works at the Sao Paulo Biennial, Brazil (1996); "Skulptur. Projekte" in Muenster (1997); "La casa, il Corpo, il Cuore," Museum Moderner Kunst Stiftung Ludwig, Vienna (1999); Manifesta 3, Ljubljana, Slovenia (2000); Guggenheim Museum, NY (2001). In addition, Potrč has received numerous awards, including grants from the Pollock-Krasner Foundation (1993 and 1999), the Soros Center for Contemporary Arts, Ljubljana (1994), Parque de la Memoria Sculpture Prize, Buenos Aires (2000) and a working stipend at Kuenstlerhaus Bethanien (2001). She received the prestigious Hugo Boss Prize from the Guggenheim Museum in 2000.
Caracas Case Study, 2003, set of 18 drawings, 22.5 x 30 cm, detail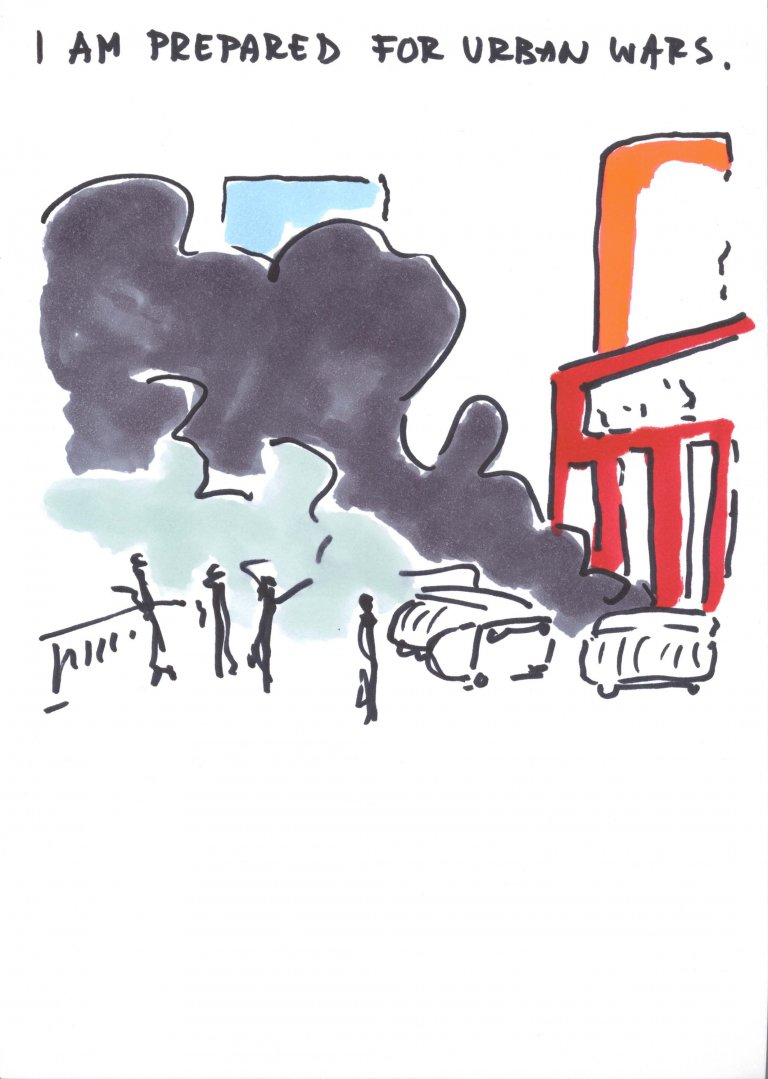 Soft Targets, Hard Surfaces, 2003, set of 8 drawings, each 28 x 21 cm, detail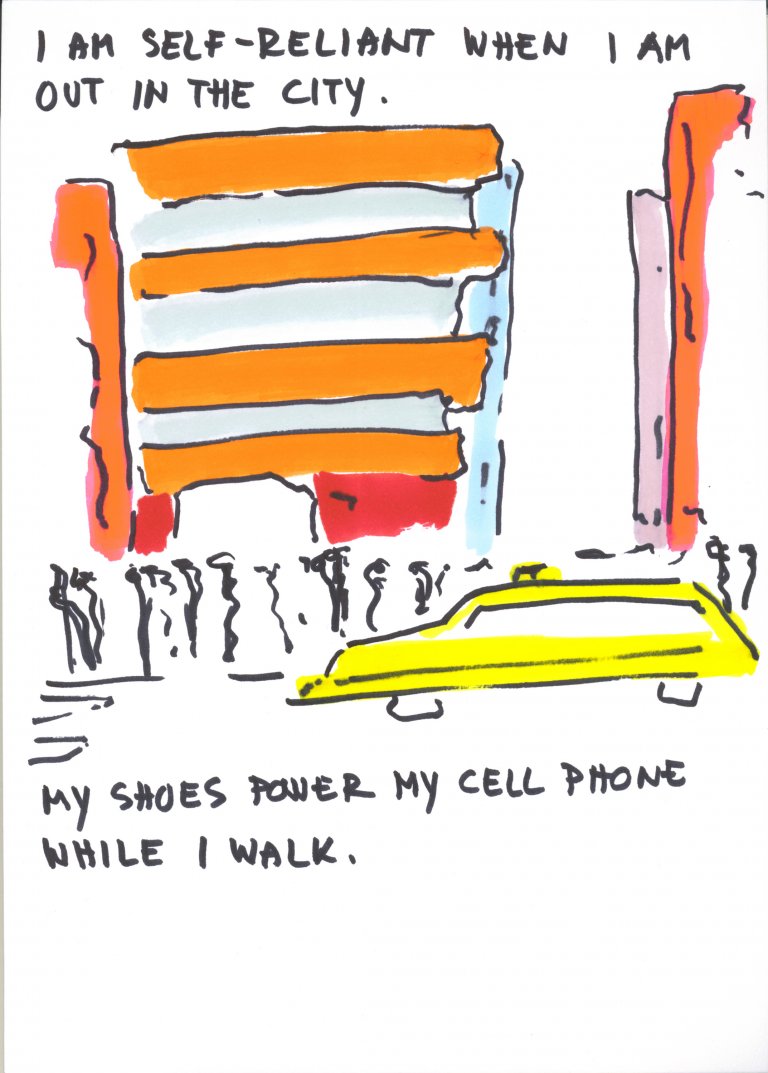 Soft Targets, Hard Surfaces, 2003, set of 8 drawings, each 28 x 21 cm, detail