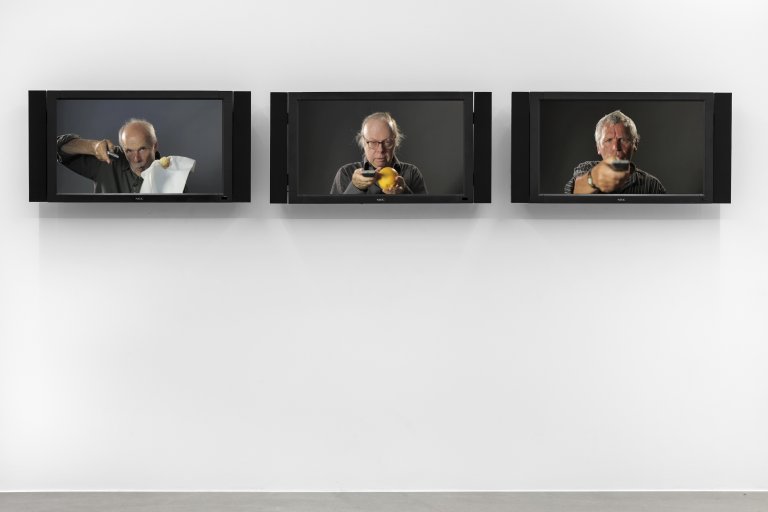 Objects that Speak, 2011, 3-channel video installation, 16:9 format, Duration 7:52 min, loop, Edition of 5
Felix Gmelin »T is for Toe«
Stockholm, October 04, 2012 - November 11, 2012
Felix Gmelin
T is for Toe
Words, Objects, Alphabets
In Felix Gmelin's first exhibition at Galerie Nordenhake the artist presents a group of work that explores the role of language and learning in its cultural, political and historical specificity. Through a process of re-enactment and re-interpretation Gmelin draws on the legacy of 1960's activism and touches on his father's role as an educator, film-maker and intellectual radical.
Here the exhibition explores socialization through language and can be read sequentially as a journey from boyhood through to old age via language in the form of pictograms of alphabets. The enactment of enforced didactics, from one generation to the next, is circular. In the audio work Every version is Part of the Myth a 10 year old boy reads a political tract written by Gmelin's father in 1969. In another, three video monitors present an absurd remake of Gmelin's father's attempt to make objects speak, performed by three of his former students, now in their 60's, from the Berlin Film Academy – a performance Gmelin's father himself coerced the artist into as a boy. The primal grunts and sounds from the men recall a historical moment in psychoanalysis but become equally non-sense slapstick.
The video works are juxtaposed with suites of paintings that comprise a number of illustrated alphabets from a variety of sources. One After the Other, 2012, consists of 3 sets of alphabet paintings on polyester film which scene by scene depict the ten first minutes of Hollis Frampton's 56 minute film "Zorns Lemma" from 1970, a film that follows the logic of an alphabet. Q is for Quoit, 2012, depicts in charcoal an incomplete alphabet from W. C. Kantner's 1879 illustrated self-teaching picture alphabet book for German vocabulary published in Pennsylvania in 1879.
Gmelin seeks to investigate how his father's ideals, grounded in the ideas of his generation, are perceived and understood now, and how we, as a generation, deal with beginnings, endings and continuity in our society today.
 
Born in Heidelberg, Germany, Gmelin lives and works in between Sarajevo and Stockholm. Solo exhibition venues include Stacion - Center for Contemporary Art Prishtina, Kosovo (2011), Portikus, Frankfurt and Malmö Konstmuseum, Malmö (both 2005). Gmelin's work has been featured in prominent group exhibitions including Cartier, Paris (2011), Les Jacobins, Le Printemps de Septembre, Toulouse (2010), The Power Plant, Toronto (2008), Statens Museum for Kunst, Copenhagen (2008), KW Institute for Contemporary Art, Berlin and Hartware MedienKunstVerein at Phoenix Halle Dortmund, Germany (2007-2008), La 52 Biennale di Venezia, Arsenale, Venice, curated by Robert Storr  (2007), Of Mice and Men, Berlin Biennial 4, Berlin, curated by Maurizio Cattelan, Massimiliano Gioni and Ali Subotnick (2006), The Moderna Exhibition 2006, Moderna Museet, Stockholm, (2006), MASS MoCA, North Adams, Massachusetts, USA (2006) and Delays and Revolutions, La 50 Biennale di Venezia, Italian Pavillion, Venice, curated by Francesco Bonami and Daniel Birnbaum (2003).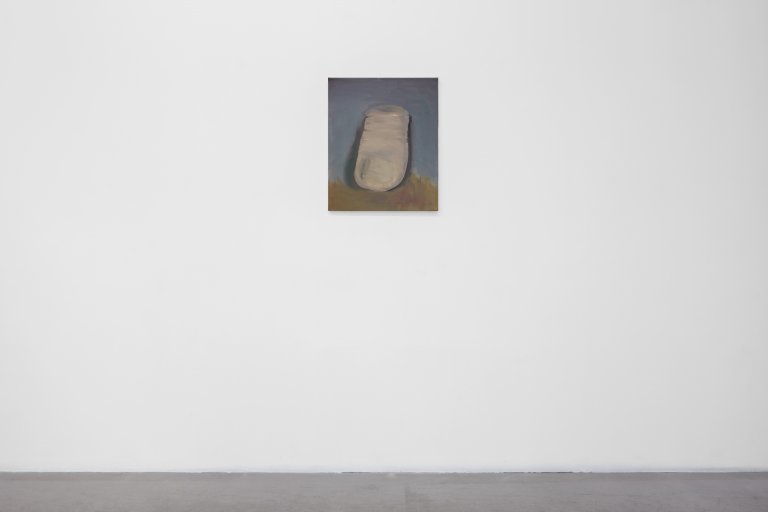 Toe, 2012, oil on canvas, 60 x 50 cm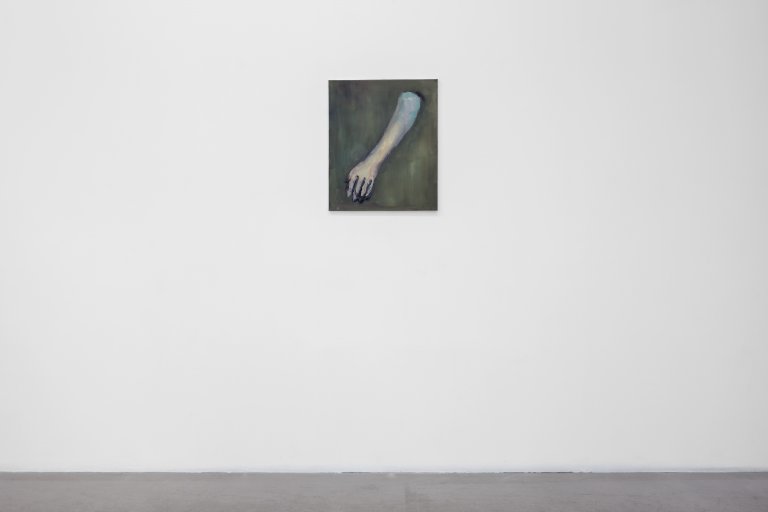 Arm, 2012, oil on canvas, 60 x 50 cm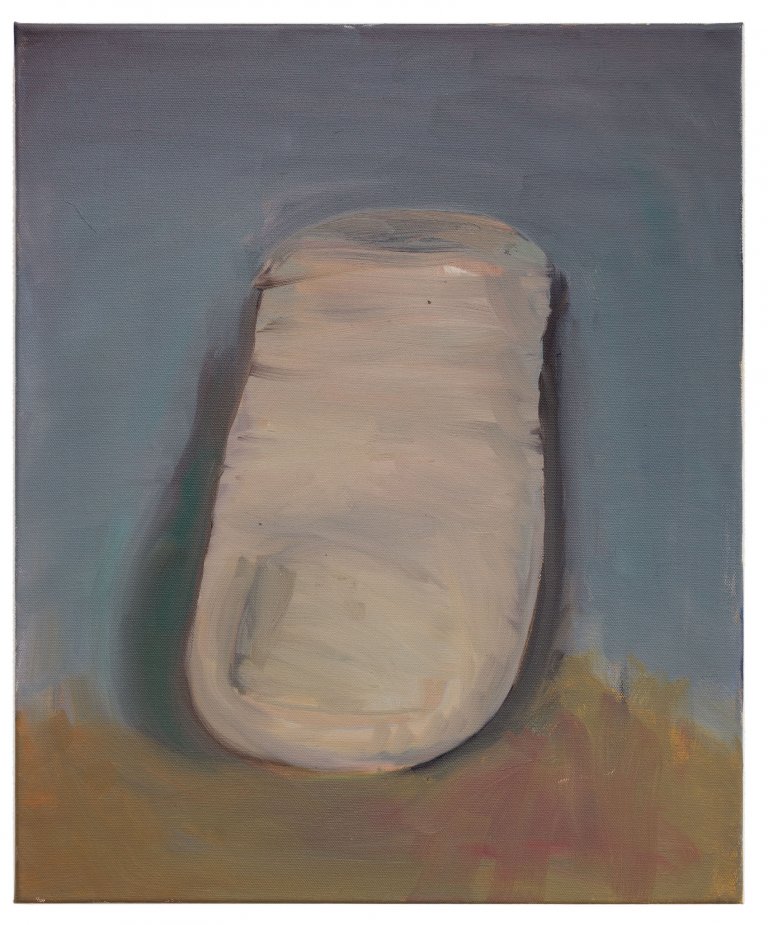 Toe, 2012, oil on canvas, 60 x 50 cm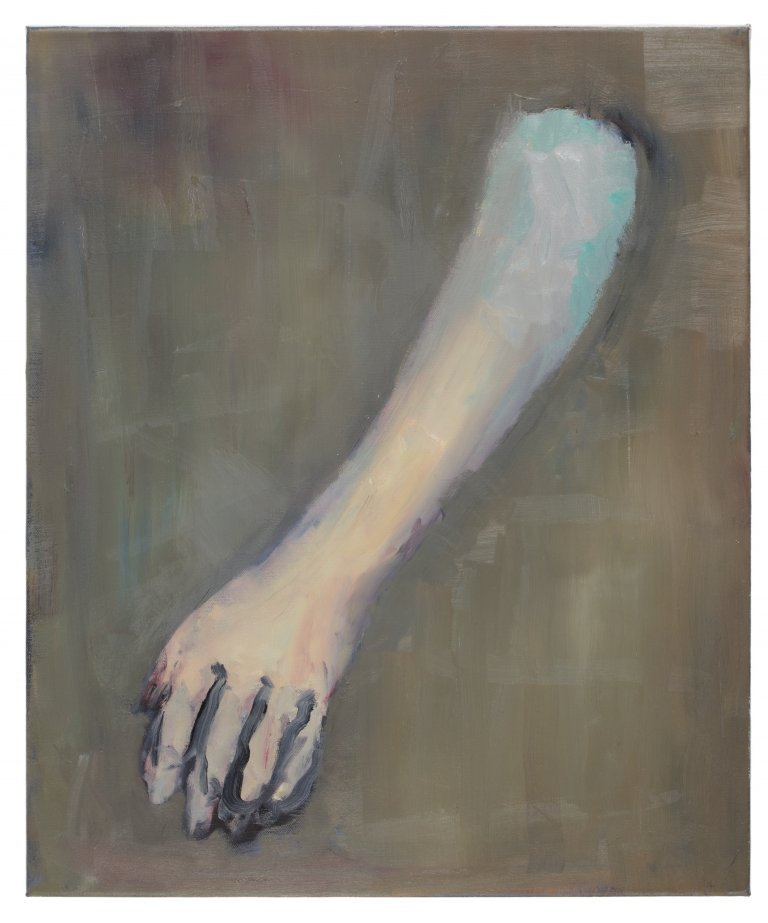 Arm, 2012, oil on canvas, 60 x 50 cm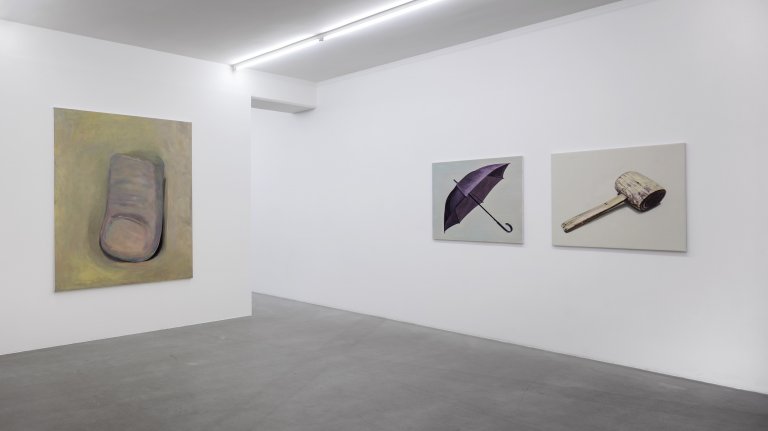 Installation view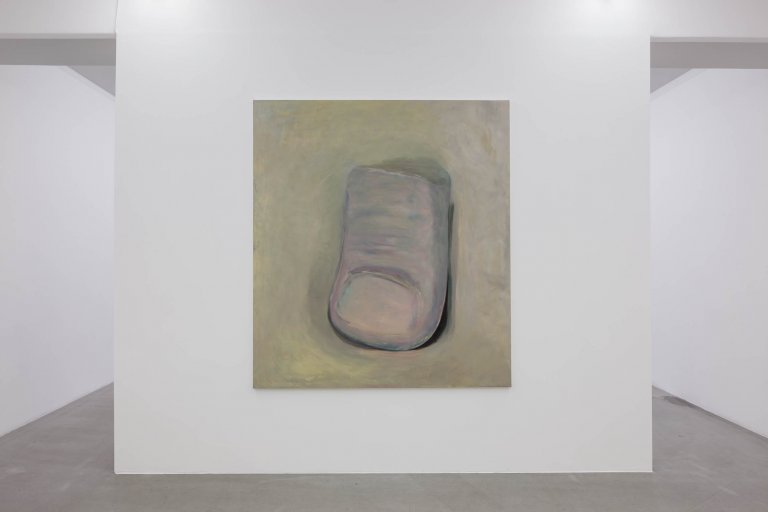 Toe, 2012, oil on canvas, 190 x 170 cm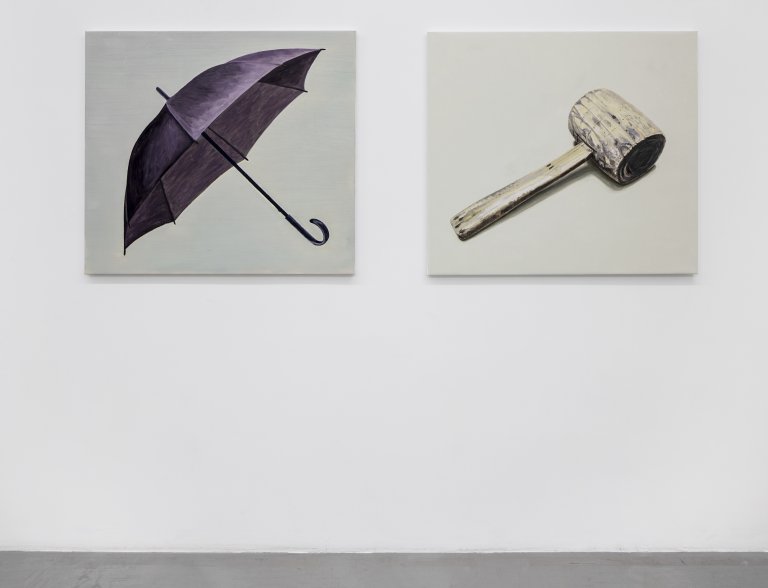 Umbrella and Maul, 2012, oil on canvas, diptych 90 x 100 cm each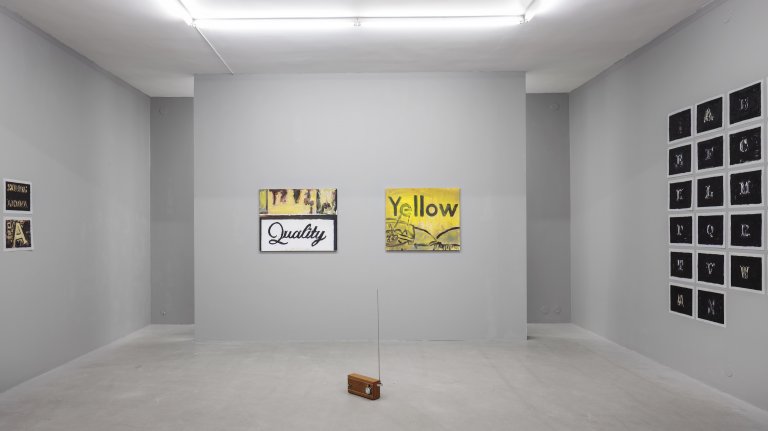 Installation view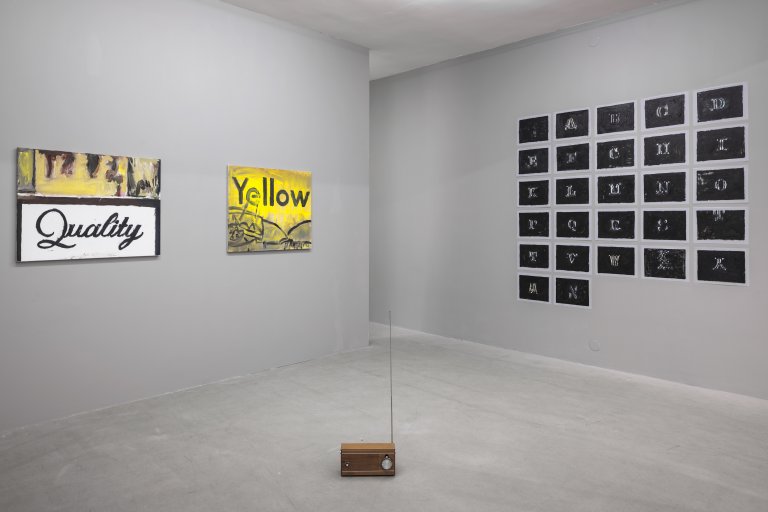 Installation view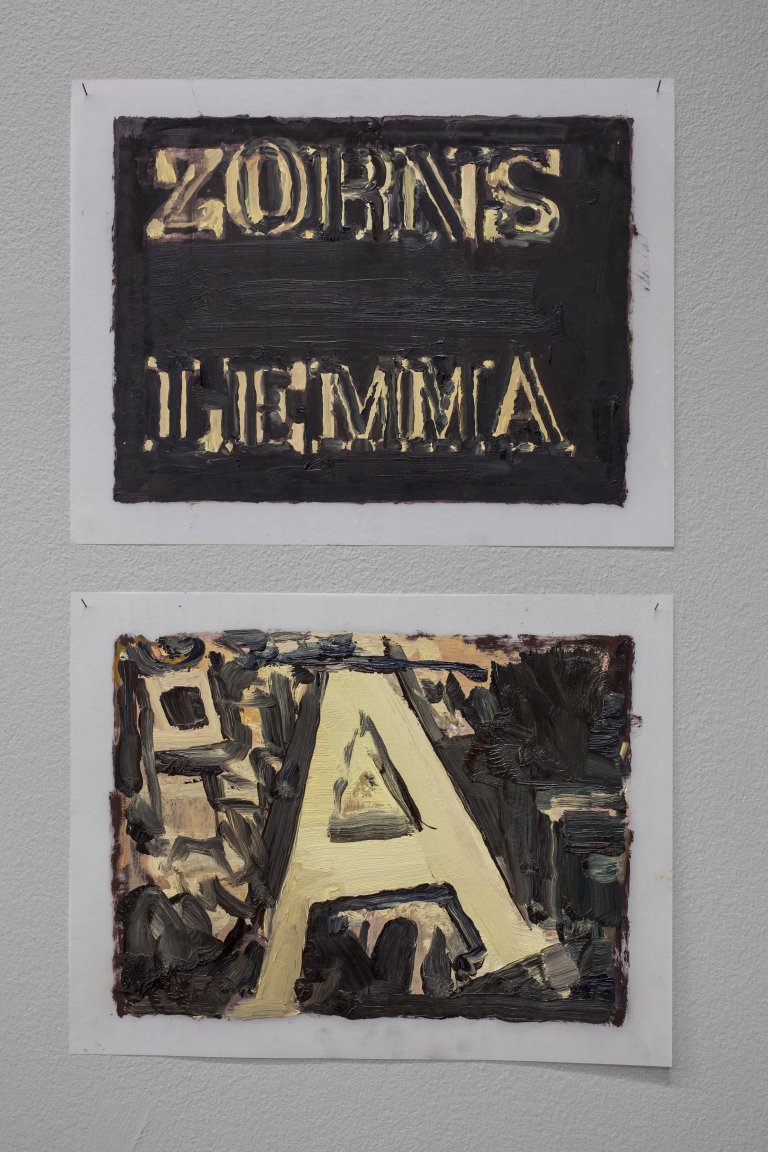 One after the other, Zorns Lemma, 2012, oil on polyester, diptych 29.5 x 38 cm each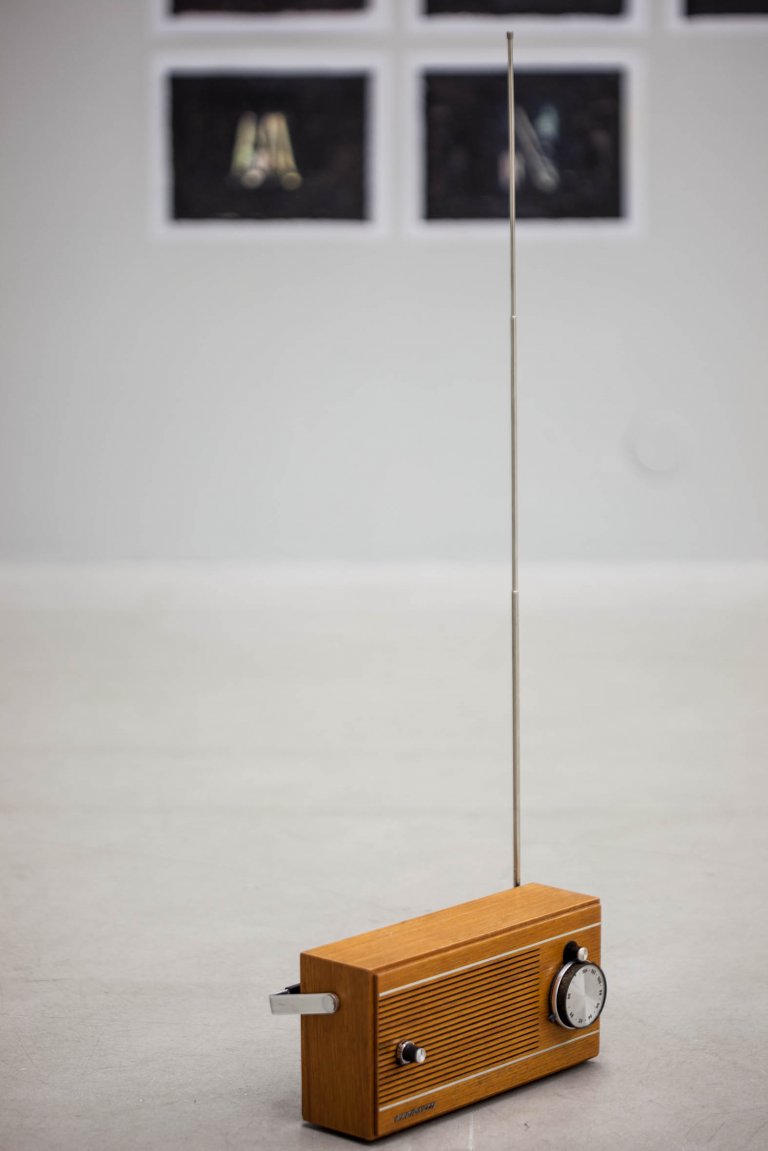 Every Version is Part of the Myth, 2012, audio file, iPod, radio sender, vintage radio, Edition of 3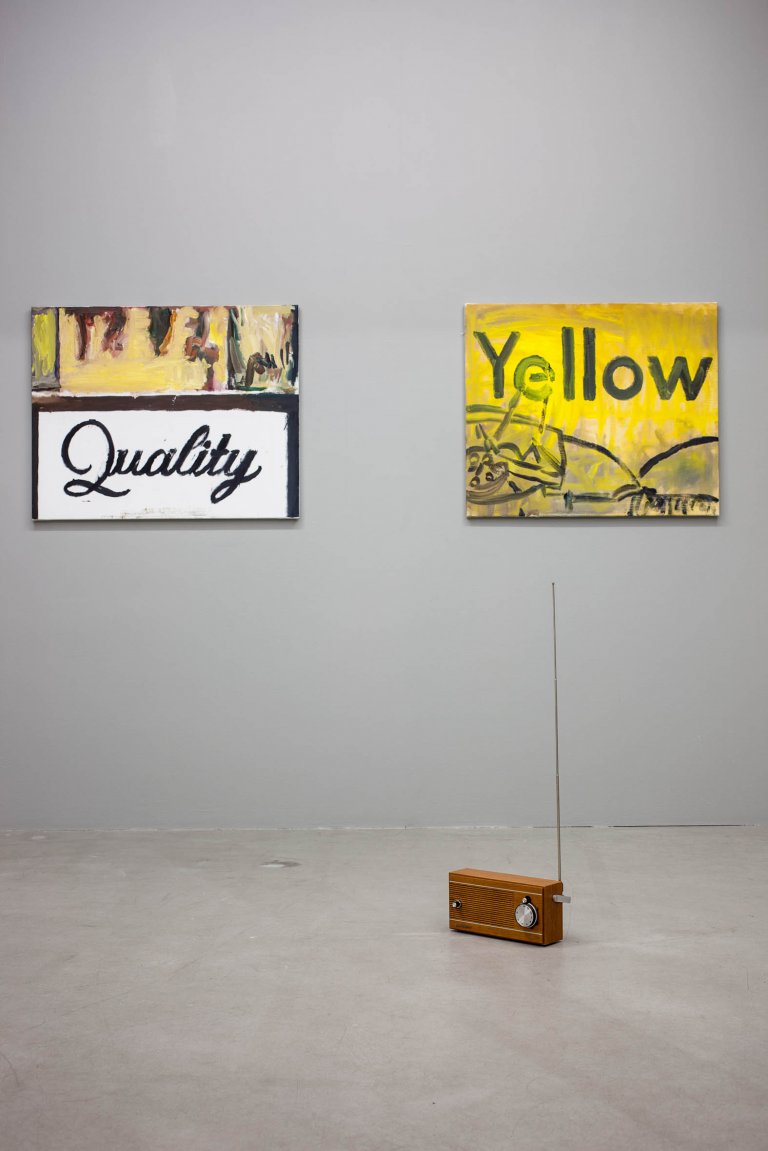 Quality, 2012, oil on canvas, 75.5 x 94 cm; Yellow, 2012, oil on canvas, 75.5 x 89 cm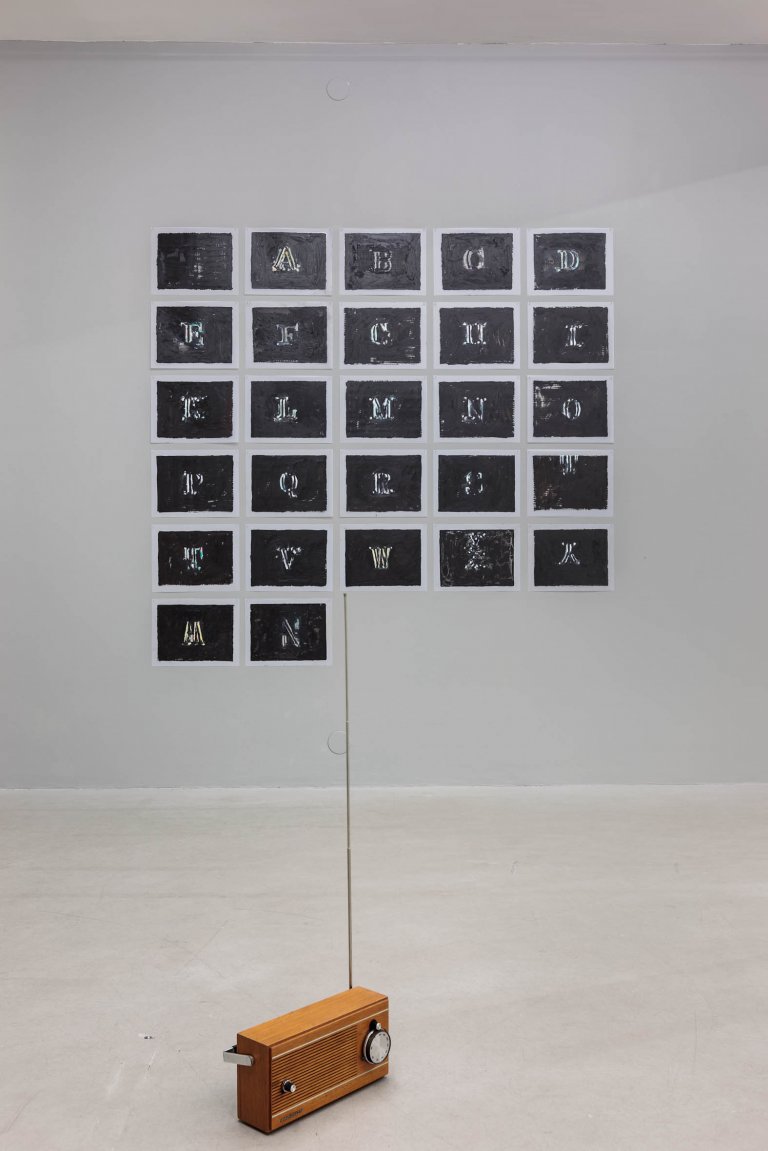 One after the other, Letters, 2012, oil on polyester, 27 panels 29.5 x 38 cm each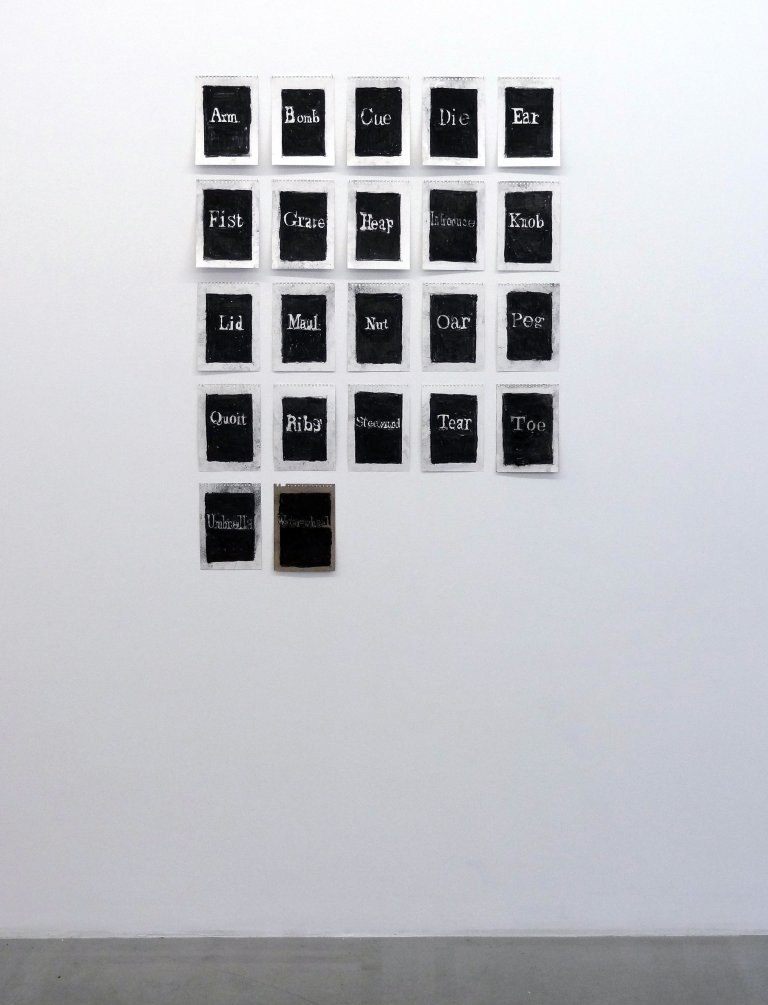 Q is for Quoit, 2012, charcoal on paper and card, each 29 x 15 cm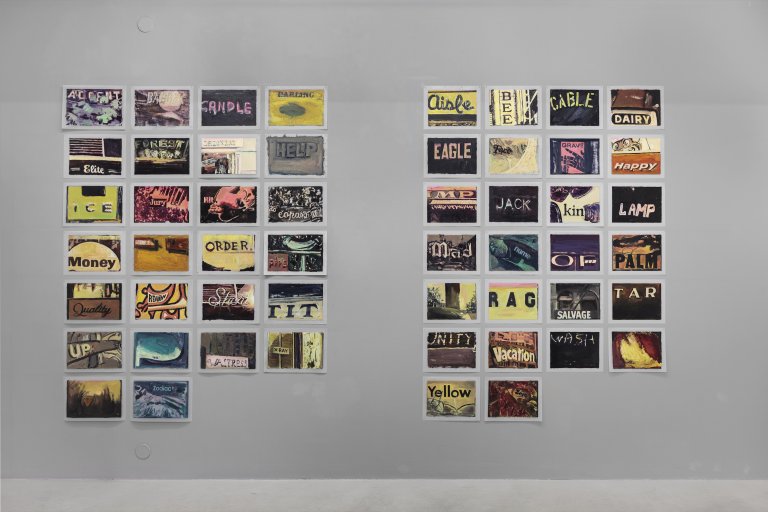 Installation view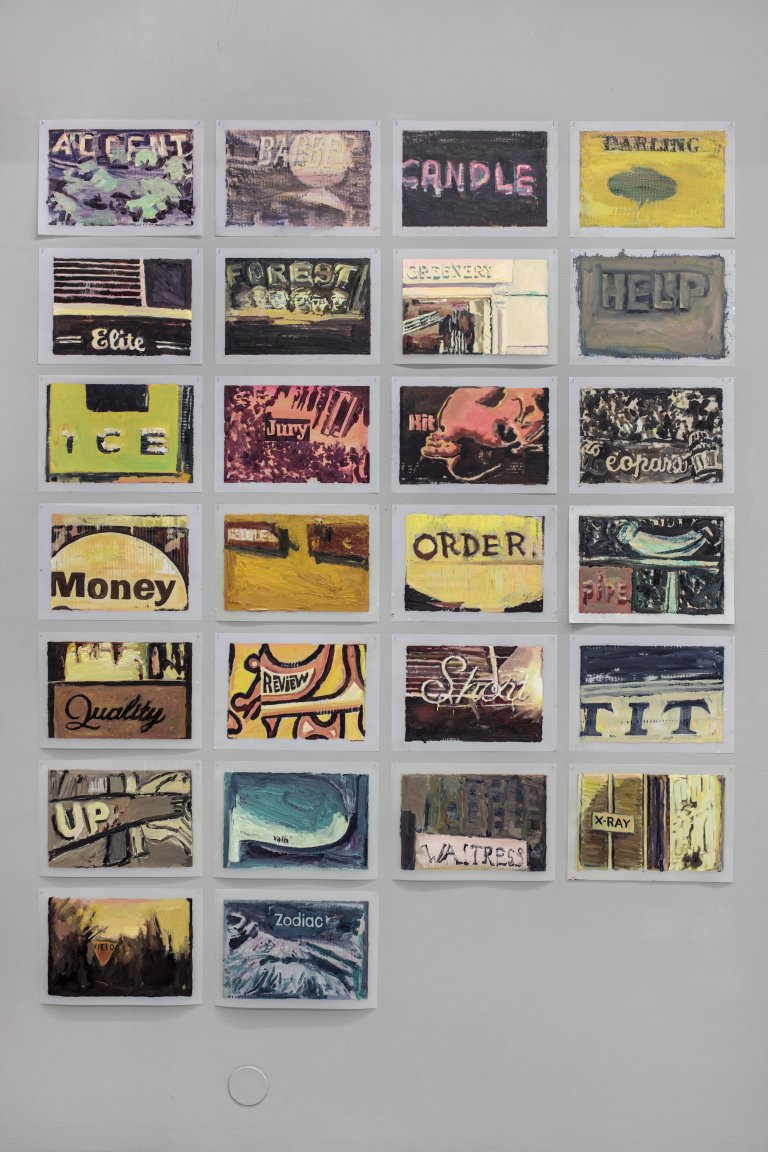 One after the other, Accent, 2012, oil on polyester, 26 panels 29.5 x 42 cm each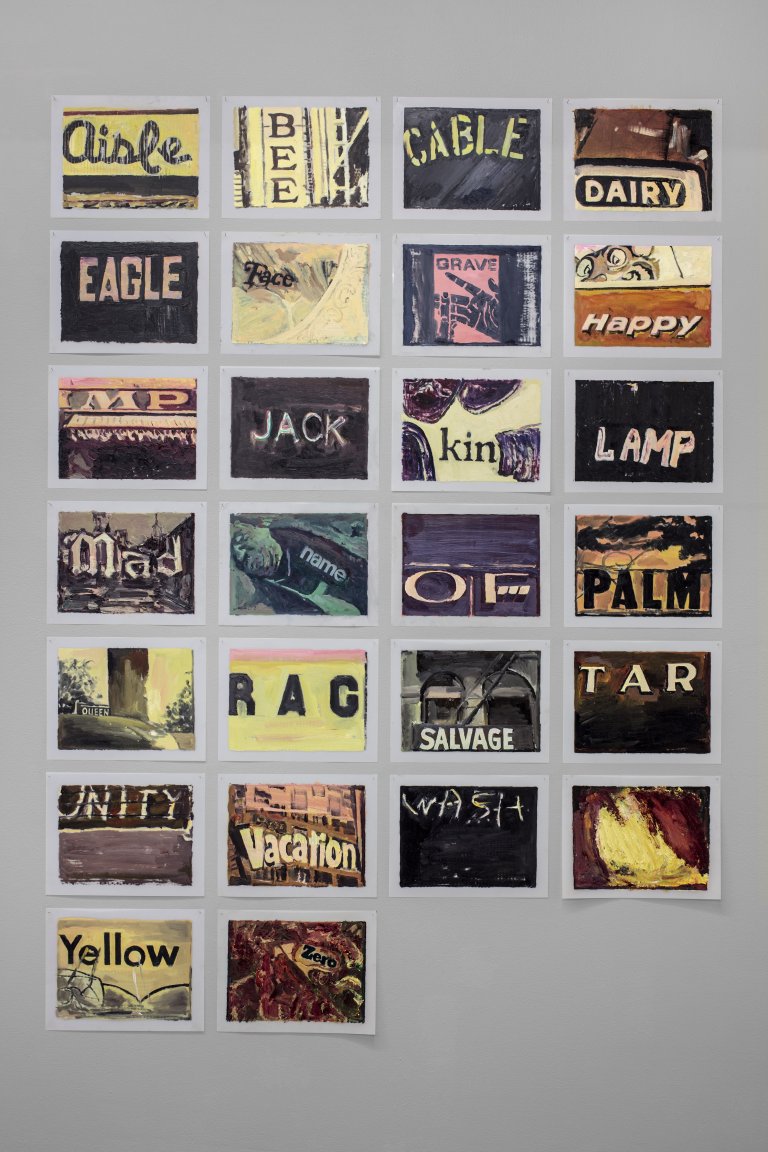 One after the other, Aisle, 2012, oil on polyester, 26 panels 29.5 x 38 cm each