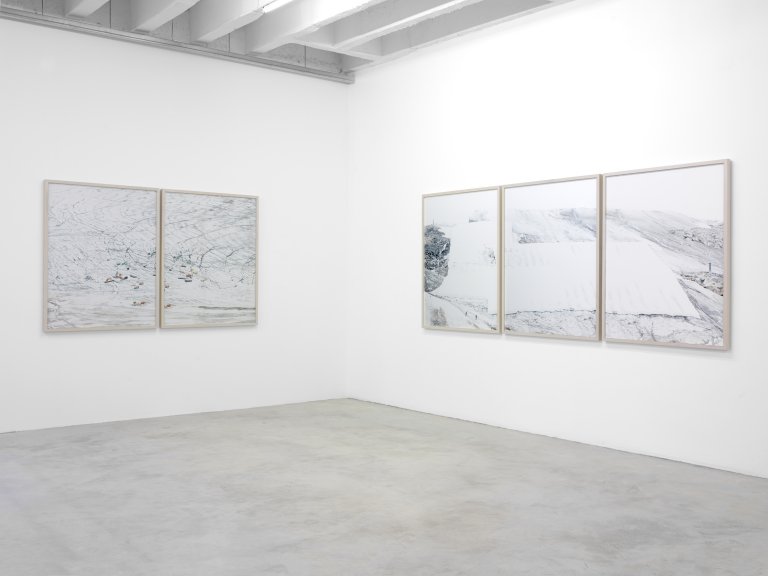 Installation view "Walter Niedermayr – Oberflächen", Galerie Nordenhake Berlin 2014
Walter Niedermayr
Walter Niedermayr was born in 1952 in Bolzano, Italy where he currently lives and works.
Since 1985 Walter Niedermayr has been developing projects where he investigated the space as a reality occupied and shaped by man, questioning the ephemerical realms between representation and imagination. This can be seen in the series of works Alpine Landschaften (Alpine Landscapes) started 1987, Raumfolgen (Space Con / Sequences) started 1991, Rohbauten (Shell Constructions) started 1997, Artefakte (Artifacts) started 1992, Bildraum (Image-Space) since 2001. The last one focusses on architecture in a way that uncovers space and ambience. Between 2005 and 2008 the series Iran was started. Hist latest work The Aspen Series is a project-based work with multi-sites installations and a publication (Hatje Cantz). Since 2011 Walter Niedermayr is professor for fine art photography at the Faculty of Design and Art, Free University of Bolzano/Bozen.
In 2010 he participated in the 12th Venice Biennial International Architecture Exhibition and in 2008 in MANIFESTA7 as well as exhibitions at Mori Art Museum, Tokyo, Louisiana Museum, Humlebæk and Kunsthalle Schirn, Frankfurt. His collaborative project with SANAA is published in the book "Walter Niedermayr / Kazuyo Sejima + Ryue Nishiwaza / SANAA" (Hatje Cantz Verlag Ostfildern 2007). A major retrospective was traveled between the Museum der bildenden Künste Leipzig, Kunsthalle Wien, Kunstverein Hannover, Württembergischer Kunstverein Stuttgart and Museion - Museum für Moderne und Zeitgenössische Kunst, Bozen (all 2003). Other solo exhibitions include DeSingel Int. Arts Centre, Antwerpen, Arc en Rêve Centre d'architecture Bordeaux, together with Kazuyo Sejima + Ryue Nishizawa / SANAA Architects Tokyo (both 2007). The artist has participated in numerous international group exhibitions such as "Japan und der Westen", Kunstmuseum Wolfsburg (2007); "Opening Up Art", Tate Modern London (2007); "Das Versprechen der Fotografie", Hara Museum of Contemporary Art, Tokyo, Kestnergesellschaft Hannover, Centre National de la Photographie, Paris, Akademie der Künste, Berlin, Schirn Kunsthalle Frankfurt (1999); "The Politics of Place", Bildmuseet Umeå (2002 tour in Scandinavia); "The Spirit of White" Fondation Beyeler, Basel (2003); "Public Record" MOCA, Los Angeles (2004); "Metamorph" Venice Biennial 9th International Architecture Exhibition (2004) and "Archit-Action" Galerie für Zeitgenössische Kunst, Leipzig (2006). He has exhibited with Galerie Nordenhake numerous times, most recently in 2014.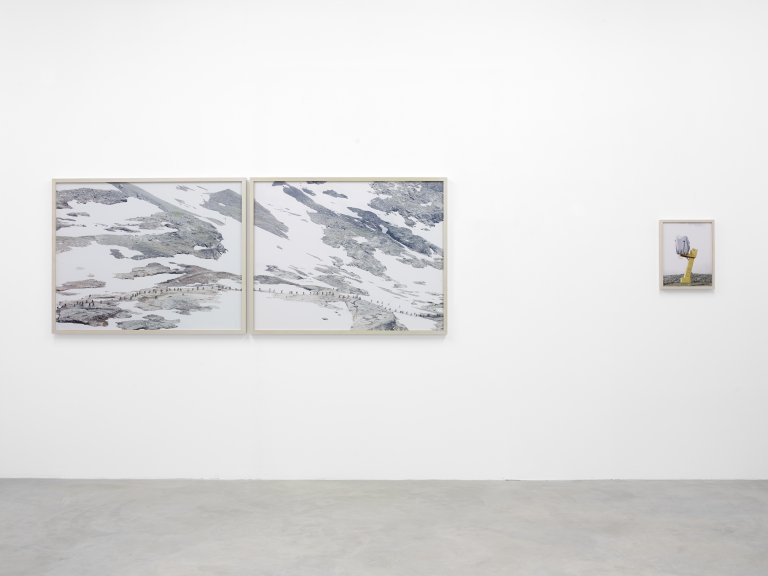 Installation view "Walter Niedermayr – Oberflächen", Galerie Nordenhake Berlin 2014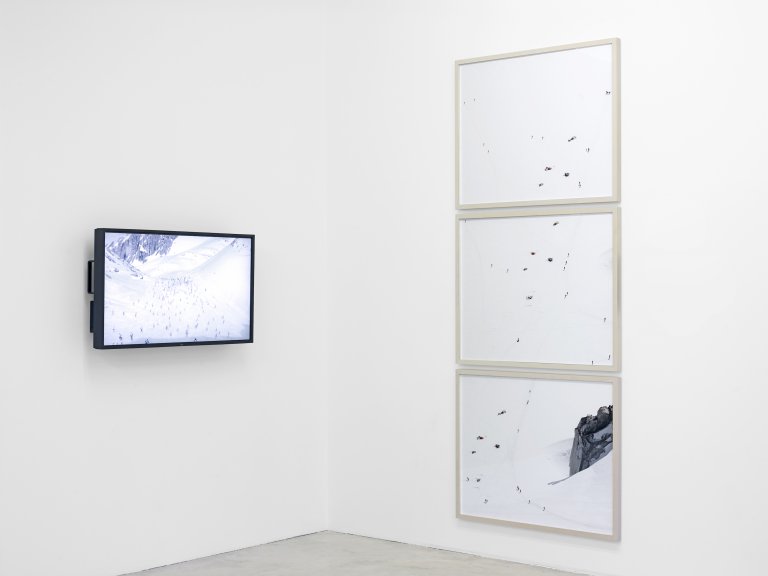 Installation view "Walter Niedermayr – Oberflächen", Galerie Nordenhake Berlin 2014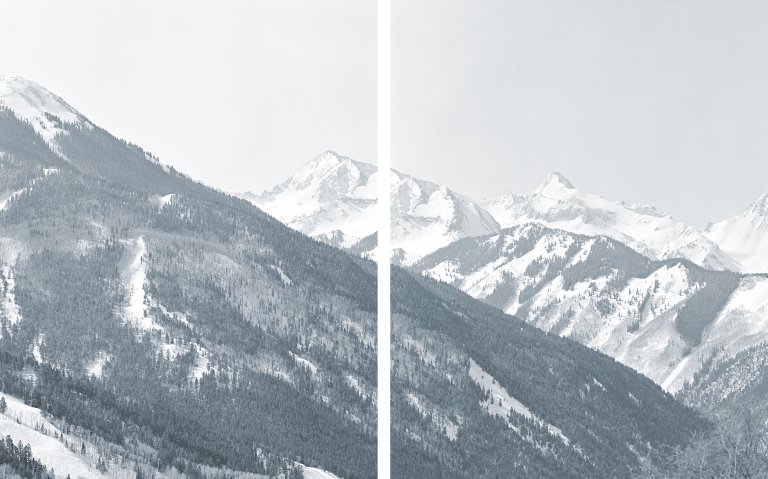 Aspen 18, 2009, digital pigment print on baryte paper, 131 x 104 cm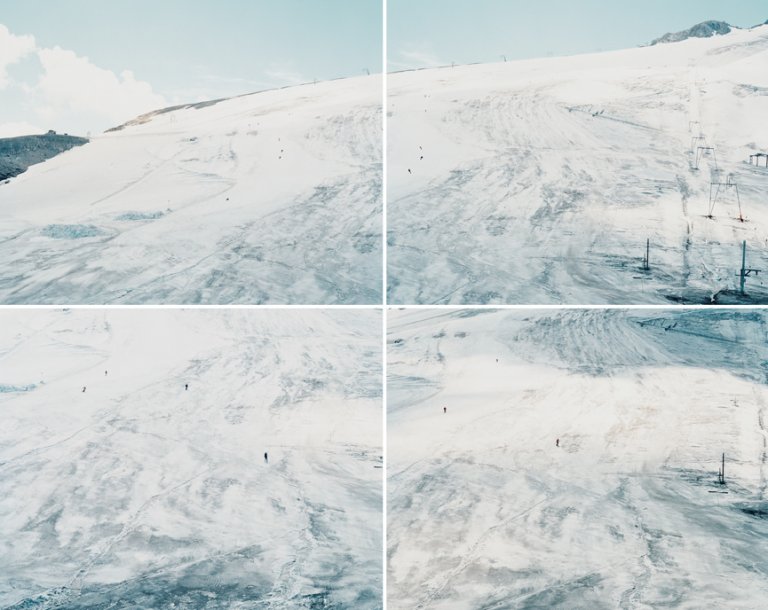 Grande Motte III, 1997, c-print, 4 panels, each 83 x 103 cm (framed), installed 172 x 212 cm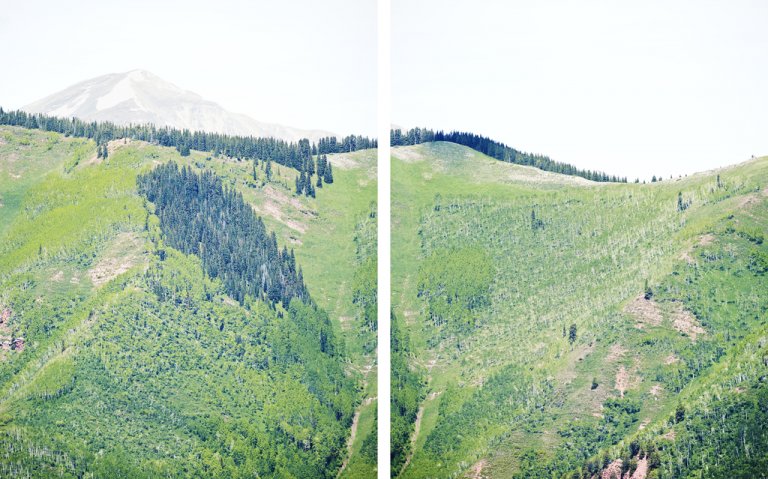 Aspen 133, 2014, digital pigment print on fine art pearl paper, 2 panels, each 131 x 104 cm, installed 133 x 211 cm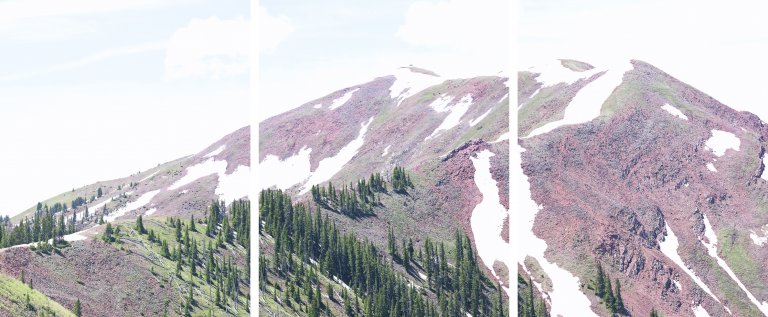 Aspen 118 (Aspen Summer Series), 2014, digital pigment print on fine art pearl paper, 3 panels, 131 x 104 each, installed 131 x 318 cm, Ed of 6

Bergsdalen I, 2002, c-print, 2 panels, each 128 x 161 cm, installed 128 x 325 cm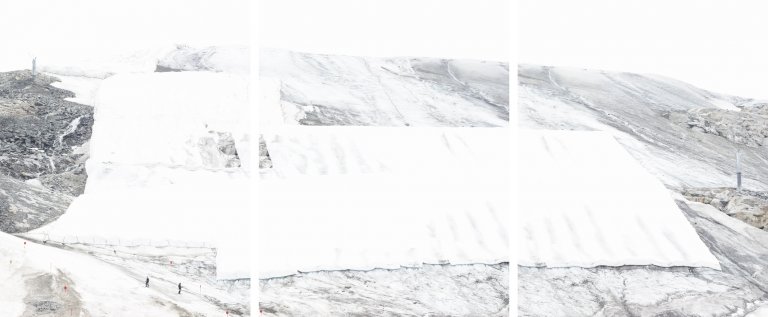 Hintertuxergletscher 90, 2012, digital pigment print on fine art pearl paper, 3 panels, each 131 x 104 cm,
installed 131 x 318 cm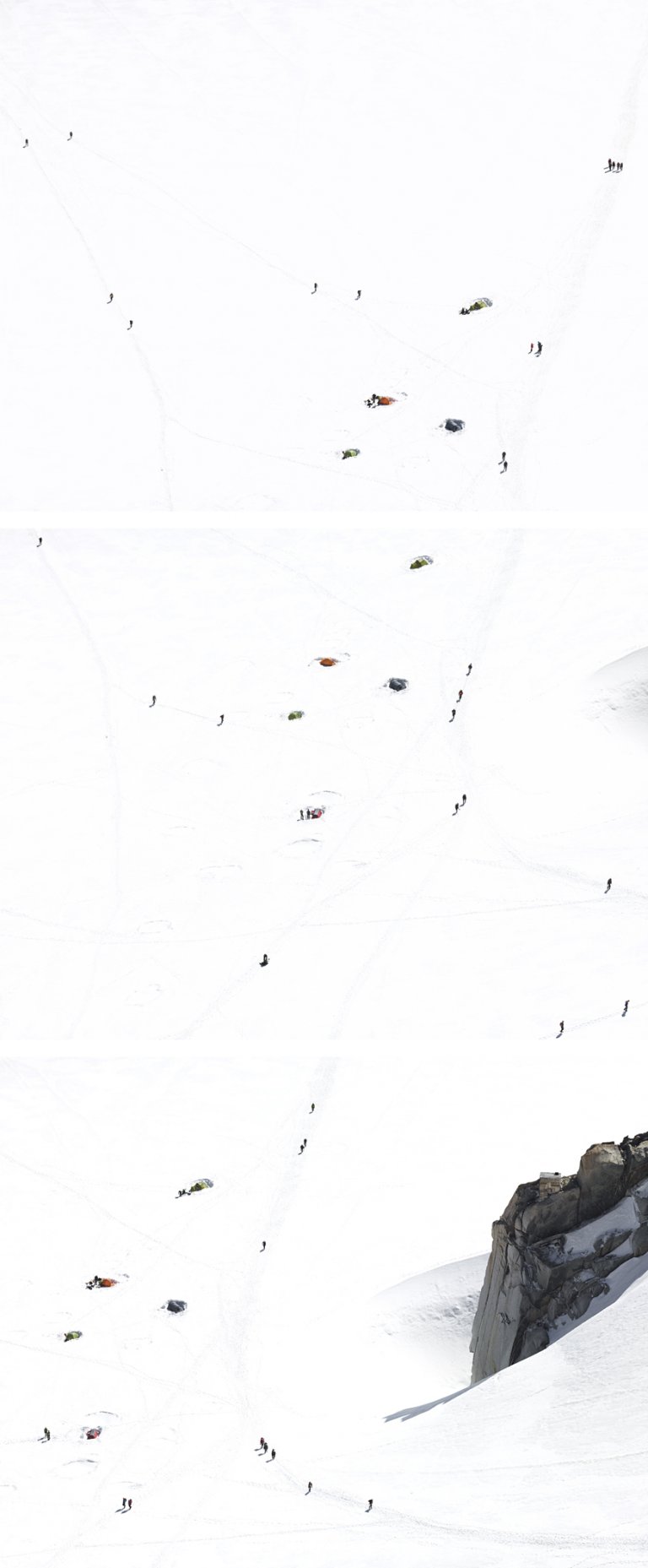 Aiguille du Midi 20, 2011, digital pigment print on fine art pearl paper, 3 panels, each 84 x 104 cm, installed 258 x 104 cm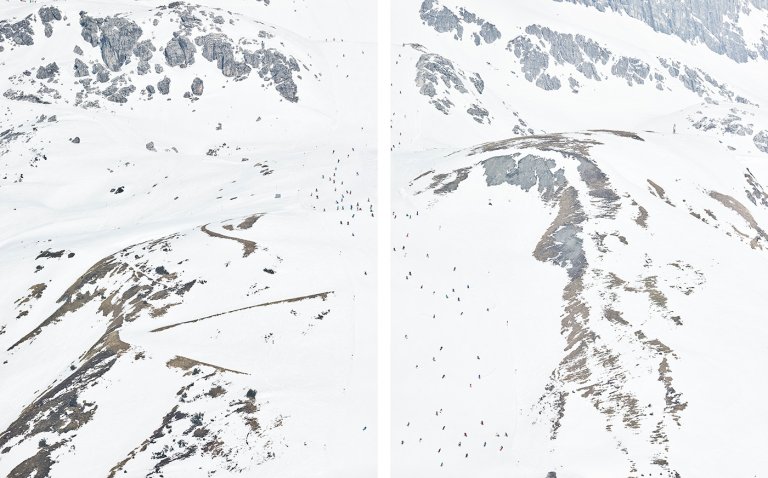 Lech Mohnenfluh 08, 2015, digital pigment print on baryte paper, 2 panels, each 131 x 104 cm, installed 131 x 211 cm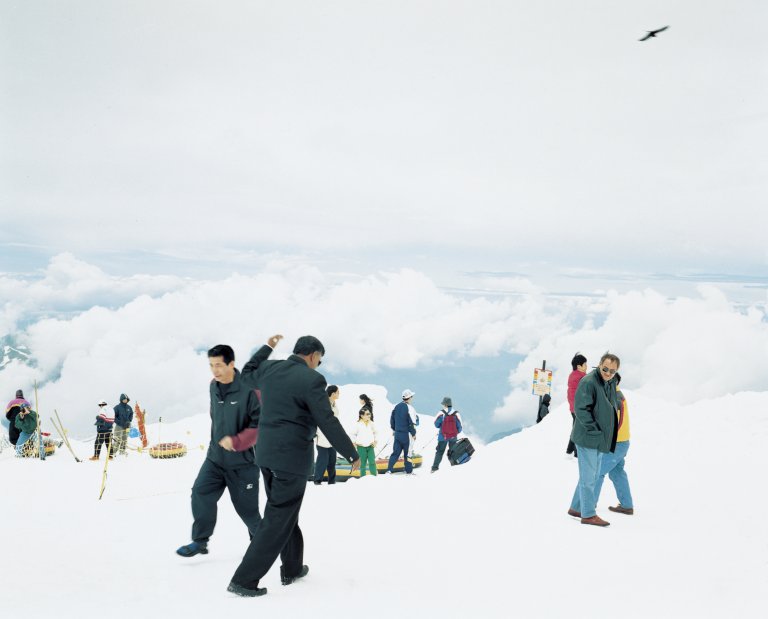 Titlis 1, 1999, c-print, 2 panels, each 104 x 131 cm,
installed 104 x 265 cm
Dôme des Petites Rousses 16, 2013, digital pigment print on fine art pearl paper, 2 panels, each 104 x 131 cm, installed 104 x 265 cm

Iran 124, 2006, print on canvas, alu stretch frames, 4 panel work, each 253 x 200 x 6 cm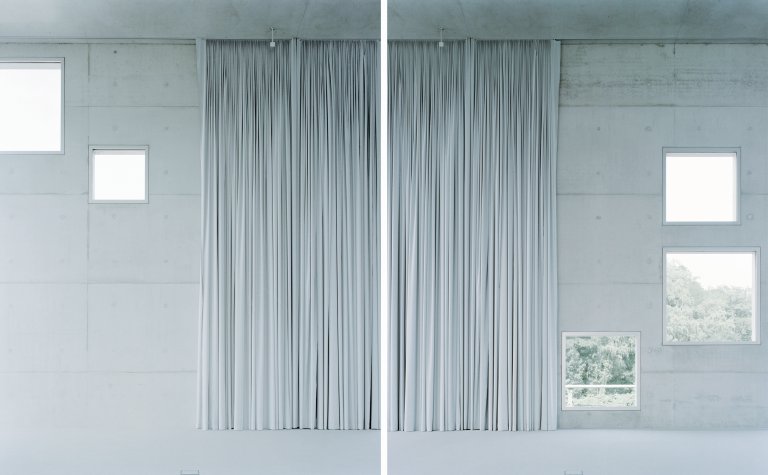 Bildraum S 132, 2006, c-print, 2 panels, each 131 x 104 cm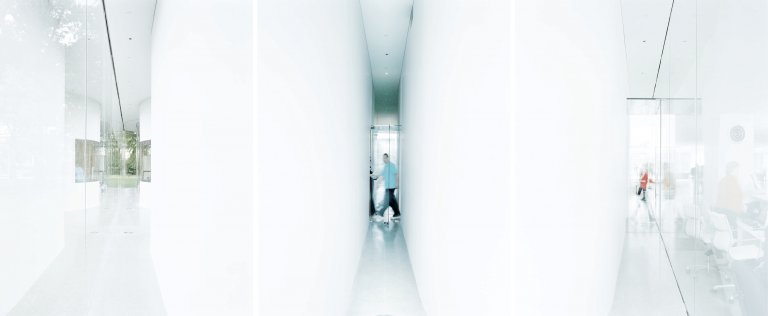 Bildraum S 151, 2006, c-print, 3 panels, each 131 x 104 cm

Bildraum S 5, 2004, c-print, 2 panels, each 104 x 131 cm