Installation view "Meriç Algün – The Orchard of Resistance", Modernautställningen, Moderna Museet Stockholm 2018
Meriç Algün
Meriç Algün was born in 1983 in Istanbul and currently lives and works in Stockholm.
The contrasting differences between the make-up of both cities – Istanbul and Stockholm – particularly socially and politically, as well as her movement between the two, play a key role in her practice. Her work concentrates on issues of identity, borders, bureaucracy, language and translation through appropriated and "ready-made" texts, collections and archives. She has explored the Bible as vertical lines of text, never-been-borrowed books in libraries, the bureaucratic language of visa application forms and has even produced a dictionary of all the common words in Swedish and Turkish languages.
Algün has had significant solo exhibitions at institutions including ARoS Aarhus Art Museum, Aarhus (2016), Kunstverein Freiburg and Moderna Museet, Stockholm (both 2015), MOSTYN, Llandudno (2014), Contemporary Art Gallery, Vancouver and Art in General, New York (both 2013), and Witte de With, Rotterdam (2012). She participated in the 56th Venice Biennial, in the 14th Istanbul Biennial and in the 5th Thessaloniki Biennial (all 2015), the 19th Sydney Biennale and the 12th Bienal de Cuenca, Ecuador (both 2014), and the 12th Istanbul Biennial (2011). Algün has participated in group shows at venues including Fondazione Prada, Athens and Istanbul Modern Museum (both 2017), Kunsthal Aarhus and Serpentine Sackler Gallery, London (both 2016), Fundação Iberê Camargo, Porto Alegre (2014), Kunstverein Hannover, Marabouparken in Stockholm, MoCA in Detroit and MAK, Vienna (all 2013), as well as at CCA Wattis, San Francisco and Malmö Konsthall, Malmö (both 2012).
Algün's artwork, A Work of Fiction (Manuscript), was published in Art Review (Vol 66, No 6).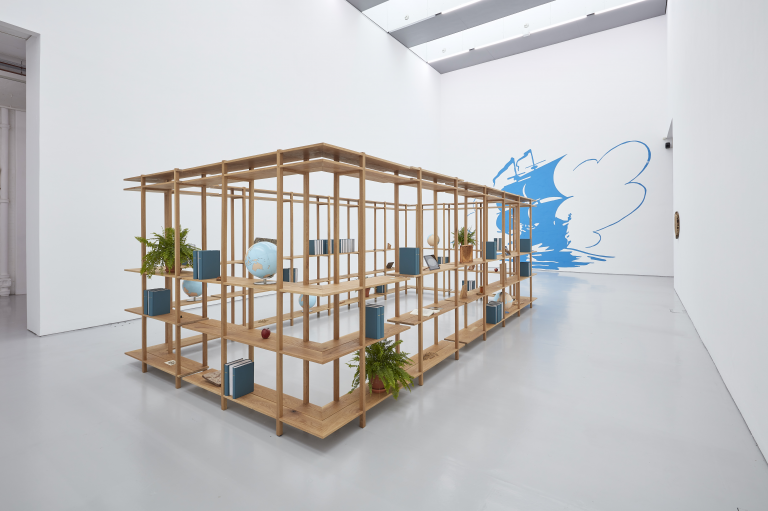 Installation view "Day Craving Night", Spike Island, Bristol 2019
Edges, 2017, Wall text, Dimensions variable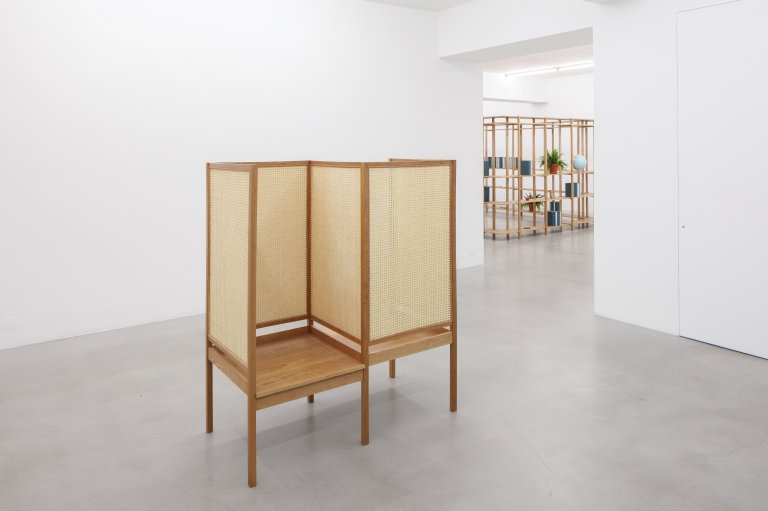 Installation view, Galerie Nordenhake Stockholm, 2017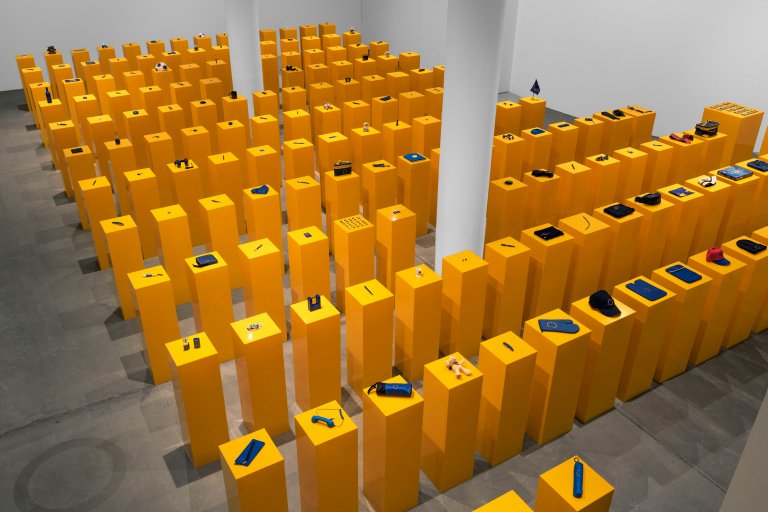 Installation view "Meriç Algün – Transboundary", ARoS Aarhus Art Museum, Denmark 2016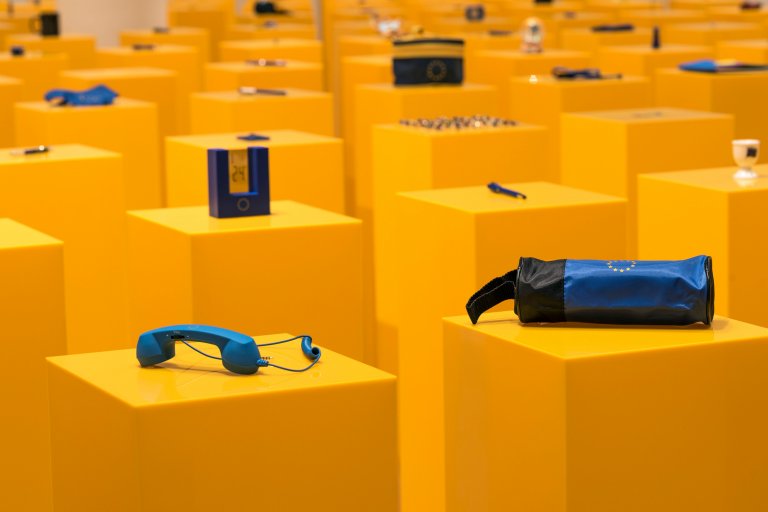 Meriç Algün, Promotion Europe, 2016, Detail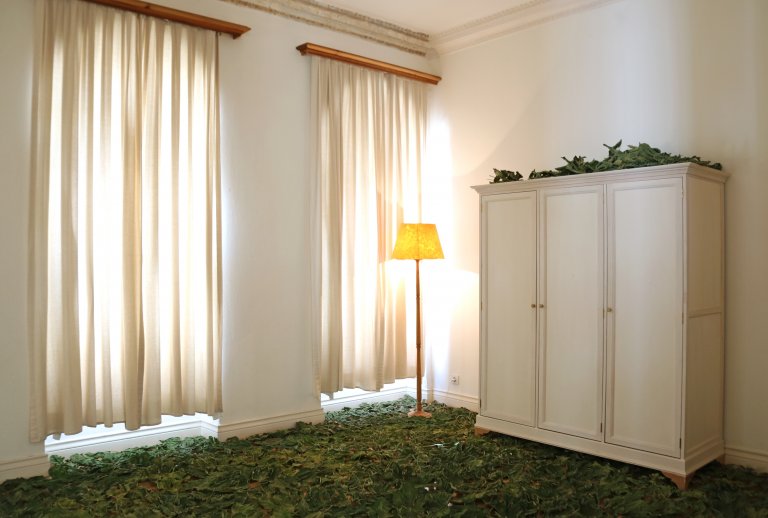 Installation view "Meriç Algün – SALTWATER: A Theory of Thought Forms", 14th Istanbul Biennale, Istanbul 2015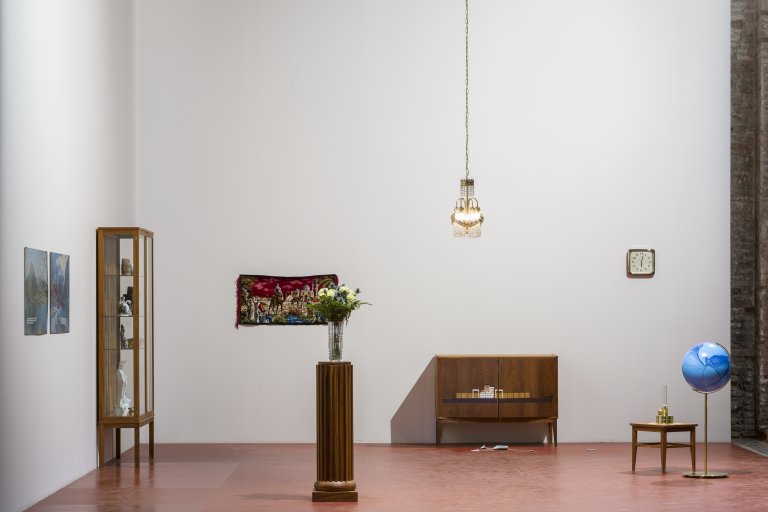 Installation view "Meriç Algün – All the World's Futures", 56th Venice Biennale, Venice 2015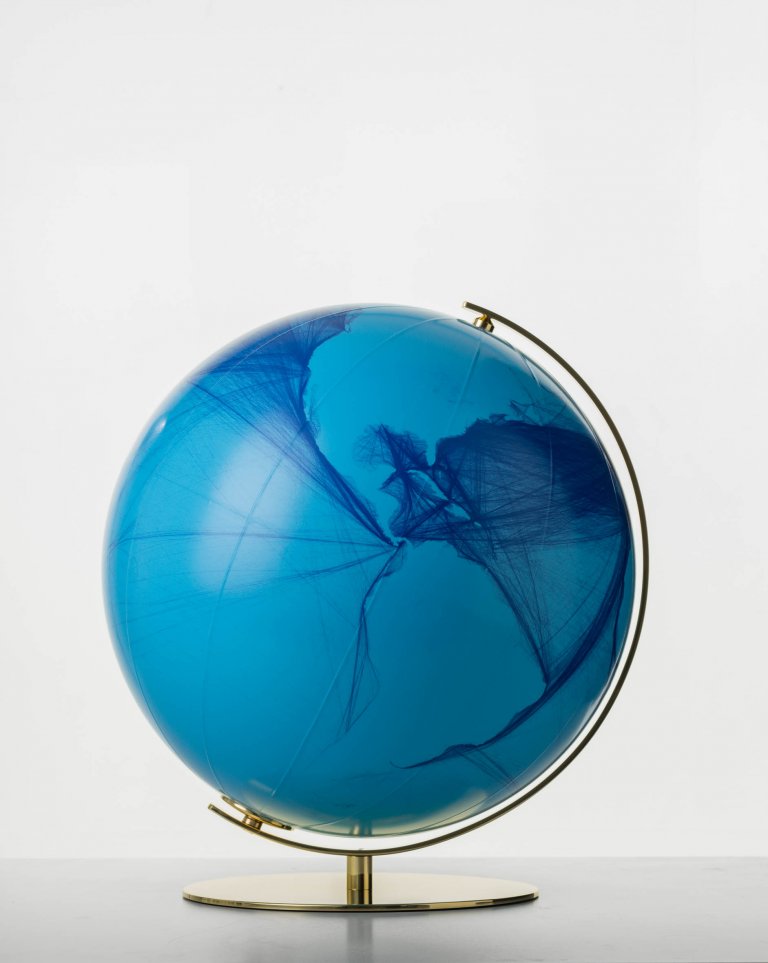 Ninety Percent of Everything, 2015, globe ball made out of SAN (styrene acrylonitrile resin), the meridian made out of brass and map printed on special paper (produced for Columbus) with EPSON UltraChrome K3 Inks (have a lightfastness rating of up to 200 years)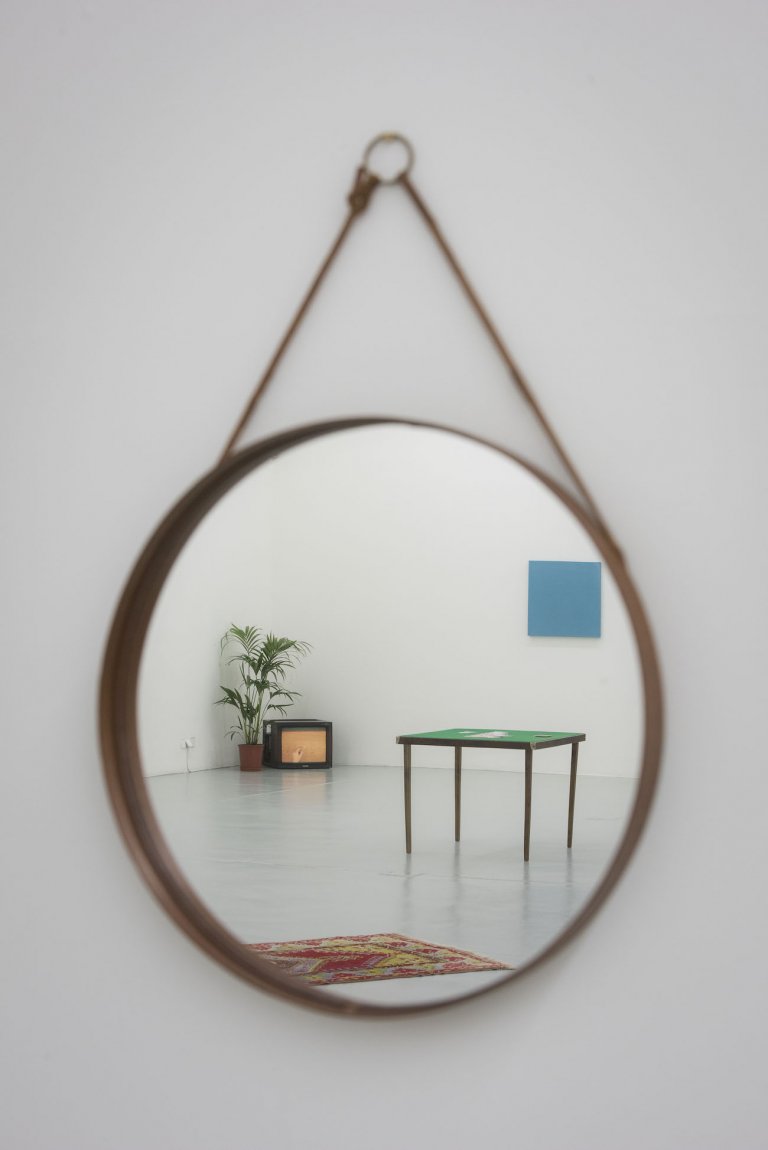 Installation view, "Meriç Algün- A Work of Fiction", Kunstverein Freiburg, Freiburg 2015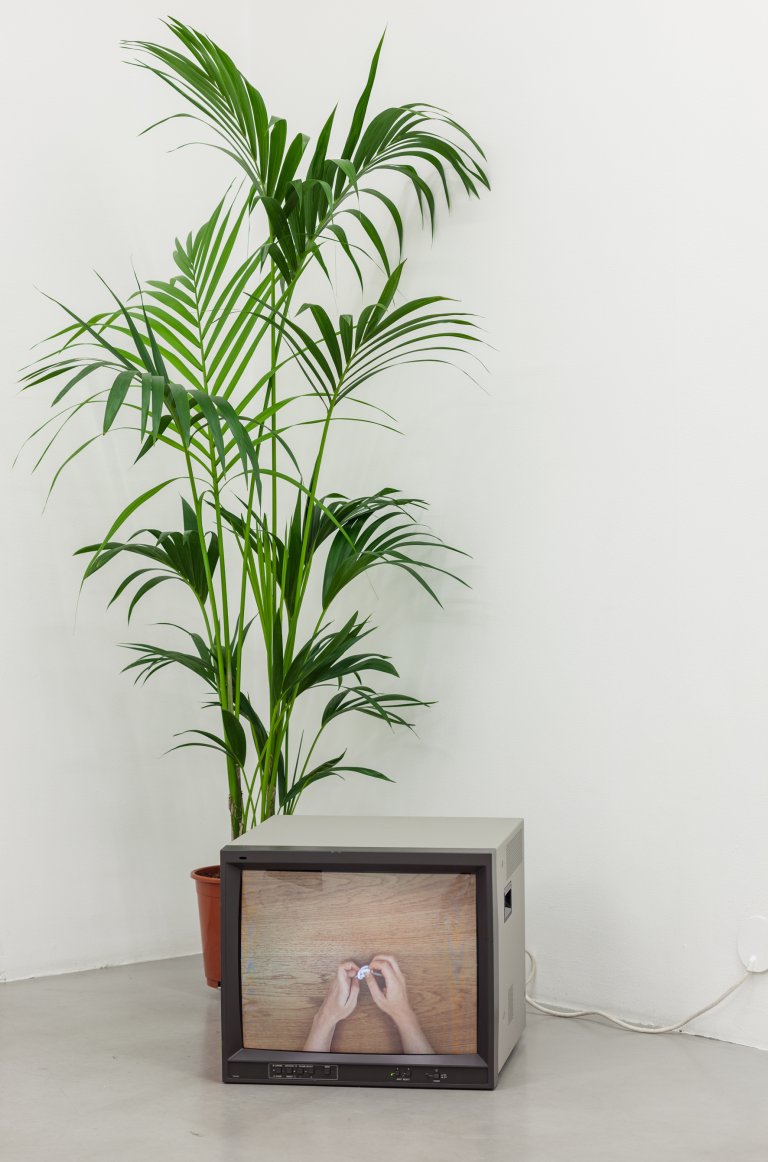 Infinity and Eternity, 2013, 2 digital video files, duration 11:35 min and 12:19, seamless loop
Installation view "Meriç Algün – Becoming European", Moderna Museet, Stockholm 2014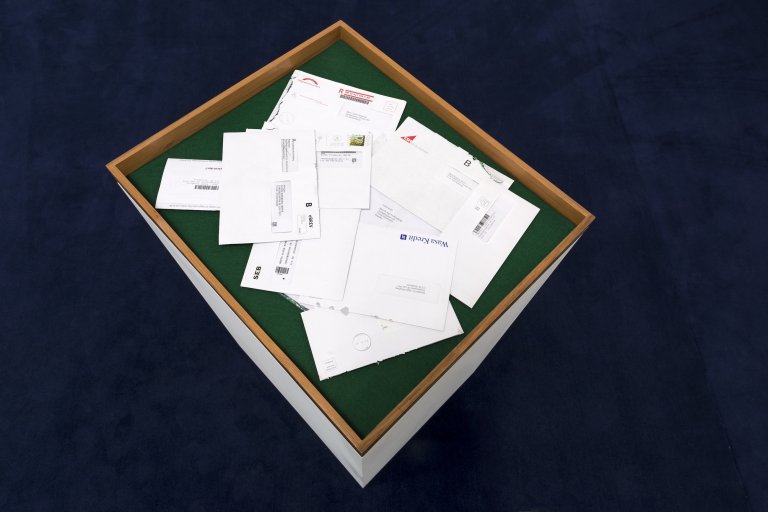 Ç (The Unfortunate Letter), 2013, 10 personal letters in a vitrine, dimensions variable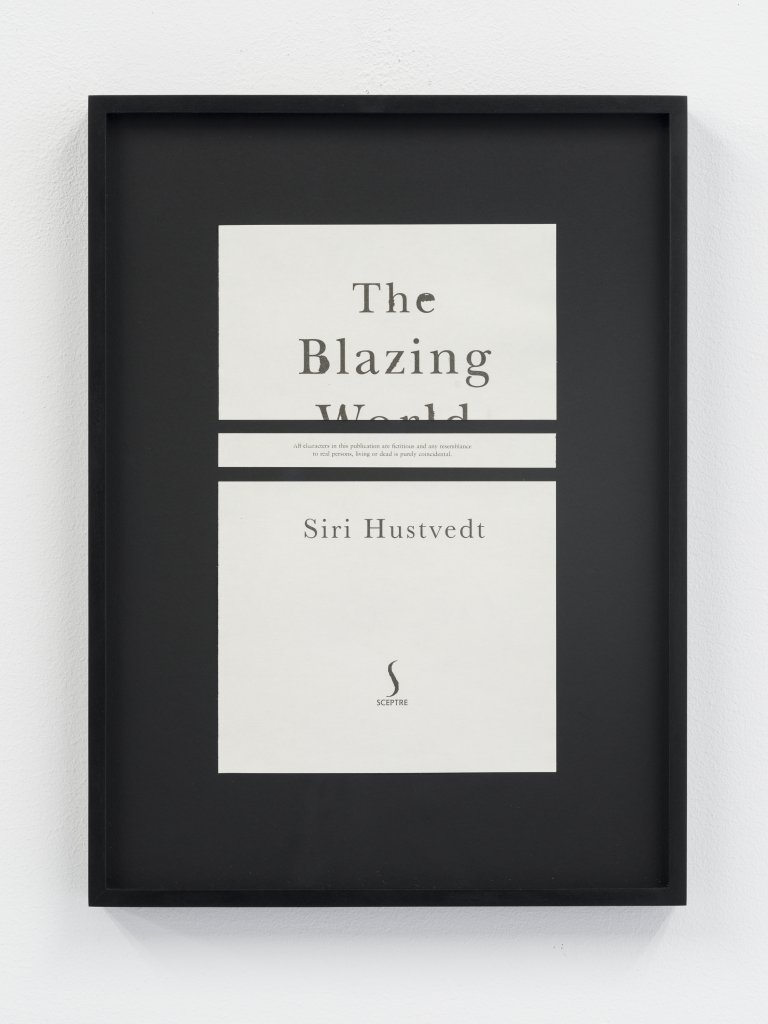 Disclaimers, 2014, collage, 36 x 26.5 cm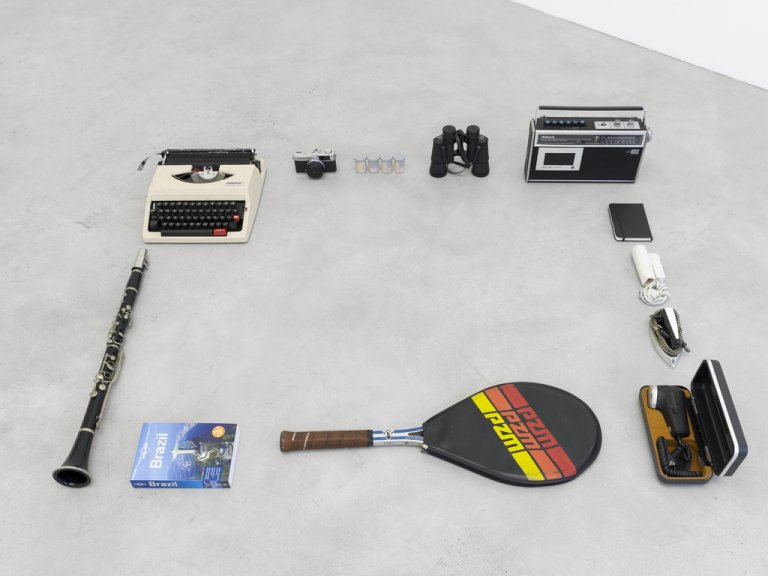 Destination: Brazil, 2014, Found objects, dimensions variable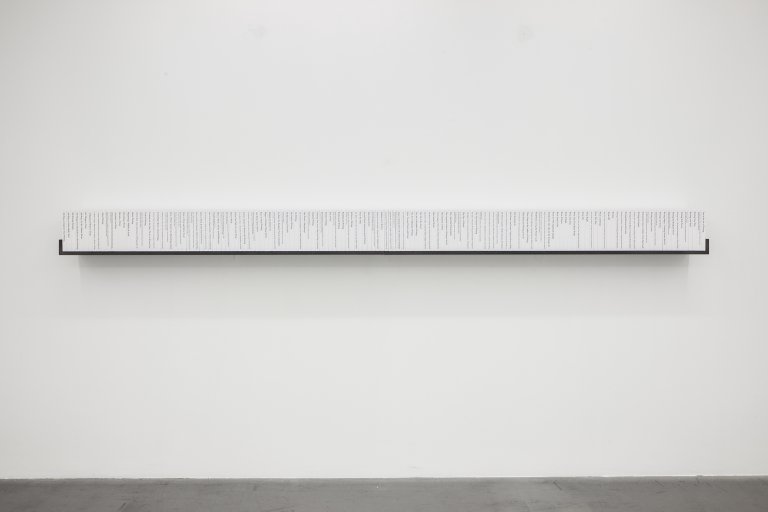 On Writing, 2013, 150 blank books, 21 x 330 x 15 cm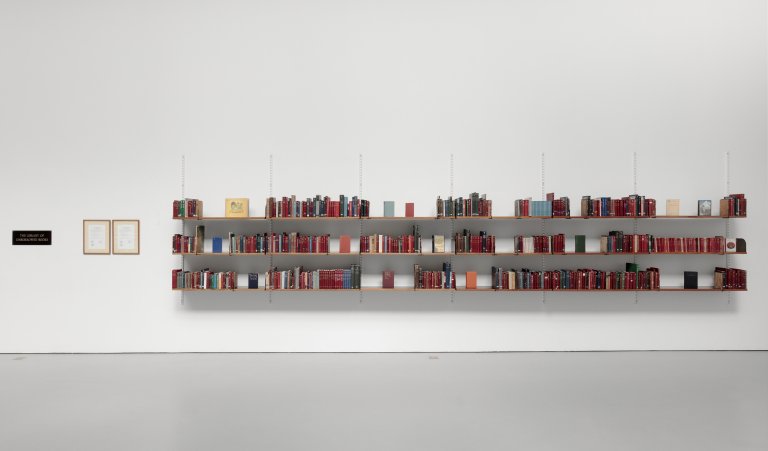 The Library of Unborrowed Books, 2012 - ongoing, brass sign, 2 signed and framed contracts, dimensions variable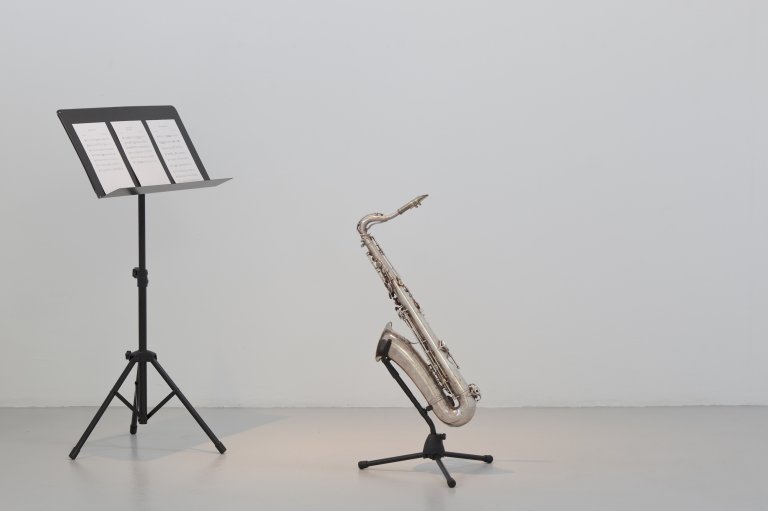 Harry Plays the Saxophone, 2012, music scores, music stand, saxophone, performance, dimensions variable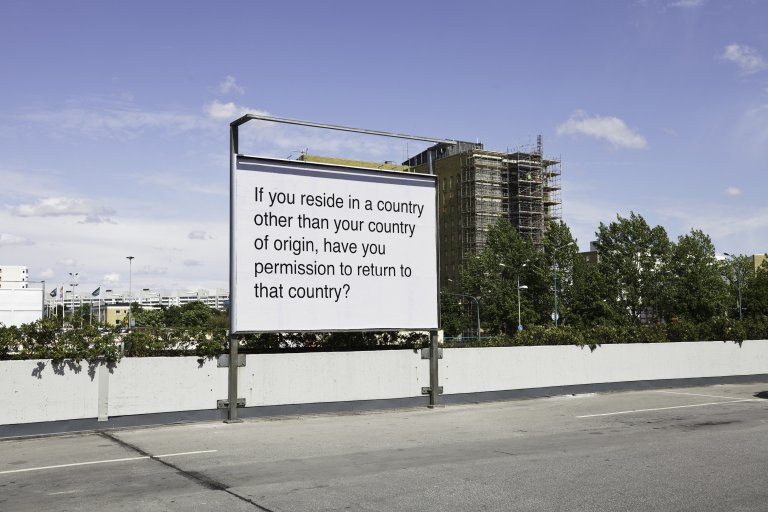 Billboards (If you reside in a country other than your country of origin, have you permission to return to that country?), 2012, innk-jet print on PVC with grommets, dimensions variable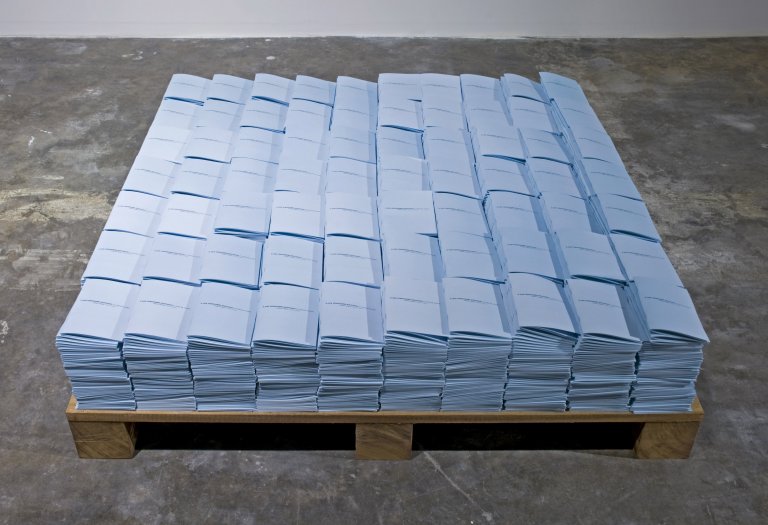 Ö (The Mutual Letter), 2011, sound installation, offset print on paper, bound in booklets, overall dimensions 14 x 120 x 80 cm