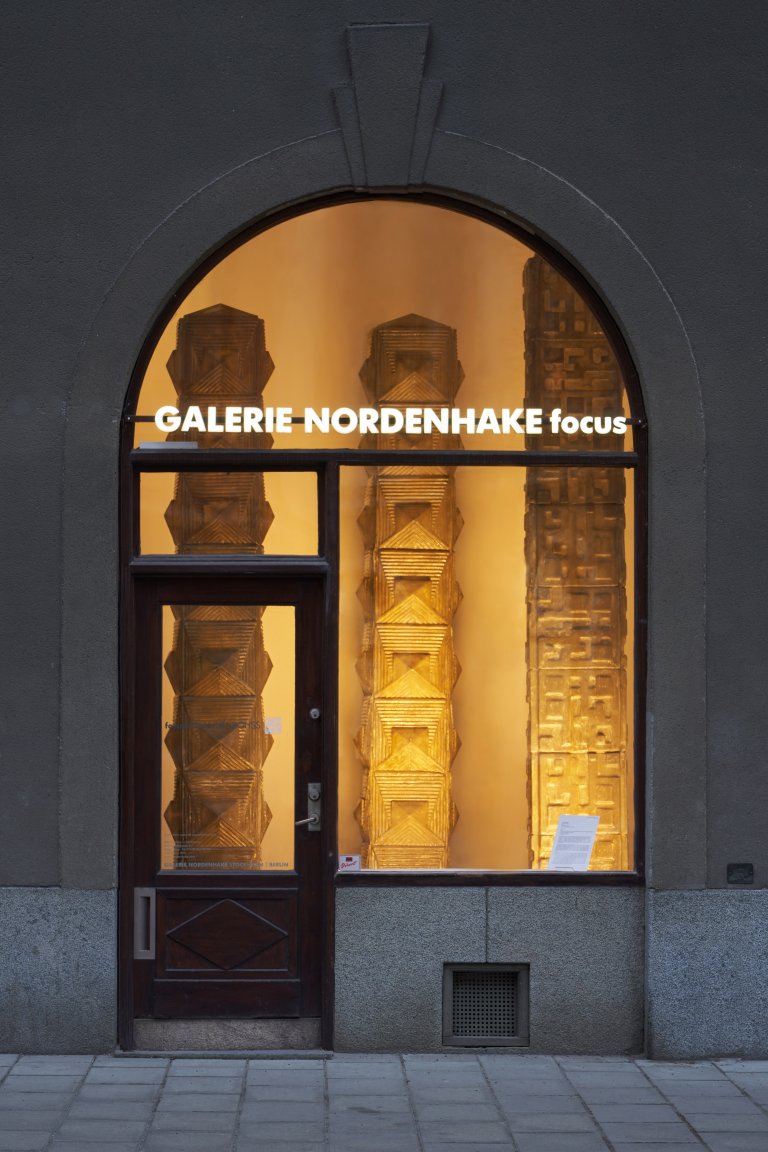 Times Past and Future, 2021, fiberglass and steel, 373 x 40.5 x 40.5 cm per column
Earth Song, 2021, digital audio (24 bit stereo mp3) with programmed light sequence through Max MSP and two Cameo Matrix LED panels, 56 minutes 9 seconds
Emanuel Röhss »Times Past and Future | Earth Song«
Focus
For a number of years, Emanuel Röhss' work has examined the American architect Frank Lloyd Wright's iconic 1920s buildings in Los Angeles. These houses possess temple-like yet claustrophobic properties, as well as ornate designs often referred to as Mayan Revival and Textile Blocks. Since the 1930s they have been utilized frequently as locations or design references in a large number of movie and TV productions, e.g. Blade Runner (1982) and Game of Thrones (2011-2019). Through the mediums of sculpture, installation, video, light, and sound, Röhss explores how these films, television series and buildings exercise a reciprocal influence on each other. Central concerns in the artist's work are how reality shapes fiction and vice versa, and we perceive and experience time. What psychological affect is engendered in the encounters between fiction, place, and its history? 
read more
In Times Past and Future Röhss has identified specific set design details, ornate features, within the Tyrell building film set in the 1982 film Blade Runner, as well as the Temple of the Graces in the Game of Thrones universe. These fictitious architectures have proven to be based on Wright's textile blocks, albeit metamorphosed into forms thought to characterize the imagined pasts and futures that the narratives are set in. The artist employs these block like forms that through the same molding process used in the production of film sets that have been fashioned into columns much like those in Wright's original buildings. 
The light illuminating the sculptures is fluctuation in intensity which is determined by an audio sequence available here. This sound and light piece titled Earth Song is based on recordings of seismic activity above magnitude 5 in California's since the 1980s. The work aims to make a fragment of geological time somewhat tangible and serve as a reminder of Earth's constant mutability. In the process of making this piece Röhss translated the given earthquake events into audible sound and perceivable light, in an attempt to address the passing of time and perpetual decline of nature, matter, and the Earth. 
Emanuel Röhss (*1985 Gothenburg) lives and works in Los Angeles. He studied at the Royal College of Art, London, where he received an MA in Painting, as well as at the National College of Art and Design, Dublin, earning a BA in Painting. Röhss recently received the Sten A Ohlsson Foundation for Research and Culture 2021 visual art award, on the occasion of which he staged an exhibition at the Gothenburg Museum of Art — his most extensive solo presentation to date. The artist has been subject of solo shows at Issues Gallery Stockholm, Thomas Duncan Gallery; Los Angeles, Coma Gallery; Sidney, SALTS; Basel, Carl Kostyál; Stockholm, T293 Gallery; Rome, Index Art Foundation; Stockholm and Project Native Informant; London as well as recognized international awards. He was included in group exhibitions at Sadie Coles HQ; London, the Thiel Museum; Stockholm, Anonymous Gallery; New York, Sven Harry's Konstmuseum; Stockholm, Museo Capadimonte, Napels, Johan Berggren Gallery, Malmö, South London Gallery, Seventeen Gallery, as well as Rowing; London.