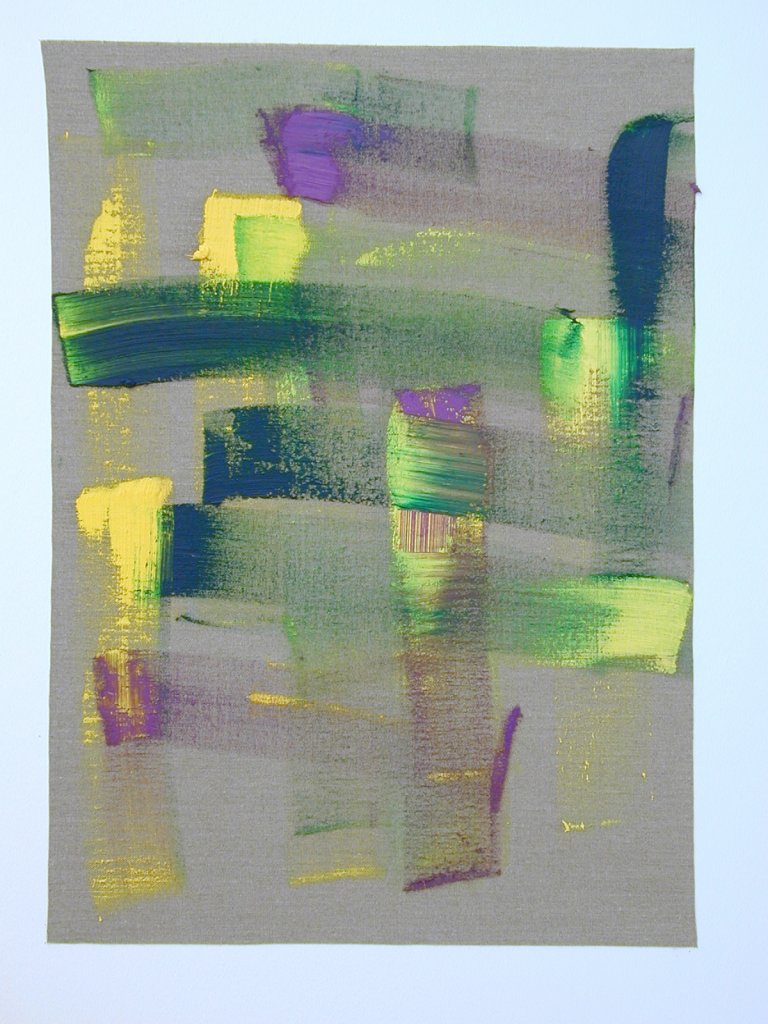 Ingo Meller, oil on canvas, 2002, 76.8x56.2 cm, chromoxidgrün, Rowney Georgian 382; provenceviolett rötlich, Williamsburg; permanentgelb mittel, Williamsburg; zitronengelb, Rowney Georgian 651
Ingo Meller »Recent Paintings«
Berlin , September 07, 2002 - October 03, 2002
A SIMPLE DESCRIPTION of Ingo Meller's painting could very well be fetched from the artist's own words: 'I paint oil on canvas. Only that.' But as soon as the attentive viewer makes a closer scrutiny into his work, he will find out that this apparently elliptic epigram actually points to a more complex and intricate web of relations that is to be retrieved from his paintings.
Canvas, colour, and the stroke of the brush are the fundamental and equally important constants of Meller's paintings - and it would be fruitless to try to establish any hierarchy between them or to give priority to one element over the others. The canvas, typically cut along a thread in the woven linen, is always in an upright format and fastened directly to the wall, without the use of stretchers or frames. The cutting technique also leads to the phenomenon that every canvas is slightly different from all the others: they are individual in their form and slightly warped. Meller lets the paint keep its relation to its own industrial origin. It resides on the naked canvas in its pure materiality as a product. Unblended, so to say 'straight from the tube,' the chromatic elements appear as if liberated from any 'colour theory' or doctrine of imagery. They are nothing else than their different proprietary brand names, and give as such the titles to Meller's paintings (such as Cobaltgrün, dunkel, Scheveningen 267, or Fleischfarbe 1, Mussini 219).
The swift and short brushstrokes-never amended, corrected or redone, and always applied with precision and skilful consciousness-serve to accentuate the relationship between the actions of painting with the stability of naked canvas. Varying degrees of thickness, dryness, glossiness or viscosity points to the individuality of each stroke. What the beholder is confronted with in is not the narrative of a fully developed imagery or the absoluteness of a painted surface, but rather the virtuosity of balanced interactions between naked canvas and applied colour or between the movement of the brush and the repose of the towel.
Many art historians would no doubt try to relate Meller's artistic practice with the development of avant-garde painting in the last century, and they may very well have a point in doing so. Nevertheless we must keep in mind that Meller's work disentangles the constitutive elements of modernist painting, and in such a way that their inner mechanisms are laid bare and can be turned on themselves. It is a strategy that on one hand is firmly rooted in tradition, but on the other, points to opening that seems to transcend the laws of the genre of painting as such. Ingo Meller's works analytically: he breaks down painting into its fundamentals, telling us what it can do (and not). But he also works synthetically, and in the operation of forging elements together again, he presents the beholder with an art characterised by beauty, importance, and convincing intelligence.
Ingo Meller is born 1955 in Cologne, where he still lives and works. He had several exhibitions around the world, such as: Raum für Malerei (Cologne), Galerie Mark Müller (Zurich), Cheim & Read (New York), Andrew Mummery Gallery (London), Galerie nächst St. Stephan (Vienna) etc. His first show at Galerie Nordenhake took place in 1991 in Stockholm. In 1996 Ingo Meller had his first solo exhibition at Galerie Nordenhake Stockholm together with Stephan Baumkötter.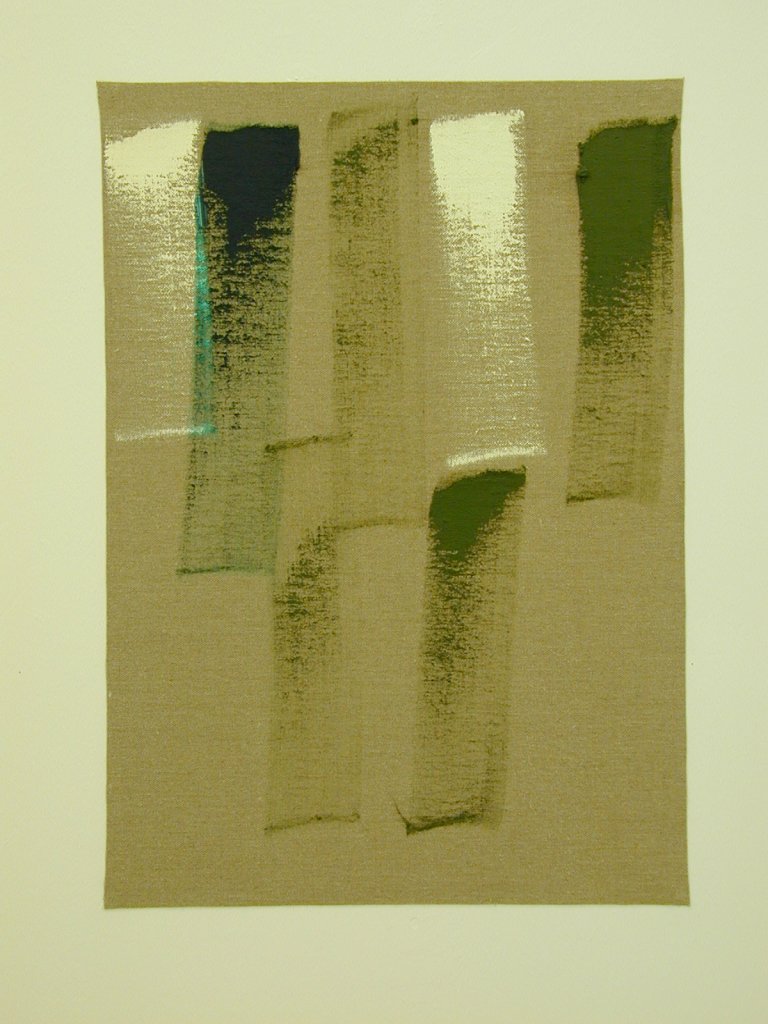 Ingo Meller, oil on canvas, 1999, 68.7x 49 cm, brilliantgelb extra hell, Williamsburg; olivgrün, Gamblin; phthalogrün, Gamblin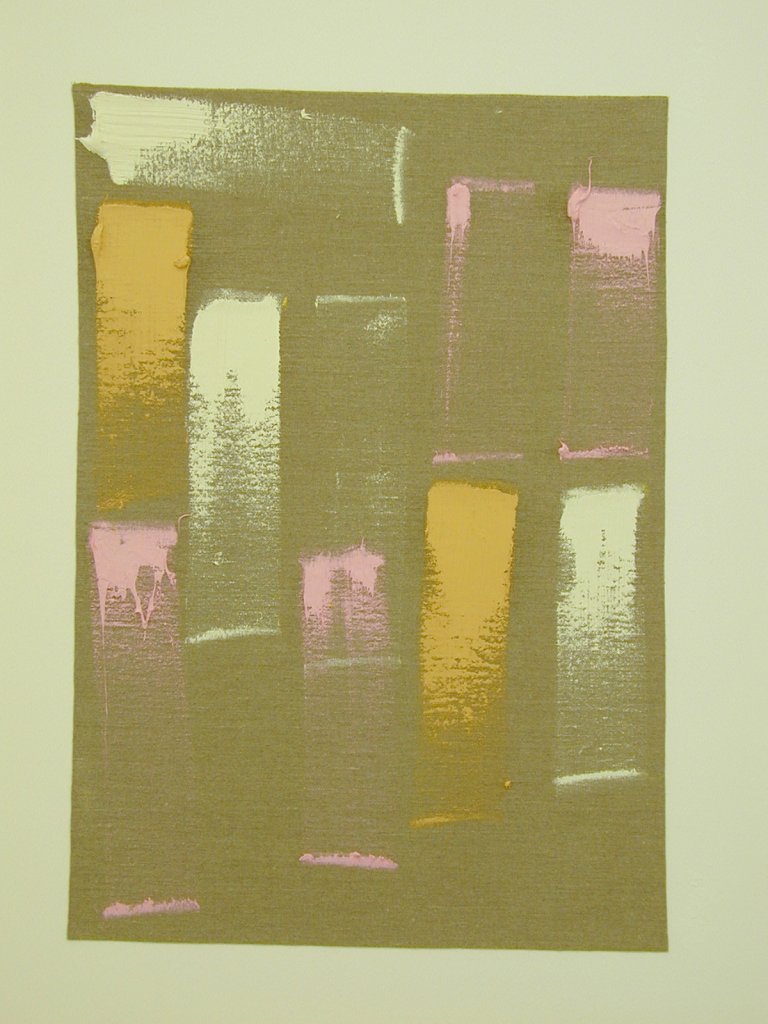 Ingo Meller, oil on canvas, 2002, 76.4x53.4 cm, alt hollandgelb hell, scheveningen 6; neapelgelb extra, scheveningen 313; dianthusrosa, Williamsburg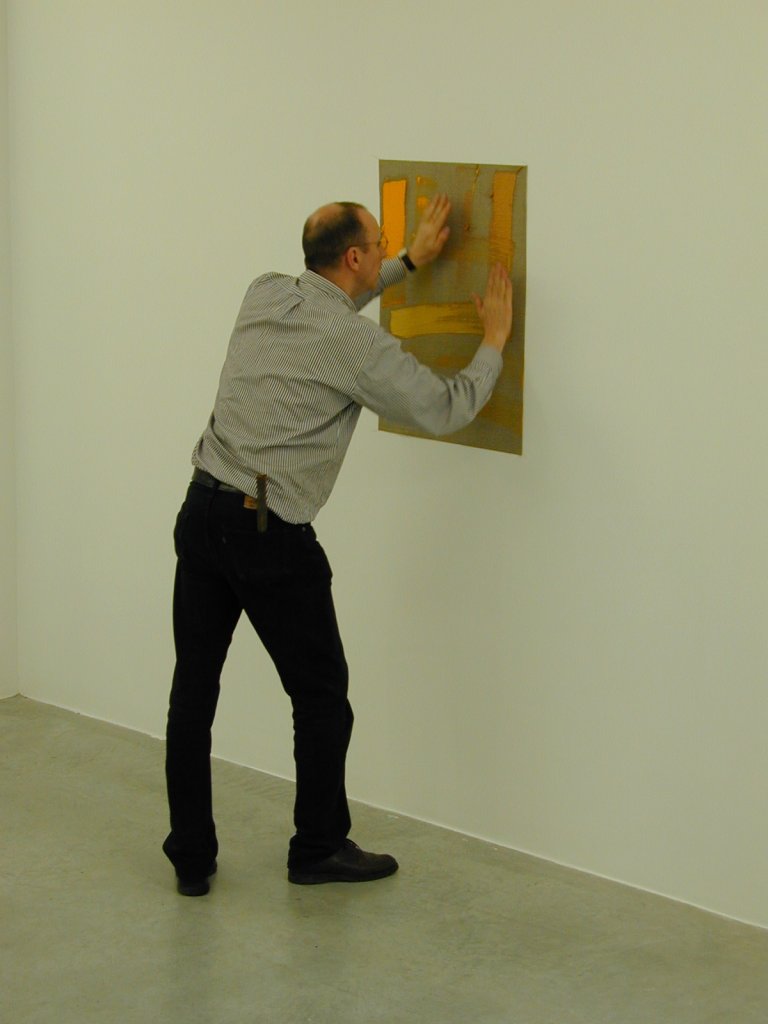 Ingo Meller at Galerie Nordenhake, September 6, 2002, preparing for the show